Hotel Website Builders: Get the Most Out of Your Investment
Post on September 29, 2023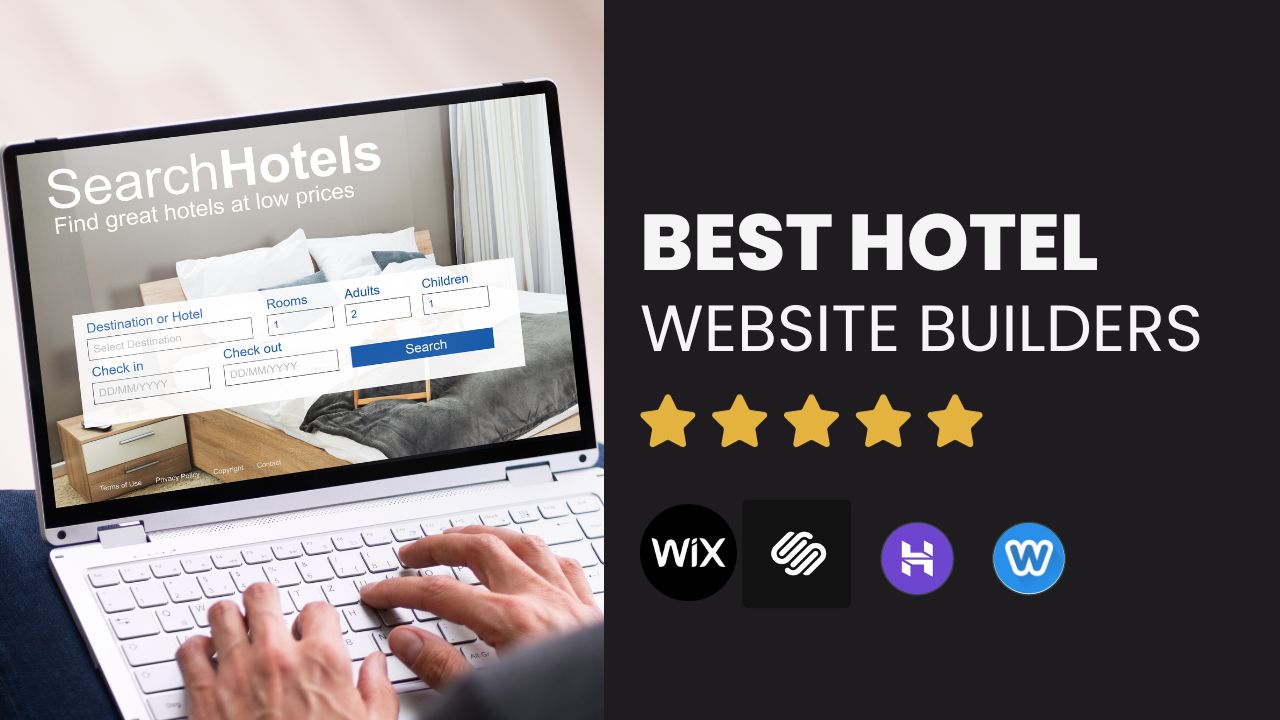 Whether you run a motel, a hostel, a bed & breakfast, or a luxury resort, you can make an amazing website for your accommodation business with a hotel website builder.
A website is more than just a way to display your place and eye-pleasing rooms. It is also a way to control your business effectively.
You can keep your bookings neat and orderly with a professional, advanced, and sophisticated platform.
You don't need to spend a lot of money to hire WordPress developers to build your website. You can do it yourself simply and quickly with a simple and comfortable hotel website builder now.
All you need to do is drag and drop elements, change colors, edit text, and upload your content.
So which are the best website builders for hotels?
In addition, there are some related articles that you might be interested in:
Wix – Best Builder to Create a Hotel Website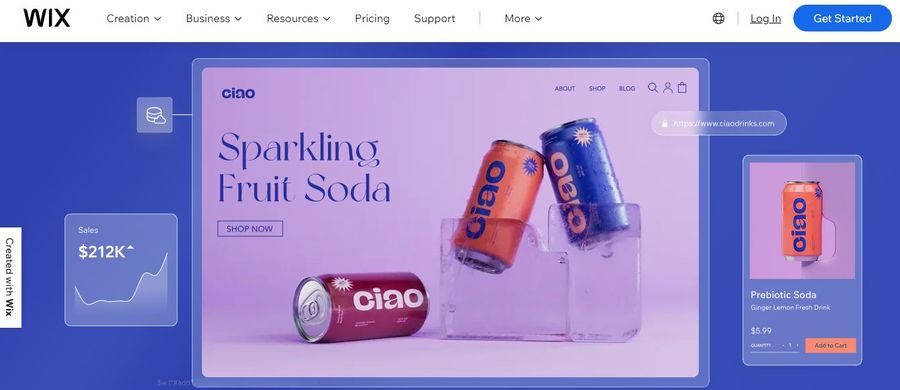 Learn More
Wix is a simple and fast website builder to help you create a hotel website with ease. As a hotel website builder, Wix creates a welcoming atmosphere for your guests with calming yet eye-catching templates.
No matter if you aim to begin a small hotel chain or a large one, Wix can help you with its elegant designs and powerful features.
Give information about your hotel, including stunning images, and you'll have everyone hooked in no time.
It's almost too easy to believe! You'll see how simple it is to create a hotel page with Wix.
You can gain more insight into your site's performance with Wix's analytics.
Wix is designed for mobile devices, so you can easily view and edit your site without any issues. You can also accept payments, handle bookings, set up custom pricing options, send immediate confirmation emails, and much more with Wix's power.
If you are looking for a website builder that can help you create an online store, you may want to compare Wix vs Shopify and Wix vs WordPress to see which one suits your needs better.
Hostinger – Hotel Website Builder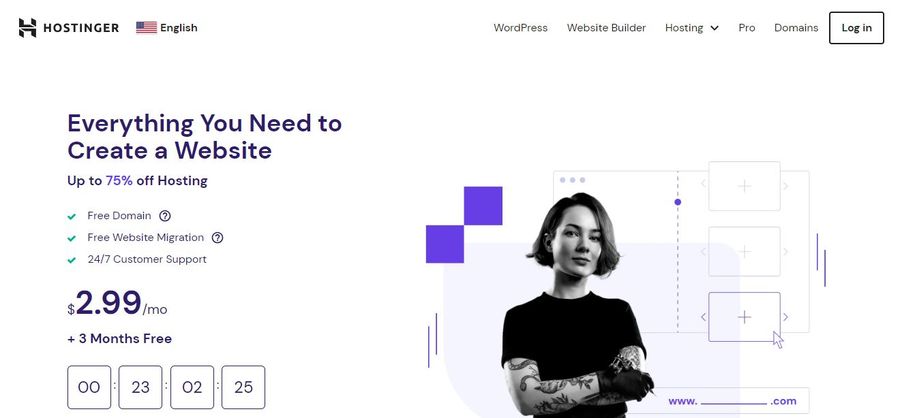 Learn More
Hostinger is a fantastic hotel website builder. It can be used for bed and breakfasts and other lodging businesses.
You don't need to depend only on 3rd-party platforms if you can upgrade your business with a website. Instead of creating your hotel page from scratch, you can do it quickly with Hostinger.
It offers a dozen features and functions to make your hotel amazing.
Hostinger provides all technicalities as well as ready-to-use templates for your convenience. It's possible to start a blog on your website, which will have excellent social sharing capabilities.
Hostinger can also help you with your domain name and web hosting, promising to take your hotel business to new heights.
Weebly – Best Hotel Website Builder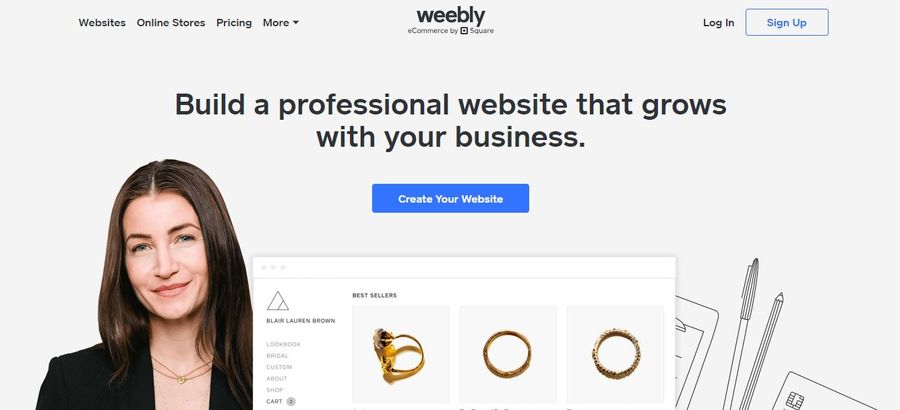 Learn More
Weebly is the best hotel website builder, and we highly recommend you try it.
This builder is the latest fashionable, comprehensive portfolio platform for short-term accommodations such as guesthouses, inns, and hostels.
You can quickly and easily build a site and display your promotions and services in a unique and professional manner without the high coding skills required.
Your page will always perform excellently because it works well on any device.
With eCommerce features that enable you to manage your inventory and collect payments, Weebly helps you stand out from the online competition and make a change for yourself and the entire industry. Start making your business website and share your word today.
If you want to make a website for personal or professional use, you may want to compare Weebly vs Wix to find out which website builder offers more features.
HotelRunner – Hotel Website Builder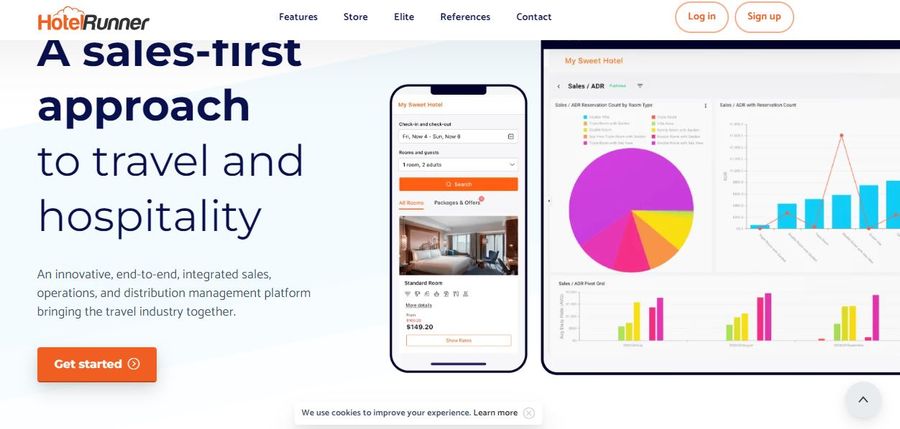 Learn More
HotelRunner comes with all the features you need to take your business to a new level.
If you already have a website but find it difficult to manage, HotelRunner can help. However, if you don't have a web presence, you should take action right now.
HotelRunner is a platform that helps many hotels in the world, and it can help your business, too.
Online payments, mobile bookings, a promotion engine, a booking engine, group hotels, and HotelRunner POS are some of HotelRunner's features.
You can have a professional hotel website with minimal effort on your part. Don't hesitate; dive in and take your accommodation business to a whole new level.
Tilda – Hotel Website Builder Reviews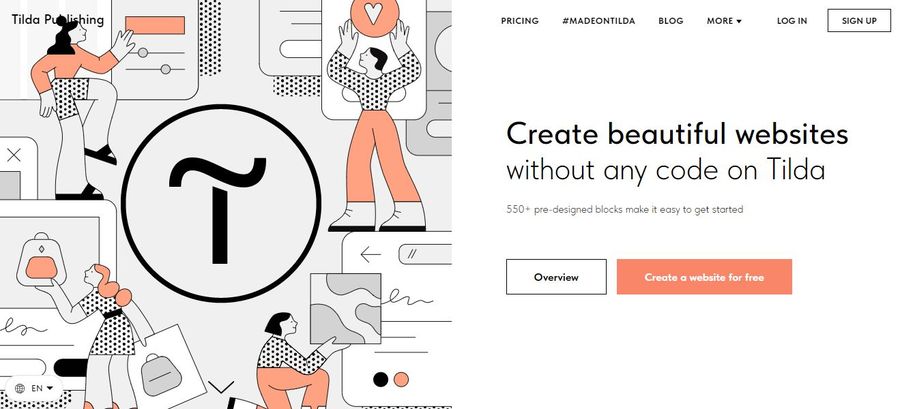 Learn More
The next one we have to mention in our hotel website builder reviews today is Tilda.
It offers many pre-built blocks and layouts. It is flexible for many various niches and supports you in creating your preferred website.
Simply start by choosing one of the many pre-made templates and customizing it to your needs.
Tilda's intuitive builder allows you to complete tasks quickly. Make it visually appealing and adaptable to all devices and web browsers.
The platform also includes a price calculator, a custom form builder, Tilda CRM, and is search engine friendly.
Webflow – Hotel Website Builder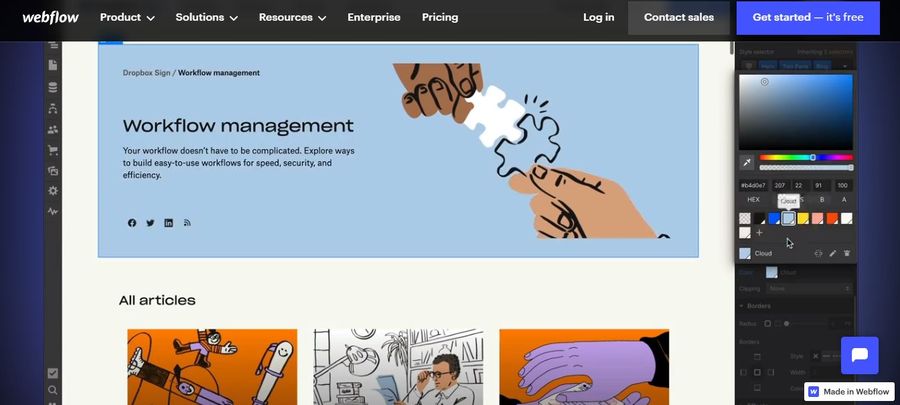 Learn More
Webflow is the result of combining epic creativity and sophistication. The software differs from the others on this list in some way. However, do not be alarmed.
Webflow has a different way of building websites, but it's not harder than any other tool. It's just as user-friendly and intuitive.
You have the option to use a blank canvas or a pre-made design to visually code your website with Webflow. It's a unique way of creating websites, but you don't have to worry about breaking anything.
Webflow is also a hotel website builder because of its high adaptability. You don't need any coding skills to achieve amazing results with this tool. It has everything you need.
Webflow also provides web hosting. As professionals do, it is a comprehensive solution for managing your accommodation business website with ease.
uCraft – Hotel Booking Website Builder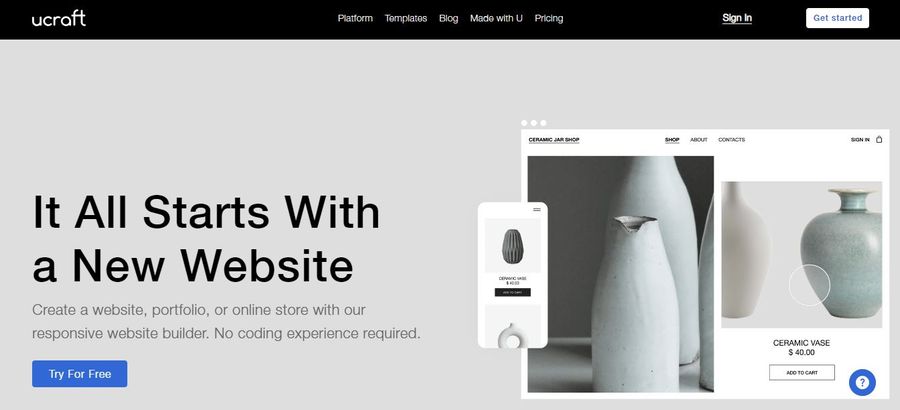 Learn More
Your website will have a warm and friendly feel that will attract your visitors and make them want to bring more friends. uCraft, your adaptable ally, can also serve as a hotel website builder.
No matter what device your customers use, they will see a perfect and seamless page with graphics and layout that are stunning.
You have a lot of options to make it your own with this builder that lets your creativity run free.
The core features of this hotel booking website builder revolve around ease of use and comfort.
Surely, uCraft is an excellent platform for all hoteliers. A simple website can help you expand your business
You can welcome more guests and show them your services with a website. Entice them and easily win them over.
Squarespace – Hotel Website Builder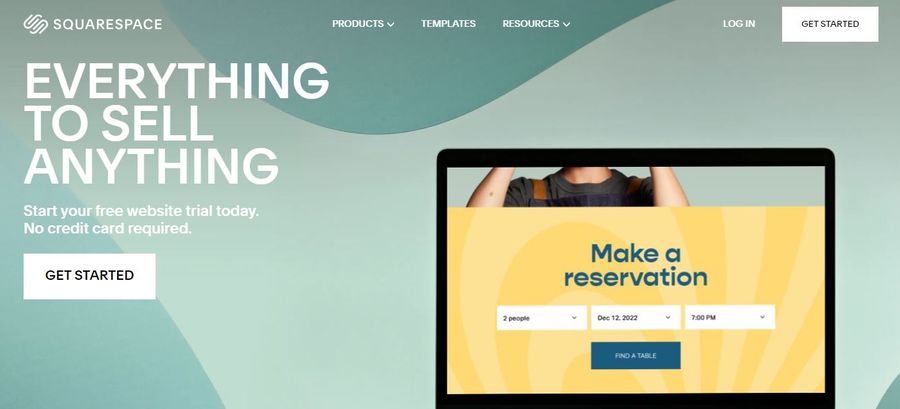 Learn More
In a nutshell, Squarespace is the most famous platform for everyone. It's perfect once you've experienced its versatility and adaptability. It lets you easily create your dream pages without any website development skills.
Of course, Squarespace can also be used as a hotel website builder. It provides a plethora of beautiful templates, powerful features, and different assets.
You can easily change and customize the design to suit your needs. It will be a smooth and natural process.
It's possible to get your own custom domain name as well as host your hotel page with Squarespace. Squarespace has everything you need.
Read More: Business WordPress Themes: Top Themes That Makes Your Site Go Boom!
You may also like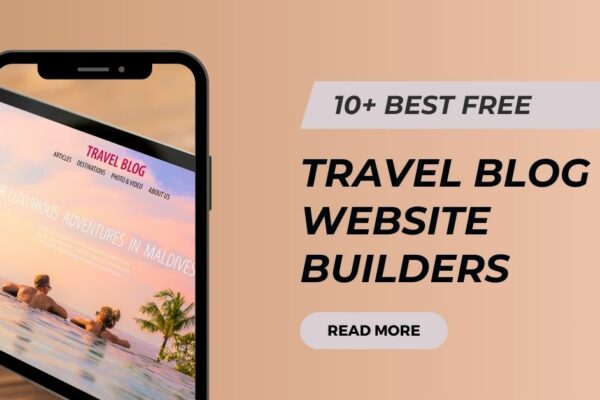 Posted on December 4, 2023
Are you ready to share your wanderlust with the world? Check out the best free travel blog website builders below!
Traveling opens your mind to new cultures, breathtaking landscapes, and unforgettable experiences. But even after you've touched down in your dream destination, the adventure isn't over. There's a whole new world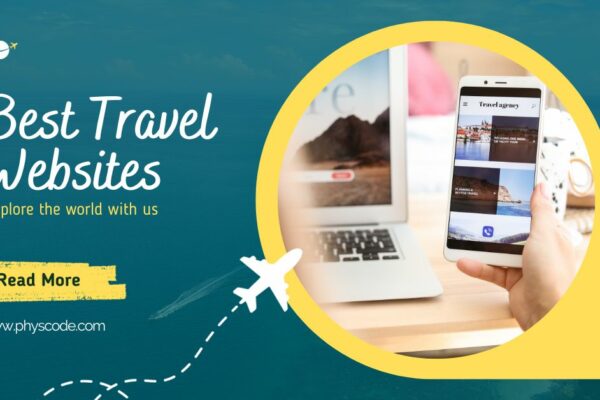 Posted on November 27, 2023
In today's interconnected world, travel has become an integral part of our lives, offering a chance to explore new cultures, broaden horizons, and create lasting memories.
With the plethora of travel destinations and options available, planning a trip can be both exciting and overwhelming. This is where travel websites step in,