Exploring the World of Restaurant Website Designs You Should Know
Post on October 3, 2023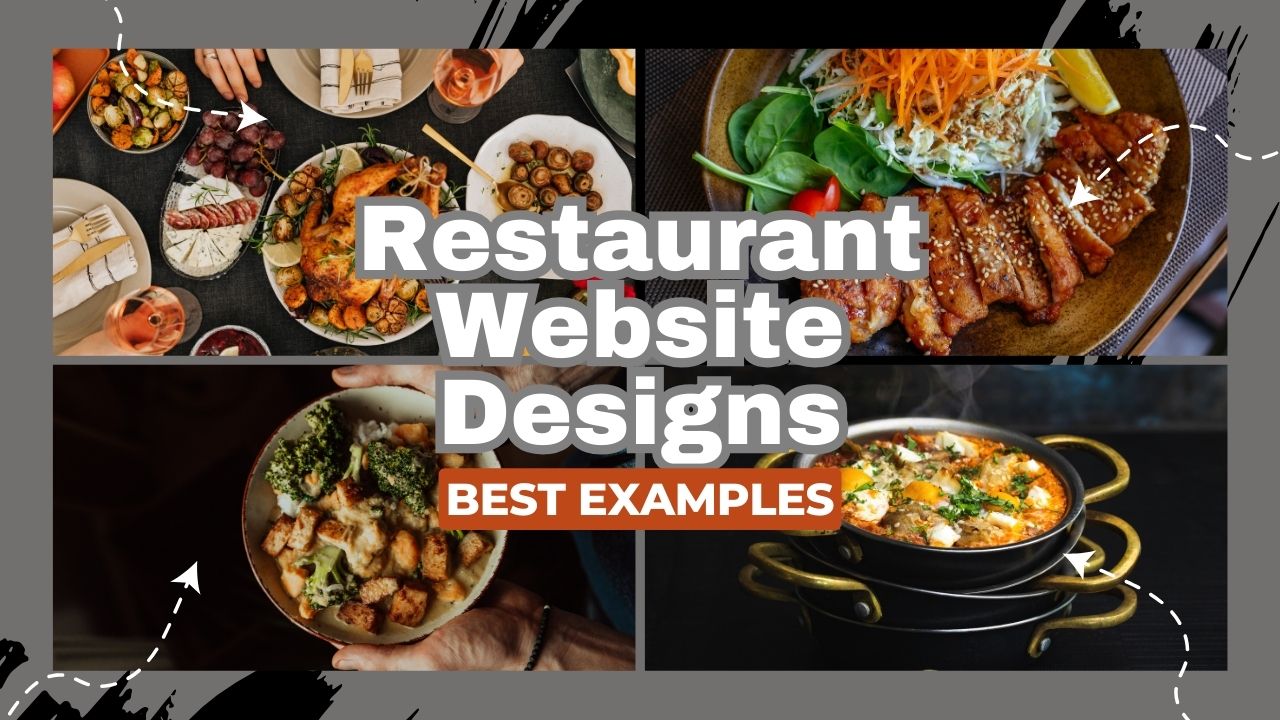 Are you looking for the best restaurant website designs? Here are several of the best examples from Michelin-rated chefs.
A professional restaurant website can help you generate more leads and a reputation for businesses. It can also let your customers make reservations whenever they want.
To help you build a WordPress website, we have collected a few of the best restaurant websites in the world from Michelin-rated chefs. So you can learn from their features and designs.
It's important to have a strong online website presence for restaurants and any other business. Moreover, most guests will check the restaurant online before eating there.
But don't worry. You don't need to spend a lot of money or time to create a website. You can find many ready-made WordPress restaurant themes that are modern and professional.
In this article, you will see different ways of presenting your restaurant online. Some are very creative, while others are simple and elegant.
You can get inspired by these examples and make your own website with style.
Koox – Good Restaurant Websites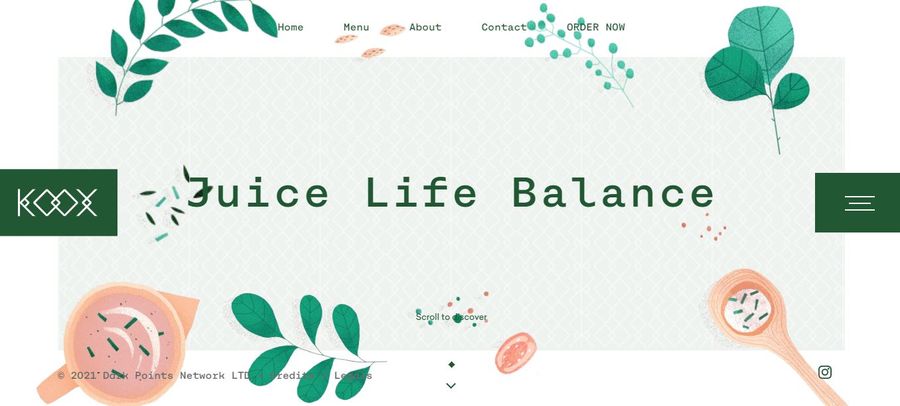 Increase your revenue by selecting good restaurant websites to market your business. Koox is a first choice we highly recommend. It was created in collaboration with coffee roasters, star chefs, and artisans to make great stuff with minimal fuss. 
It's one of the list's most inventive restaurant website designs, ready to inspire restaurateurs. The homepage is visually appealing with cool animations.
To make navigation easier, Koox uses social media icons, a sticky header, and an off-canvas menu.
Voellerei – Restaurant Website Designs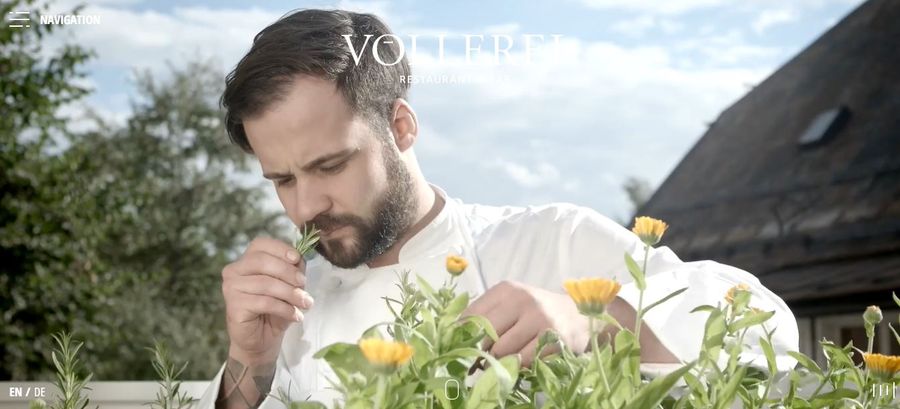 A website that stands out and captivates can boost any business's success. Similarly, a restaurant site can assist the owner in effectively connecting with customers.
Voellerei has a fantastic design that perfectly represents the company. In the middle of Saalfelden, the restaurant & bar have a picturesque location, surrounded by mountains. It is designed with unique features that will set the brand apart. 
It comes with a smooth slider and a nice off-canvas menu that displays each page, such as the homepage, restaurant, and contact information.
Video content from the hero scene is included on each page to present the brand. The web components also look amazing with subtle animations.
Ammolite – Cool Restaurant Websites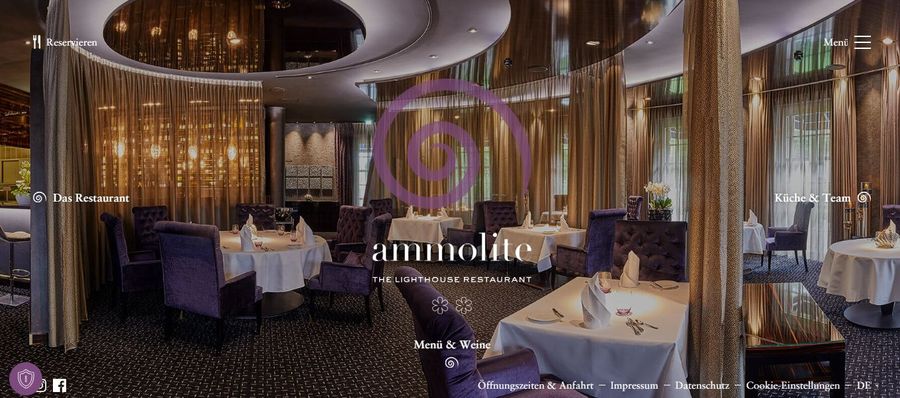 Ammolite is among the cool restaurant website designs. It's a 2-star Michelin restaurant in a lighthouse on Europa Park's grounds. It uses a creative and innovative design for its website to stand out in a highly competitive industry.
The homepage layout is full-screen, with a beautiful logo, a high-quality image, an off-canvas menu, social network icons, and a smart reservation form.
The impressive design features GSAP animation, which adds creative and subtle motion to each page, resulting in web elements that are both visually appealing and easy to read.
iL Buco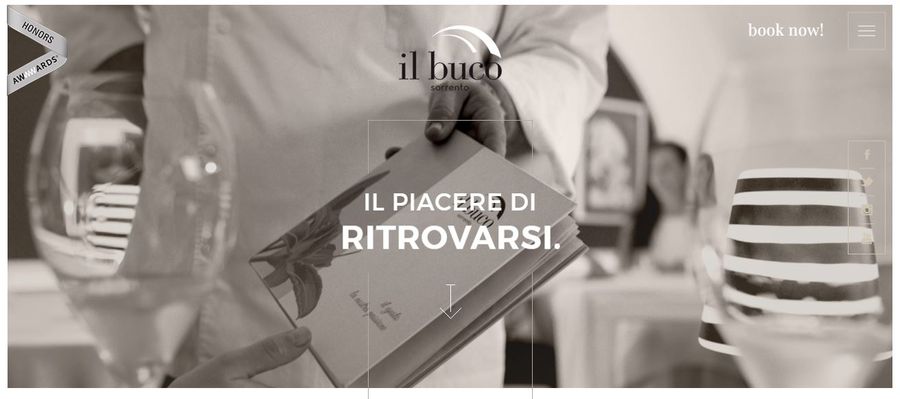 No list of the best restaurant website designs can be completed without iL Buco. Its design is stunning and will surely motivate restaurant owners and designers to create their own. 
With its 100% responsive design, customers can effortlessly reserve a table on websites, smartphones, or other devices.
The homepage comes with retro images to make it look classic and sleek. It displays the contents using an asymmetrical layout.
The grayscale photo in the hero header is accompanied by a logo, an off-canvas menu, and social networking links.
It also has a simple menu with a smart reservation form that matches the color scheme of this website.
Inavoue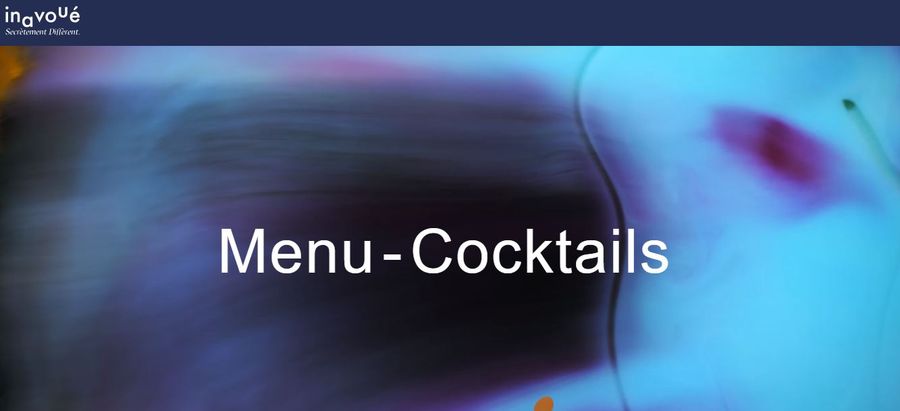 Inavoue is among the top restaurant websites that are full of creativity. They can help you boost your brand online and create more possibilities for your business. 
Inavoue is a hidden and romantic spot in the center of Paris that serves seasonal dishes and cuisines. It has a creative and unique homepage design with all the essential features of a restaurant website.
The hero scene stands out with its simple video background, logo, off-canvas menu, and reservation button.
The design also looks impressive, as it adds animation when scrolling. And that's not all; the social media icons on the off-canvas menu also help promote the brand on different platforms.
Temper Restaurant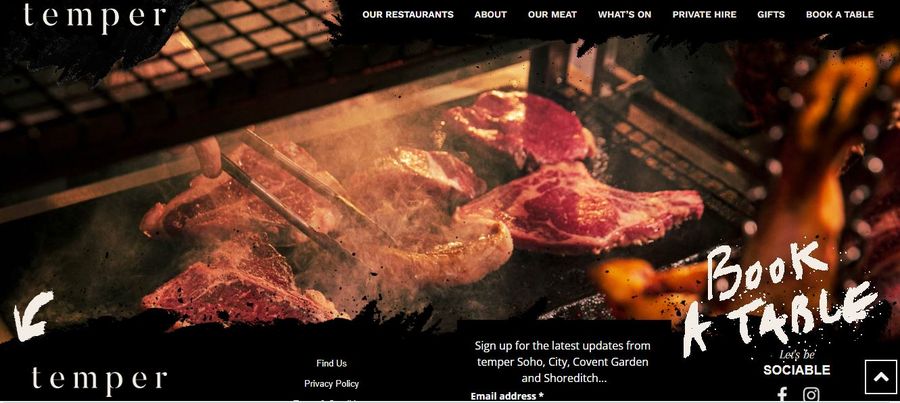 No matter what your business provides, an online website can boost it immensely. A good website is a smart choice that will bring you great rewards.
With music, cocktails, and a wide selection of wines, Temper Restaurant offers a distinctive and lively experience of animal barbecue cuisine.
The website has a black-based homepage design that stands out from the crowd. The artistic brush strokes on some features enhance the creative appeal of the site. The site also has original buttons for booking a table and buying a gift card.
Mamuka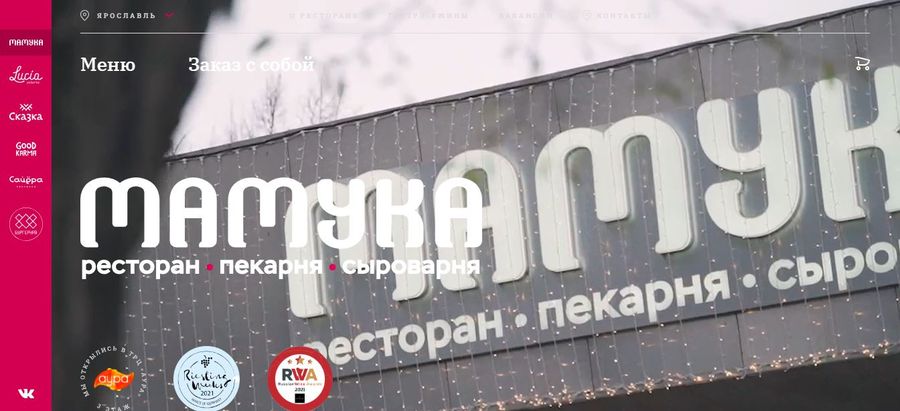 According to studies, smartphones account for 52% of all global online traffic. As a result, Mamuka prefers to design a fully responsive website.
This restaurant mobile website is a large family-run Georgian restaurant in the heart of Yaroslavl.
The website is visually appealing, with hot pink and sliders on the homepage. If you're looking for ideas for your next project, Mamuka is worth considering in the list of restaurant website designs.
In addition, there is a sticky menu on the left side of the site, which makes it easy for visitors to find their way around and access the information they need.
The Smoke House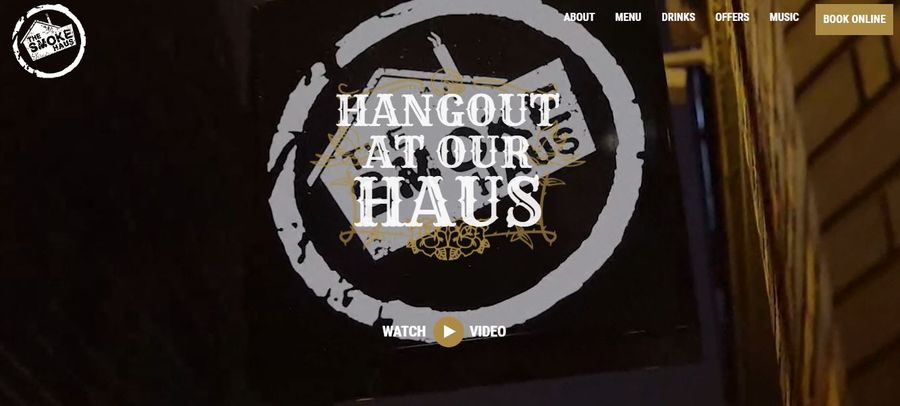 What's more? With the advent of online restaurants, it is now possible to manage customers and orders efficiently. That's just some; it will also provide you with free and inexpensive but effective marketing.
The Smoke House in South Wales serves mouthwatering American barbecue. Its website is designed with usability and modernity in mind. 
The hero scene is a visually appealing and informative way to introduce customers to a business. The video introduction provides a brief overview of the business, while the menu, logo, and online booking button make it easy for customers to take the next step.
This site allows customers to view the pages of the two different branches. Below is a slider that displays the restaurant's full menu and reservation form. This makes it easy for visitors to browse all of the restaurant's offerings and make a reservation, all on one page.
Read More: WordPress Restaurant Plugins: 8+ Top Picks
You may also like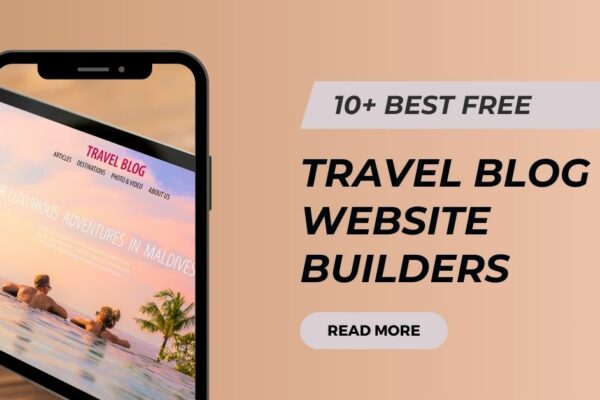 Posted on December 4, 2023
Are you ready to share your wanderlust with the world? Check out the best free travel blog website builders below!
Traveling opens your mind to new cultures, breathtaking landscapes, and unforgettable experiences. But even after you've touched down in your dream destination, the adventure isn't over. There's a whole new world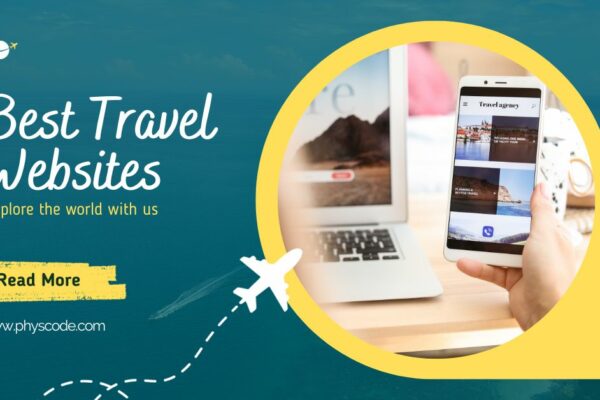 Posted on November 27, 2023
In today's interconnected world, travel has become an integral part of our lives, offering a chance to explore new cultures, broaden horizons, and create lasting memories.
With the plethora of travel destinations and options available, planning a trip can be both exciting and overwhelming. This is where travel websites step in,