Best WordPress LMS Theme Selection in 2022
Post on April 25, 2022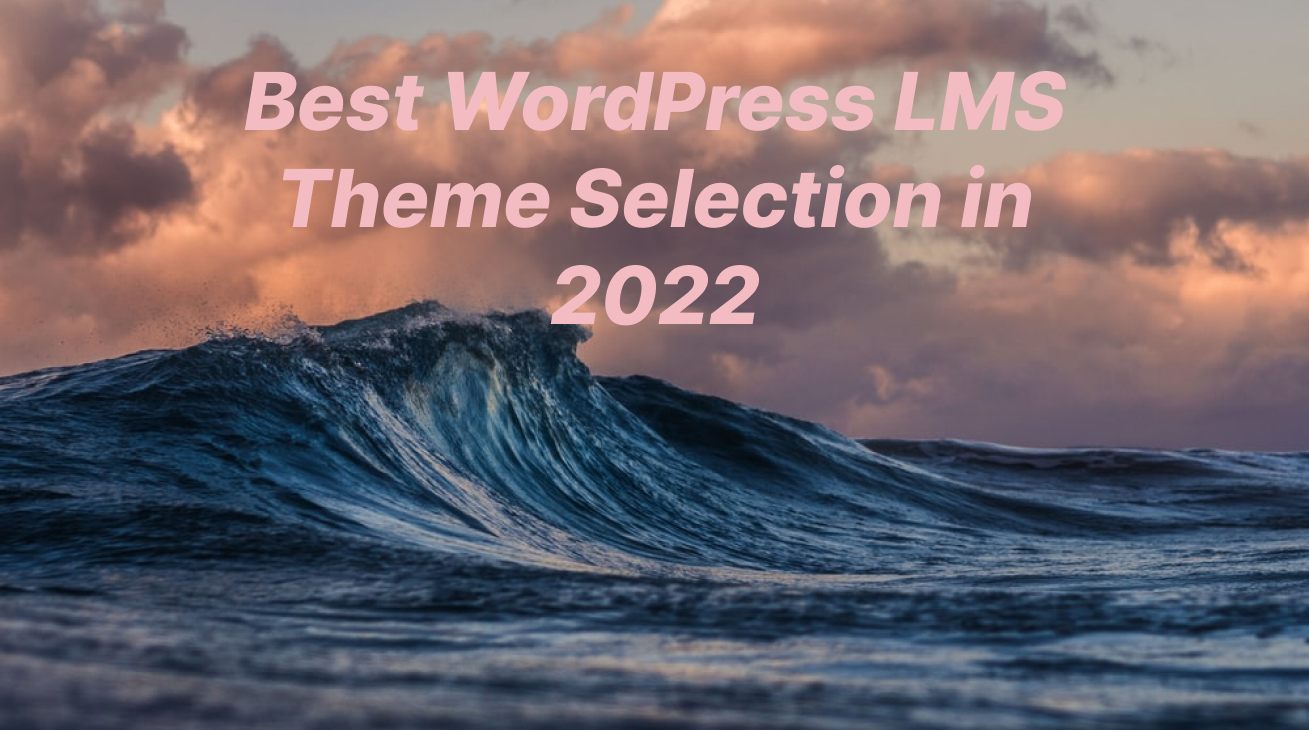 Looking for a proper WordPress LMS Theme for your website? If so, you are reading the right post!
In the marketplace, you can see hundreds, even thousands of them. However, not all of those themes will help you create your dream online learning website. Even though, they may bring harm to your site. Therefore, today we are here to help you with that. We will discuss and bring out the best WordPress LMS themes so that you can build and develop your learning site.
WordPress LMS Theme Basic Standards
Certainly, an LMS site is an online learning platform where a teacher or an educational organization delivers online courses to participating learners. The courses will include learning materials, instructional websites, and exercises to help students learn in a modern way.
To make a good online learning site, you should have an LMS WordPress Theme. Therefore, your site will get a great LMS design and tons of LMS-supported functions.
Now, let's go for the best of them in the market.
Eduma – Top 1 WordPress LMS Theme in the Market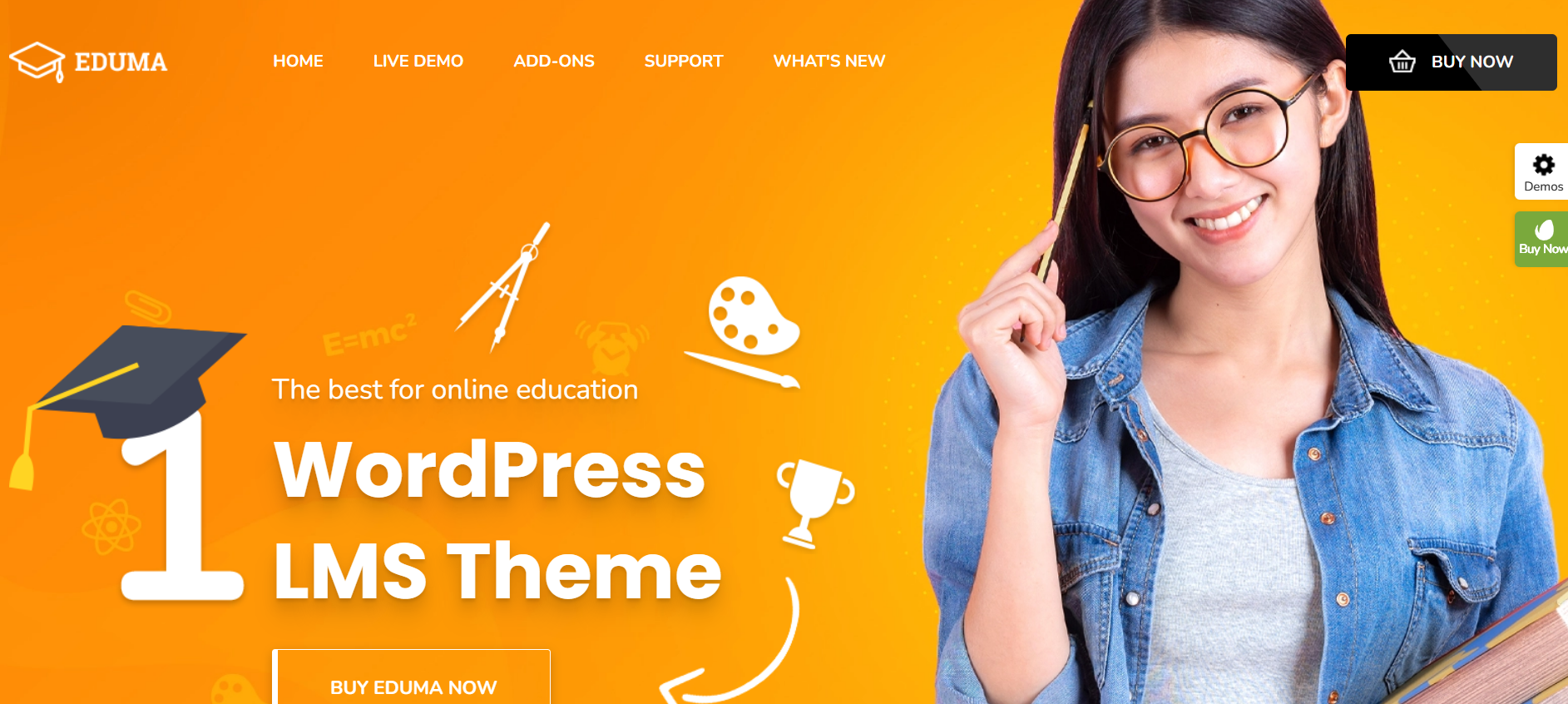 Download
Demo
Among WordPress users, 9 out of 10 people will claim that Eduma is the most popular and greatest LMS Theme of all time. Eduma is a premium and comprehensive WordPress LMS theme for the WordPress platform powered by LearnPress – no1 WordPress LMS plugin. With over 40000 downloads, Eduma can ensure that your site will look nice and very learning-alike. Below, we will reveal its features so that you can have the best overview of this theme.
Produced by ThimPress, Eduma stands at 1st place in the Envato market's best-seller LMS themes. Here, we provide users premium built-in demos including main demo, course era, online school, language school, courses hup, and many more. Besides, the number of demos still raises through every update to meet more demands. Of course, all demos are fully responsive so that users can have the best experience. To help you, we provide the 1-click demo importer for a faster web setup.
Particularly, you can download these premium add-ons alongside Eduma:
Sorting Choice Question Type.
Content Drip.
myCRED Integration.
Random Quiz.
Co-instructors.
Paid Membership Pro Integration.
bbPress Forum Integration.
BuddyPress Integration.
…
Wow, such a large collection of premium add-ons following Eduma! In case you are afraid of a heavy LMS, you can enable/disable them easily at any time. To be more specific, you may discard the unwanted add-ons to faster your site. On the other hand, you can use the drag and drop page builder to simply edit your site. Then your courses will be much easier to edit. Shortcuts are also implemented, to make the instructor's life effortless when building new lessons, new quizzes, or questions.
Here, more features are waiting for you to discover. Find out now!
CorpTrain – High-Quality WordPress LMS Theme for Training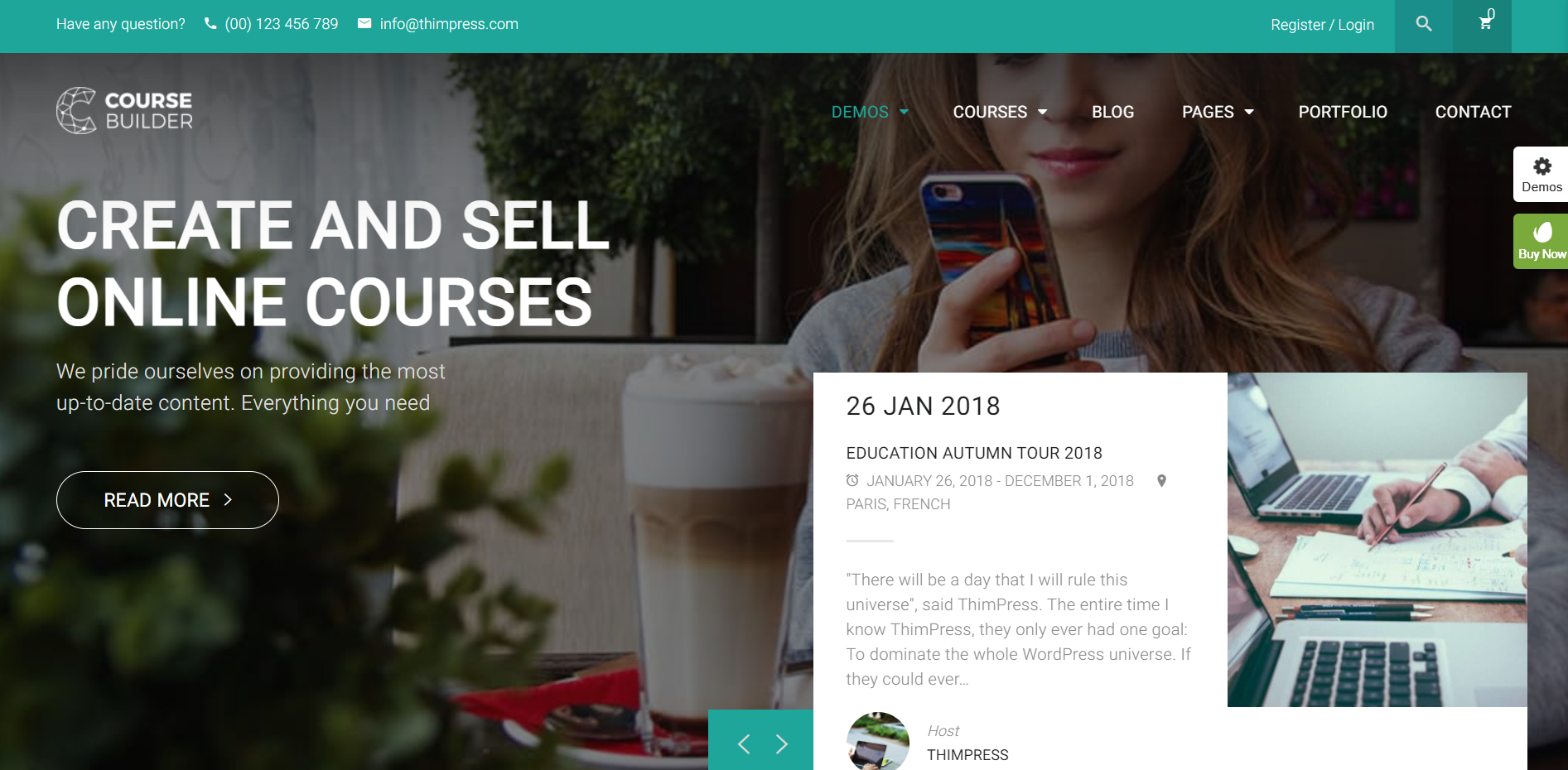 Download
Demo
CorpTrain is a high-performance WordPress LMS Theme Free for course training. Using our specific WordPress LMS plugin, you can use it for employee-training websites: companies, groups, corporations, etc. With CorpTrain, you can easily build nice online courses and train your staff.
With the built-in LearnPress plugin, you have a chance to create educational websites in a few minutes without any coding skills. Besides, Corptrain will inherit all of LearnPress's features. First, it can integrate well with Elementor, PHP 8, WPBakery Page Builder, MailChimp, bbPress, Contact Form 7, and more. Those are the most popular plugins that will ease your customers and users when editing pages and courses. You can also find out more about LearnPress here.
On the other hand, we have 9+ demos for you to select. They are all 100% responsive and retina-ready. Remember, a fast-loading website will earn more privileges on the search engines. Besides, the well-designed drag and drop page builder will allow CorpTrain to save your time and effort. In the dashboard, you can see the courses' information, options, and more. Also, it is RTL translation ready. Therefore, your site will become multilingual and serve more users from around the world.
Otherwise, there are other significant features: social button features, various paying gateways, 700+ Google fonts, unlimited color options, and more.
Epsilon – Smart Solution for Online Learning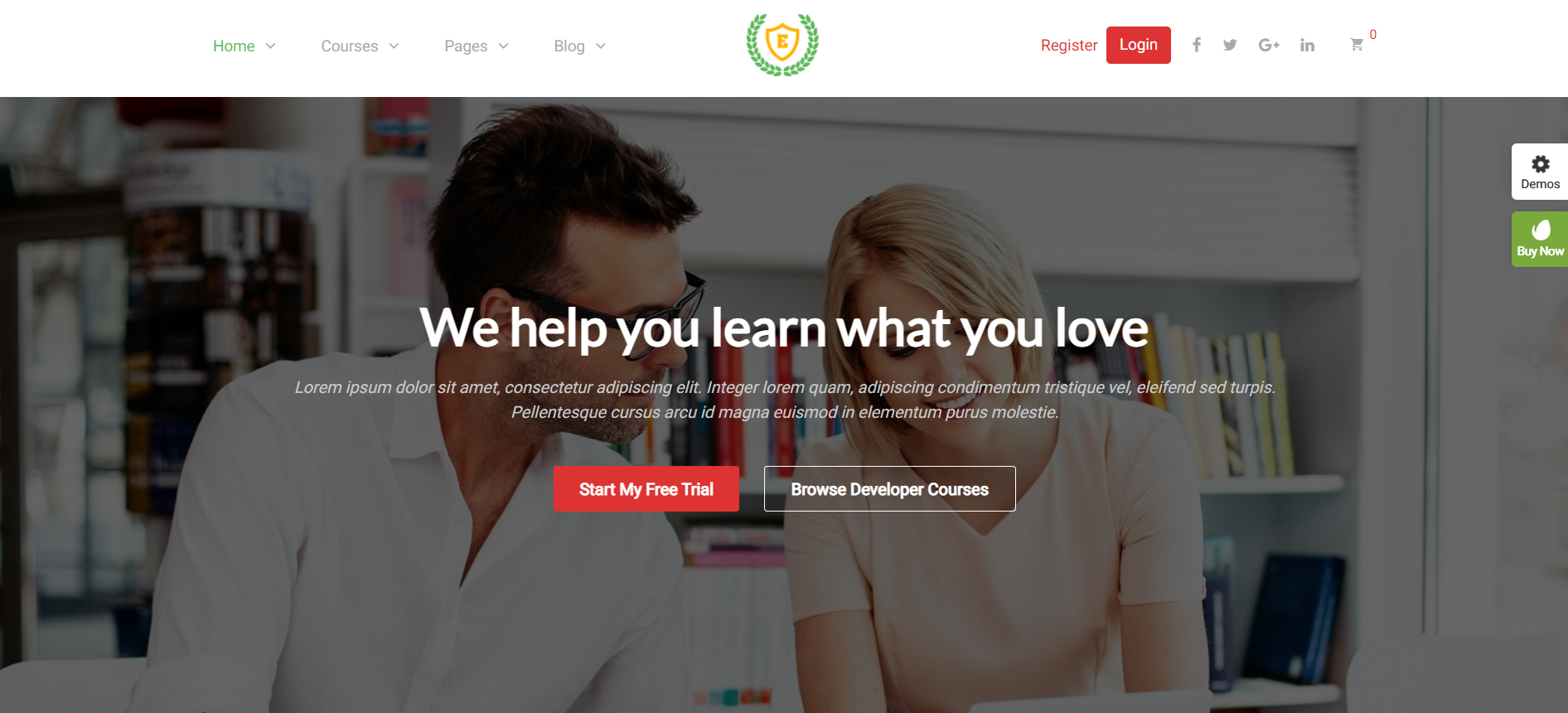 Download
Demo
Nowadays, Epsilon is one of the most functional and powerful WordPress themes for e-learning in the market. Here, you can create your website and also courses, lessons, questions, or quizzes. These courses can be a sale for free or at prices.
We provide 3+ pre-made homepage demos for LMS and e-learning. Of course, we are working and delivering more demos for all of you. Otherwise, you can create your layout and save it for later use as well as use the 1-click demo importer to fasten your designing process. Besides, the theme provides many headers and footer options. In the WordPress dashboard, users can edit unlimited color and font options. Also, you may apply pre-built templates to make your site outstanding and unique.
In the extending LMS add-on, you can get authorize.net paying gateway, Gradebook, Commission, Paid Membership Pro, Sorting Choice, and 2Checkout paying gateway. The LearnPress plugin provides the features: add instructors, sell any course, various lesson types, content drip, sell course membership, manage course progress, certificate, and complete questions/quizzes. Later, you can have these features when using the theme Epsilon: RTL support, WPML ready, sidebar generator, 7 post formats, etc.
WPLMS – Popular Learning Management Innovation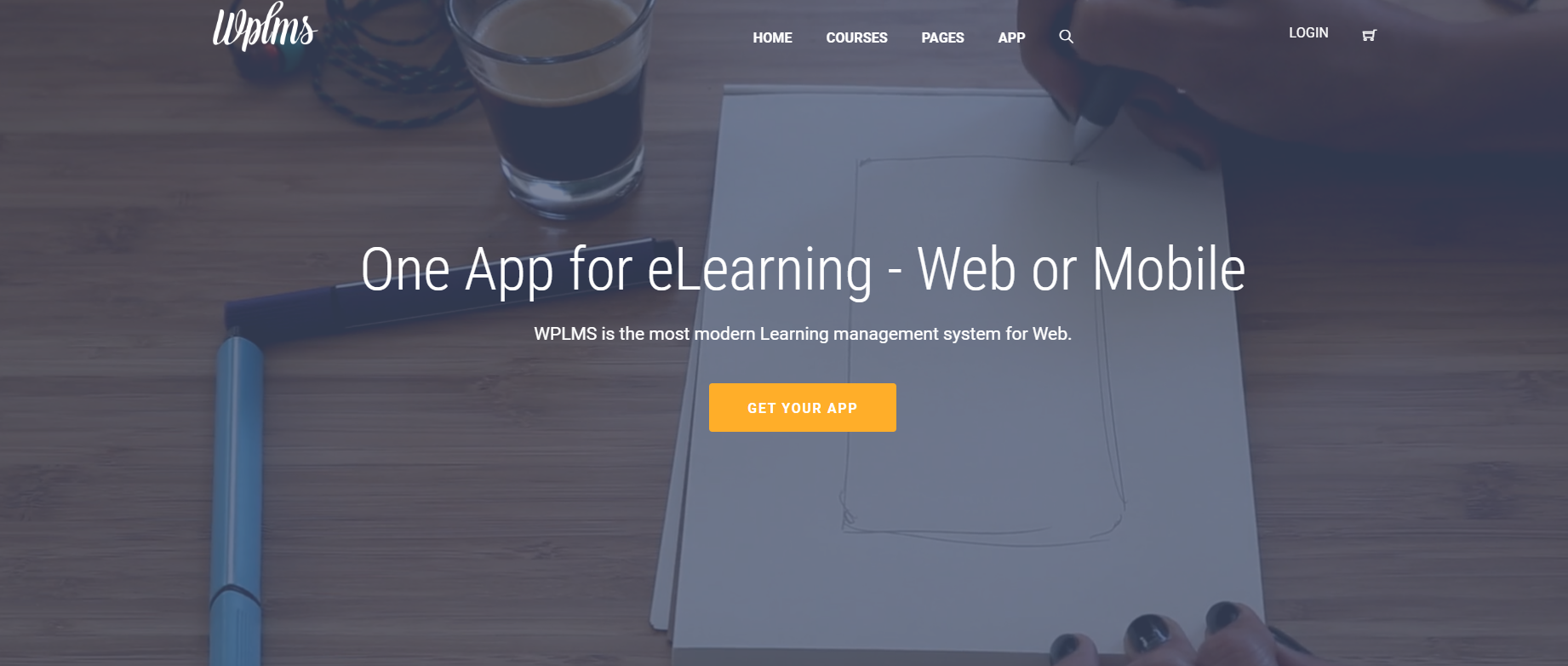 Download
Demo
WPLMS is a great option for an LMS website. Overall, it is trusted by 500+ companies and over 1 million members. Until now, the theme still covers up a lot of LMS websites with over 90% of good reviews and feedback.
About WPLMS, many people say it's the best LMS WordPress Theme since you can work on it even when you are offline. To be more specific, users can edit and change the LMS site's data when there is no internet connection. Then, the updates will automatically go on when you come online. For an e-learning website, the ability to create and support an online course is the most important role. WPLMS can meet the demand: mobile-responsive, drag & drop content, customizable mega menus, fast-loading data, real-time synchronization, and scroll tabs. Of course, like the other themes, WPLMS can get operated without a single line of code. Also, this theme's mobile app conversion is a good point.
On the other hand, users can have full control of the theme in both website and mobile app versions. In the WordPress dashboard, you can easily manage the theme's options and users' rights: Administrators, Instructors, Students, or any custom role in your website. For each course, you can make sections, units, quizzes, questions, and more. Also, the theme brings out a great feature: Live chat. The built-in live chat system will let users in the system exchange and communicate.
Online Education – Bring Innovation to Education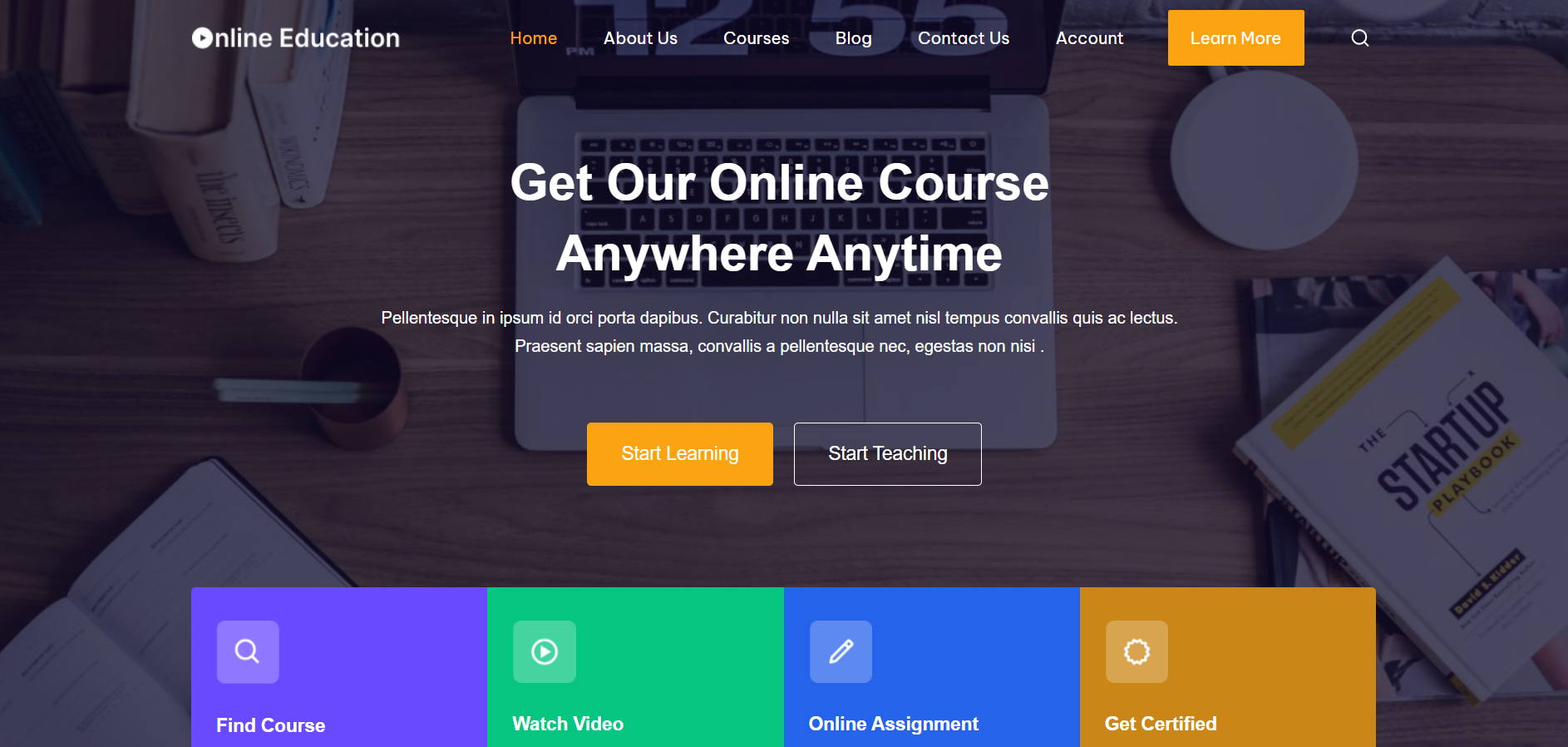 Download
Demo
Tired of creating an educational website? Wanna make it faster and easier? Then, Online Education is a suitable selection for you. Offering a lot of features and elements for users, the theme will not disappoint you when making the courses and bringing them popular.
In Online Education, the developers have the plugin Masteriyo built-in. Technically, it will help you make a niche and nice functional online learning site for your users. It will also leave no corner untouched: you will gain 100% access to all categories, accessories, and elements to provide learners with more benefits. Otherwise, the theme offers endless color options, header & footer options, 650+ fonts, various widget sections, and more. Especially, it's free and you can make use of it. For more convenience, you can purchase the premium version.
Masterstudy – Take Your Steps to Knowledge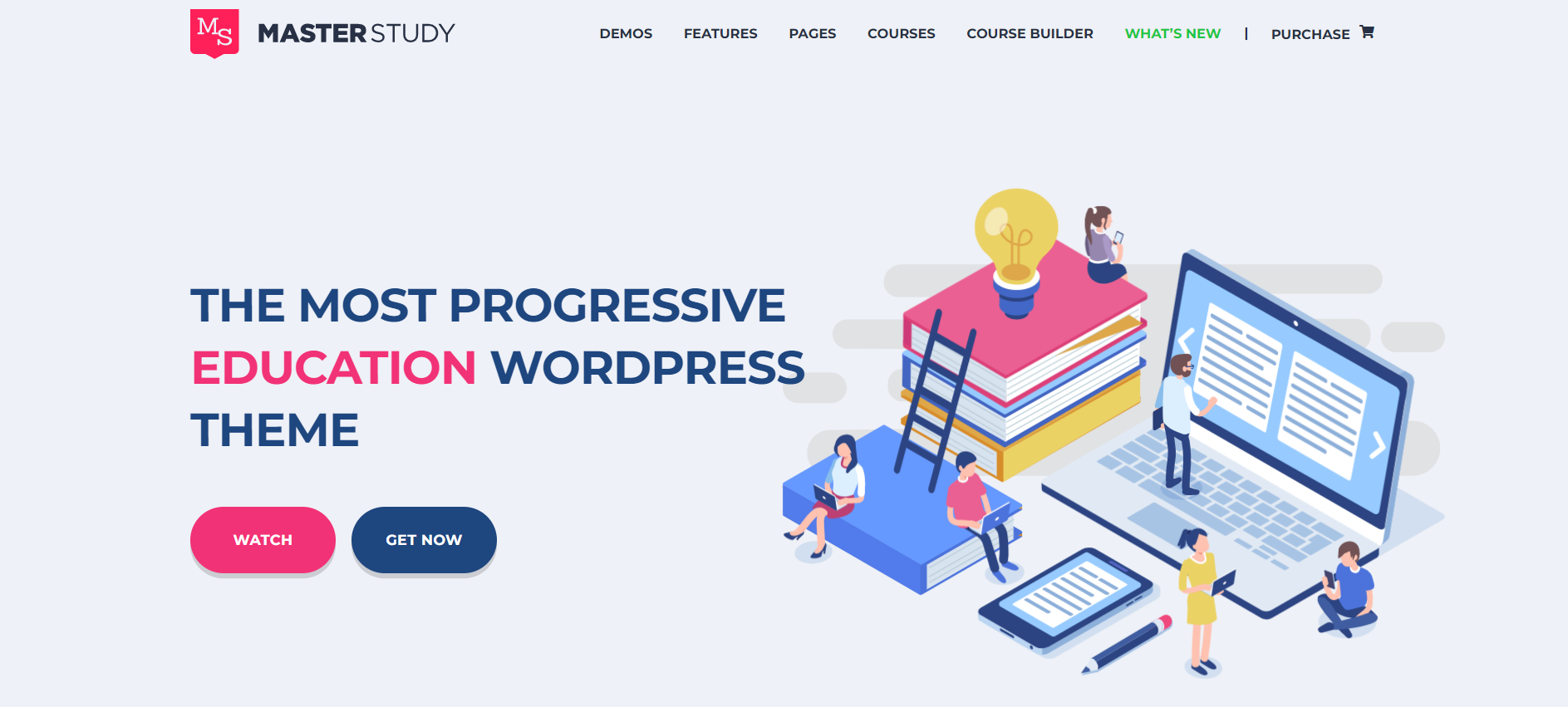 Download
Demo
In the market, Masterstudy can stand at a high ranking because it provides users with an impressive collection of built-in page demos. Therefore, web developers can make an e-learning site for a wide range of e-learning purposes. Of course, the theme is designed for both organizations and private tutors to conduct online presences. Learners can buy the courses or promote them through social media channels. Masterstudy has the social media buttons where everyone can share the courses and approach more viewers/potential learners.
One of the most significant features of Masterstudy is the powerful course builder widget. With this widget, the theme will simplify the progress of making/uploading e-learning content. Besides, Masterstudy can integrate well other plugins and widgets including WooCommerce. WooCommerce integration allows your site to access 30+ payment gateways including Authorize.net, Stripe, and PayPal. Also, Contact Form 7 will help you with the form and email stuff.
Course Log – Impressive WordPress LMS Theme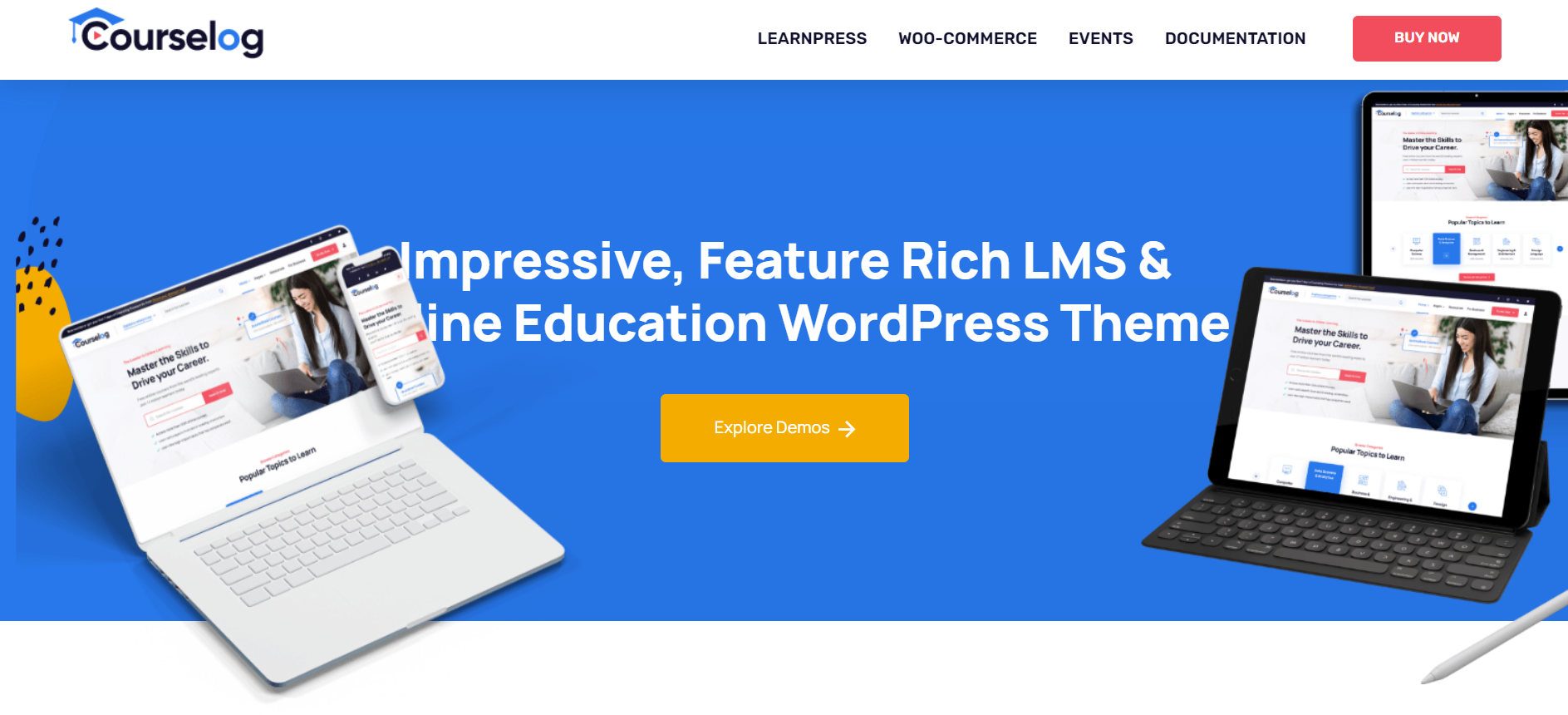 Download
Demo
Course Log is a flexible and multi-purpose WordPress theme for LMS. With the enormous gallery of demos, it will surely help you make your unique learning website.
Integrated with the WooCommerce plugin, Course Log can get access to a lot of paying gateways including PayPal, Stripe, Authorize.net, or else. Also, the plugin WooCommerce provides powerful extensions so that you can build your site in the way you plan. On the other side, it can integrate with the plugin Eventin to publish all events and special moments on your site. Therefore, the web owner can edit and schedule e-learning courses and special events. Zoom integration is also an indeed feature especially in this period of Covid-19.
Built around LearnPress and Elementor, it will inherit all of these 2 plugins' advantages and deliver your site to a higher ranking on the search engine services. Also, users may put up high demands on the design of the site.
Guru – Leading WordPress LMS Theme for Universities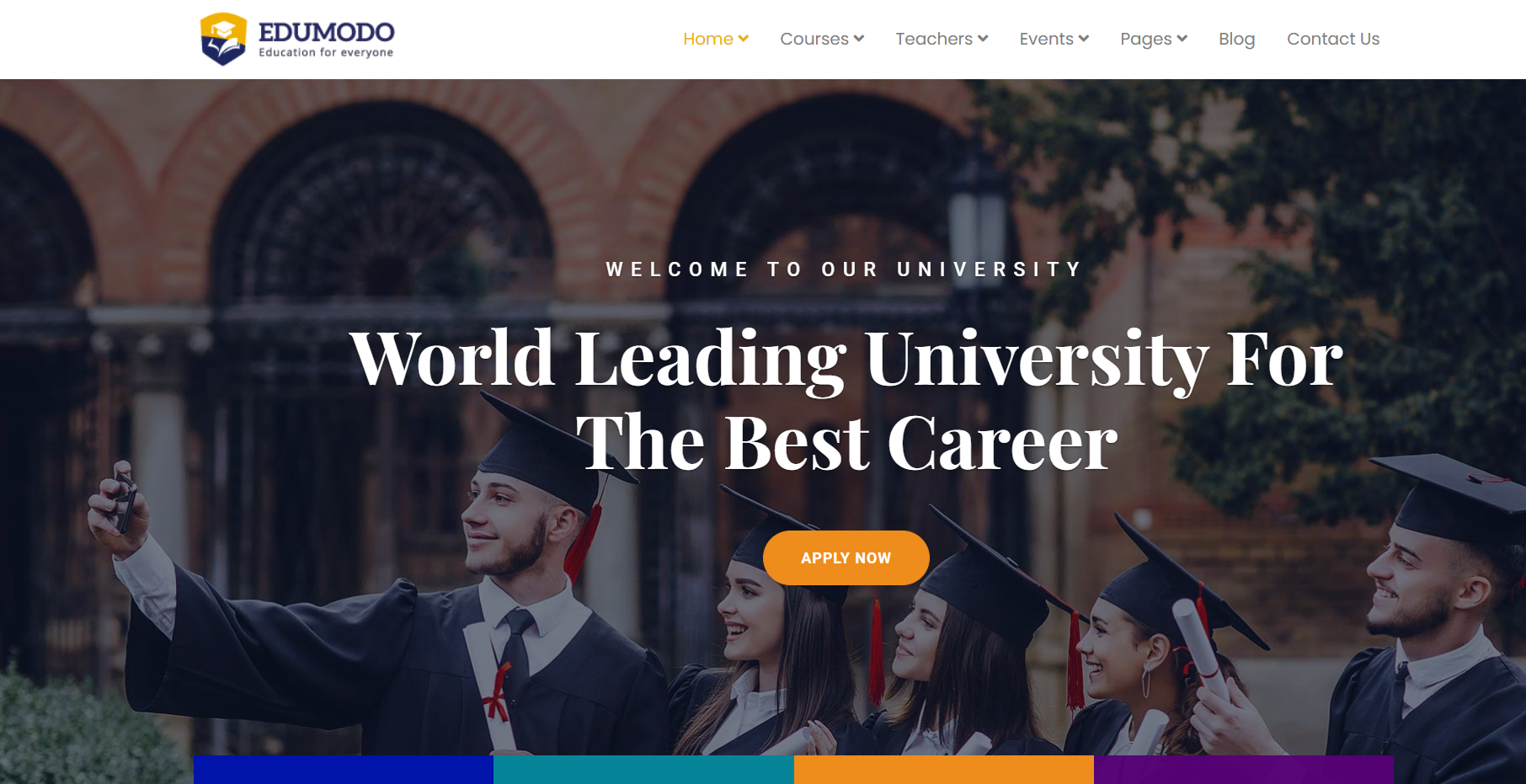 Download
Demo
For LMS sites, Guru has become a common choice for web owners. Using the plugin Sensei LMS, will surely not let you down.
Among all features, the fully responsive and retina-ready design layout will attract the viewers and also potentials customers when visiting the site. Also, it will meet your demand for a clear, obvious, multi-functional, and professional visual layout design. Therefore, the instructors can bring out and promote their online learning content and materials. In addition, Guru also makes it simple to handle the social media possibilities, event schedule, and email stuff. Meanwhile, it offers users 800+ fonts including Google fonts, unlimited color possibilities, mega menus, a 1-click demo importer, various templates, and a large number of helpful shortcodes. Indeed, Guru stays a very possible choice for both beginners and experts to earn from online courses.
Academist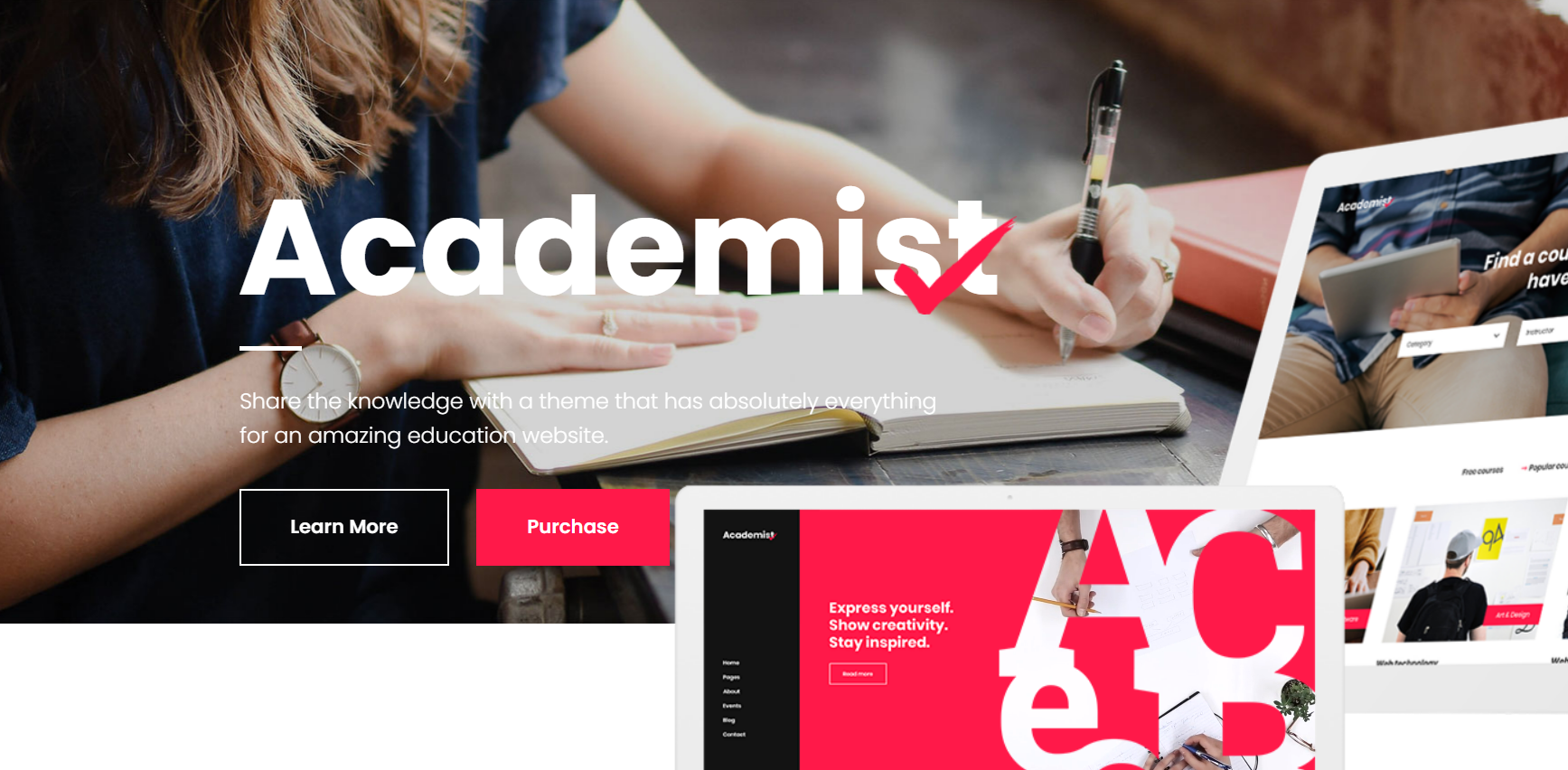 Download
Demo
Whoever you are, a teacher or a private tutor, an individual or an organization, your e-learning website must be able to deliver and share the online courses and content as well as allow people to upload their ones. As a result, Academist has all the features and functions you will ever dream of.
With Academist, you don't have to worry much about your uploaded content. Once you upload the content, you can preview and edit it in real-time. Also, you can find out the options for course displaying lists, profiles of content makers/learners, and many pre-made demos of content. Besides, the useful templates will cover you in posting content like courses, blogs, and contacts.
Academist provides the user with the WPBakery drag and drop page builder. As a result, your interface will become much more beautiful and simpler. In certain, Academist is a good selection if you start working in the LMS field.
BuddyBoss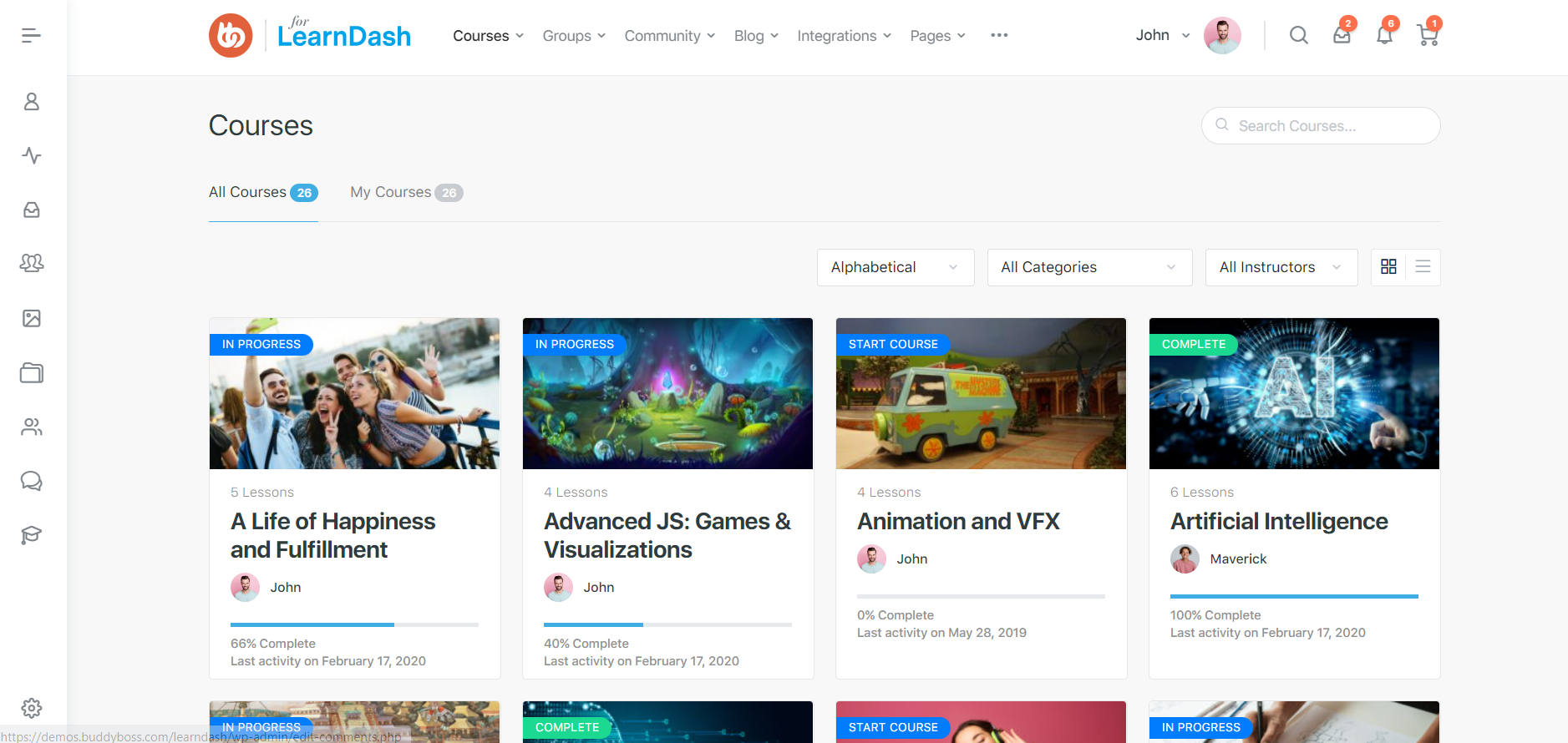 Download
Demo
Built around LearnDash, BuddyBoss will surely acquire and bring into play the advantages of this LMS plugin. Therefore, the theme will help you build up a sustainable platform and open ways for future online courses. Also, BuddyBoss owns quite enormous storage of demos and templates. However, the option LearnDash-focused stays the most attractive one.
Besides LearnDash, BuddyBoss also integrates well with the plugin BuddyPress. BuddyPress is a WordPress plugin for managing users' profiles, connecting users, and making a forum/community around your website and content. Especially, it can make an application for your website which you can submit to Google Play and Apple App Store. Later, your customers can get more ways to access your website and content.
Besides, BuddyBoss can work alongside many other plugins including WooCommerce, Contact Form 7, etc.
UniCoach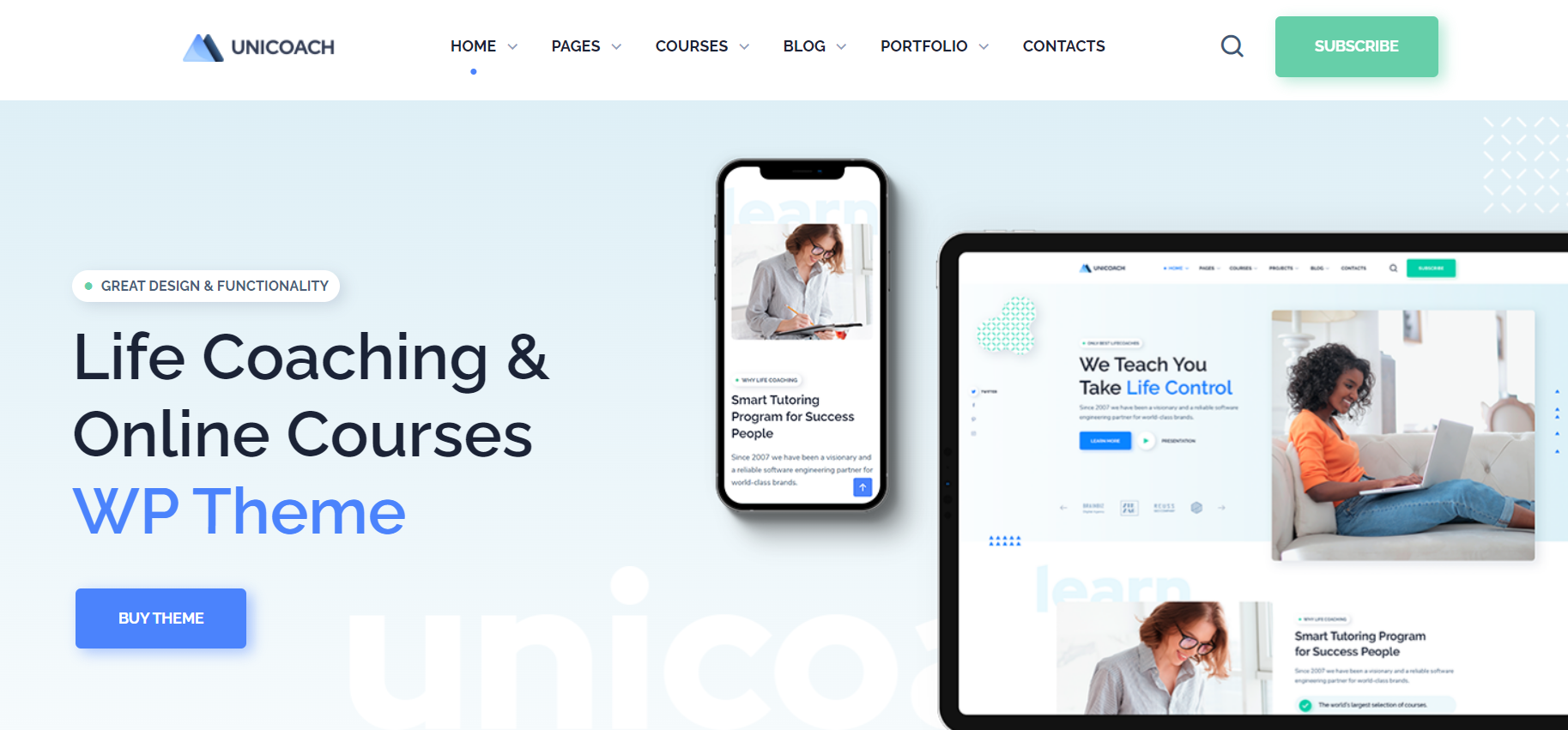 Download
Demo
For teaching online, UniCoach stays one of the easiest ones to use. Still, it is powerful and convenient for teachers and learners.
UniCoach gives users 5+ separate prebuilt demos for a faster start. Technically, the theme targets more modern education solutions than traditional ones. Therefore, people loving modernity will surely enjoy these demos. The theme also comes up with a powerful 1-click demo importer and WordPress dashboard to apply and edit the demos as you want.
Here, you may use the built-in elements to build your website. The inner templates and features received from the plugin LearnPress allow you to add e-learning features to your website.
Regardless, the theme will fit private teachers or small educational organizations. Still, it is a good theme for individuals who will or have been going on an online teaching career.
Through the article, we hope you can choose the most suitable LMS theme for your e-learning website.
You may also like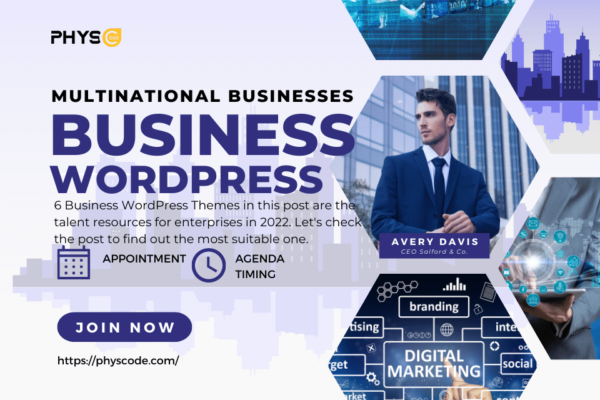 Posted on November 28, 2022
It takes a lot of time to run a business, and there were, as of the last count, still only 24 hours in the day. Setting priorities for your time is crucial; otherwise, your clientele will look elsewhere for your services, making all of your labor in vain. Your website might be one of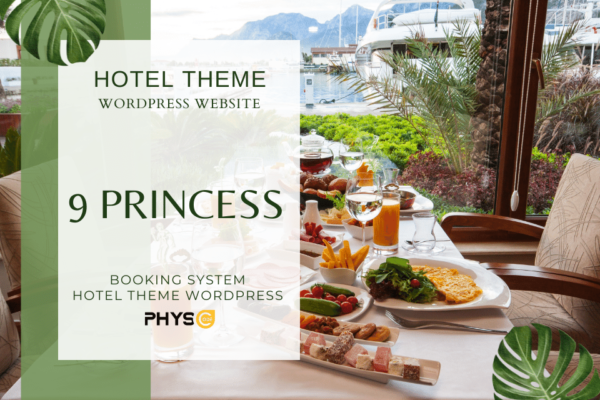 Posted on November 24, 2022
Unfortunately, your website might not be a priority on your lengthy to-do list while you're busy managing a hotel, even though it should be! A welcoming website with a Hotel WordPress Theme having simple functionality can frequently mean the difference between having a full schedule and having trouble finding customers.
First