WordPress Restaurant Plugins: 8+ Top Picks
Post on August 9, 2023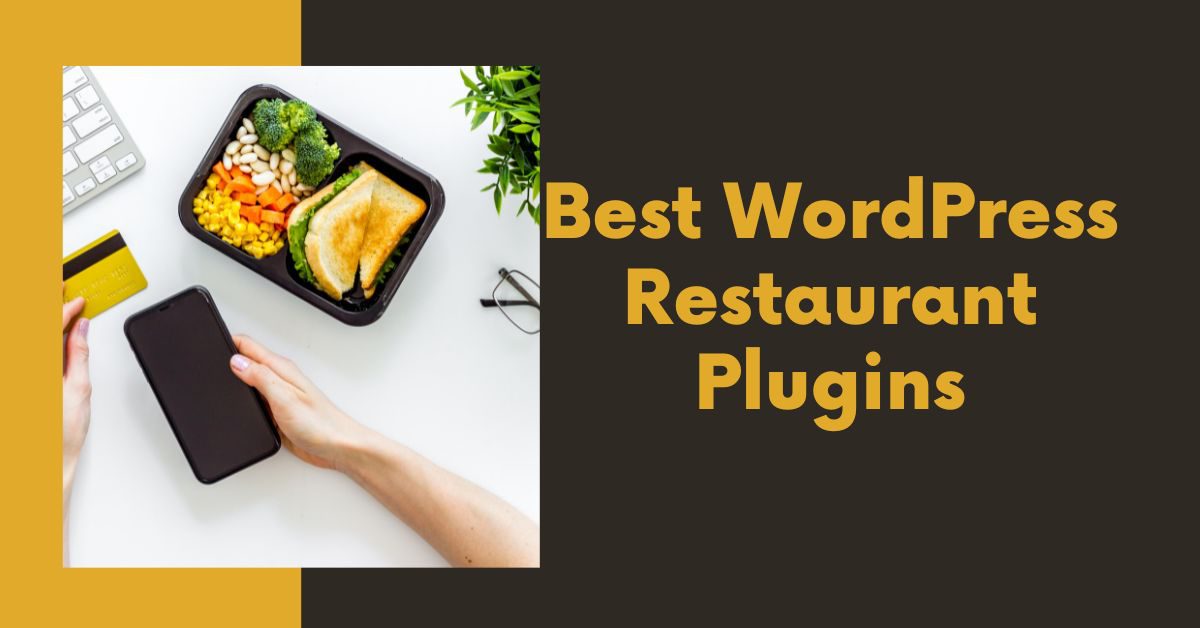 By creating an online restaurant business website, you can boost your revenue, enhance your brand image, and attract loyal customers. So why not check out the best collection of WordPress restaurant plugins below to complete your task?
These plugins will assist you in making the best choice for your restaurant business, whether you require online ordering, menu editors, WooCommerce compatibility, or social proof.
Here are some fascinating articles that you might find interesting and enjoyable to read:
The Features You Need for a WordPress Restaurant Plugin
Restaurant requirements are far more extensive than those of the average small business site. They require slightly more effort, but the effort is well worth it.
Here are some features that your website may require in order to function properly with the WordPress restaurant plugins:
Online Reservations: Restaurants may benefit from having online booking possibilities, whether they use a third-party service or a plugin on their website.
Mobile Ordering: A fully responsive design with a mobile ordering feature is essential for restaurants as the number of customers who use their smartphones to order food is growing. So you need to find the best food ordering plugin WordPress.
Displaying Menus: A restaurant website should display its menu in a clear and appealing way that makes customers want to come and eat.
Showcasing Locations: The plugin should help customers locate the nearest restaurant if there are multiple locations. It should use Google Maps or a simple "Locations" page on the website.
High-Quality Images: High-quality images of the food, locations, and staff are important for restaurants. They can entice customers and give them a glimpse of the dining experience.
Customer Reviews: Customer reviews on the website can be a great way for restaurants to earn the trust of potential customers and motivate them to come and dine.
8+ Top WordPress Restaurant Plugins
WooCommerce Restaurant Ordering – WordPress Restaurant Plugins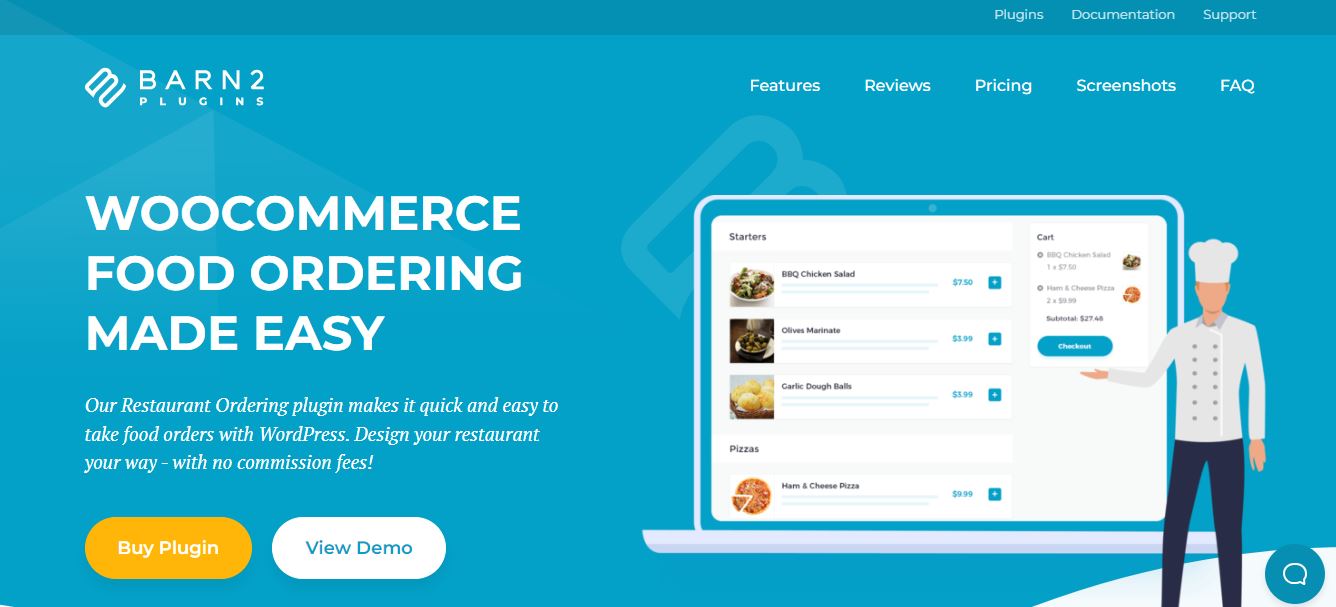 Learn More
The WooCommerce Restaurant Ordering plugin is a wonderful option for restaurants and food businesses that want to go online with their business operations.
It transforms a normal WooCommerce store setup into an ideal online order platform for restaurants. Moreover, it simplifies the process of showcasing your items on the menu and checking out.
The plugin's UI is fantastic and extremely user-friendly by default. That's why it's among the best WordPress restaurant plugins.
Key Features:
Fully compatible with WooCommerce, other Woo plugins, Woo product variations, and more.
Layouts for lightboxes.
Set up open/close times.
Integrates with and uses WooCommerce delivery settings (ex. "delivery" or "collect in person")
Food Menu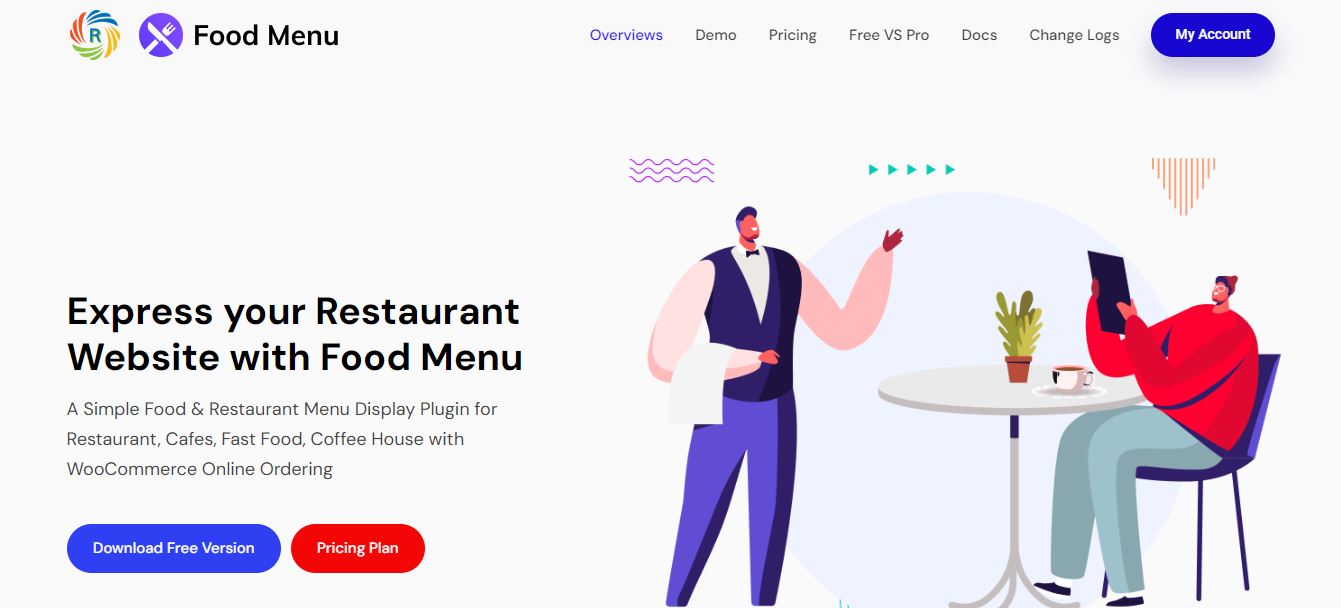 Learn More
Food Menu, premium one, is a useful WordPress food ordering plugin free & paid for restaurants and other food-related businesses that allows them to easily create online menu boards.
You can include images, descriptions, and prices, as well as anything else you need to share your menu with the rest of the world. The majority of the standout features are only available in the premium version, but you can try it out for free first to see if it is a good fit.
This is a straightforward plugin that focuses on the majors. You can create attractive menus with features that are essential. Thanks to Ajax filtering, it makes menus incredibly simple to use. It's a quick restaurant menu WordPress plugin.
Key Features:
Use WooCommerce product data to create a simple menu (Premium version).
Allows for the opening of expanded views of products in a lightbox by clicking on them.
Menu builder with drag-n-drop method.
Show the ingredients and nutrition facts.
Different layouts.
Unlimited menus can be embedded using the shortcode generator.
WPCafe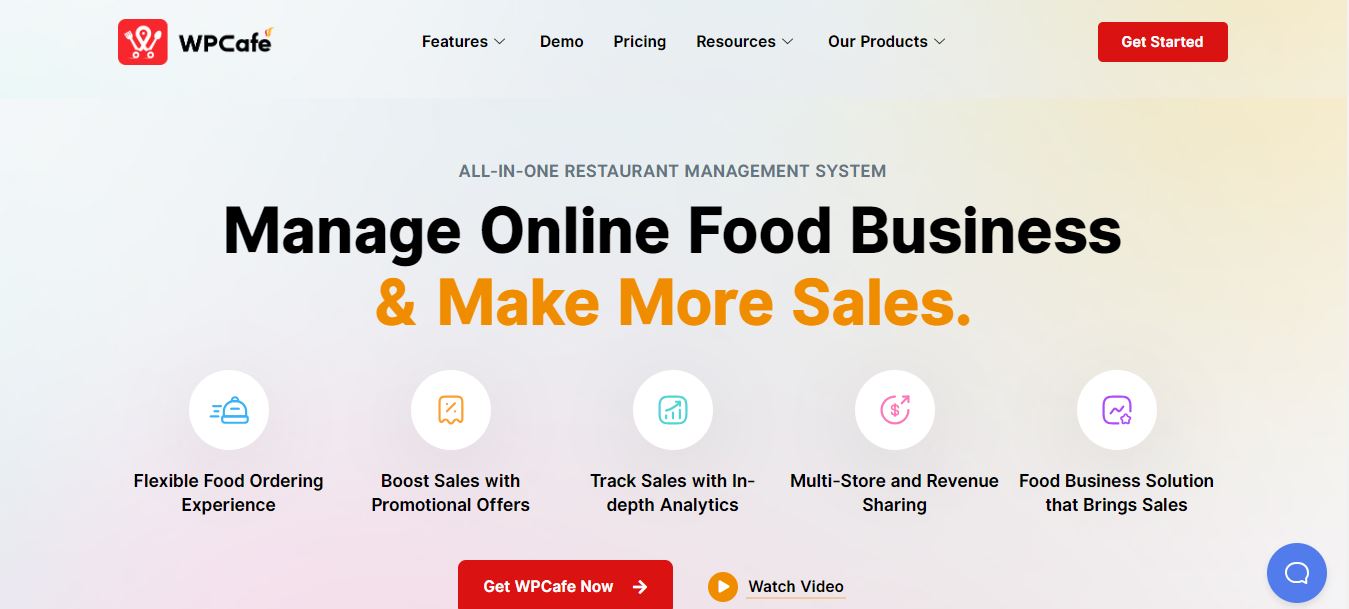 Learn More
WPCafe provides many features to help with the management of a food business' various operations. It is a complete WordPress restaurant plugins.
It is a must-have for any restaurant or cafe website that wants to fill up the order queue for their kitchen, thanks to its combination of reservation management, menu creation, online ordering, and pickup/delivery capabilities.
We particularly like how it streamlines WooCommerce's standard checkout process with the "Mini Cart" checkout.
When a customer is prepared to pay, it displays a quick side pane rather than loading a new page.
Key Features:
Allows you to customize the menu styles and layouts.
Mini cart module that is customizable when checking out and browsing (making adding to cart a breeze).
Advanced menu search and filtering.
Open tables that are available for reservations.
Google Maps integration for store location and auto-completed customer addresses
Manage your discounts, track your payments, and enable tipping.
Reservation forms that can be modified
Integrates with Gutenberg blocks to assist in the development of website content.
WooCommerce Food

Learn More
A WordPress catering plugin that is highly recommended for building and managing an entire ordering system is called WooCommerce Food. It's among the best WordPress restaurant plugins.
It's simple to use for eateries, cafes, and other food-related things to showcase menus and take online orders via a WooCommerce-powered backend.
You can preview all of your orders with the order status, order date & time, and order number, on a single practical calendar.
Use the "day" filter to sort through orders made on your website, or use the "week" or "month" views to see your past and future views.
Key Features:
10+ food and menu display designs.
Three options for placing orders: pick-up, delivery, or dine-in.
Google Maps integration.
Supports various places with various menus.
Personalized opening and closing hours.
Work with WPML.
WooCommerce Location Picker

Learn More
WooCommerce Location Picker can locate customer locations with greater accuracy. This is helpful for local restaurants that offer delivery.
By using Google Maps, customers can easily select their precise location during the checkout process, eliminating the need for further communication.
When the checkout page loads, it can be configured to detect the customer's location automatically while also assisting them in making any necessary adjustments.
This feature makes sure that the delivery is accurate, resulting in a transaction that is easier and more productive for both the customer and the store owner.
To make sure that you aren't delivering orders to clients who are located far outside your delivery range, delivery boundaries can also be set up. Check out the features of the best WordPress restaurant plugins:
Key Features:
During checkout, the geolocation feature will precisely determine the user's location.
Autofill Address Details to save time and minimize input errors.
Translation is available in multiple languages.
Admins can track and confirm delivery locations visually with the View on Map button.
Five Star Restaurant Menu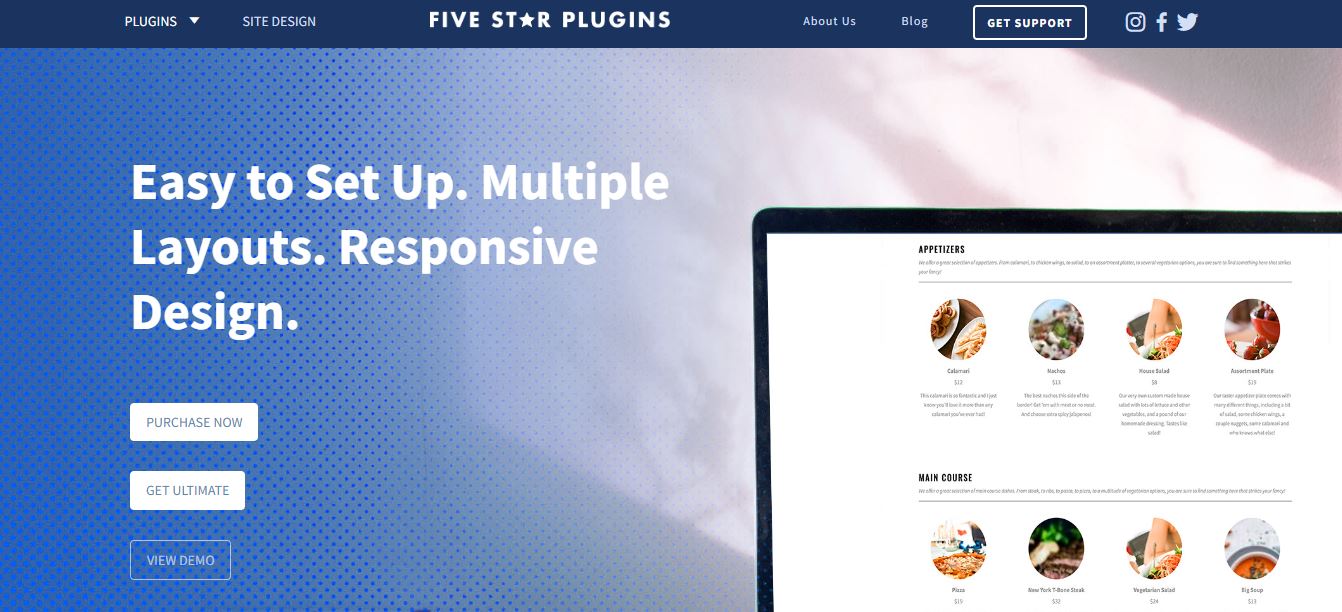 Learn More
Restaurant websites can quickly and easily create responsive restaurant menus using the WordPress plugin – Five Star Restaurant Menu, which is based on block editors.
Everything you need for restaurant menu creation is provided, and your website displays it beautifully. The "Ultimate" version also includes a unique ordering interface and app.
In order to display comprehensive information for your menu items, it lets you create and use custom fields.
Key Features:
Sorting & Filtering Options.
In your menu, include dietary icons.
Utilize your menu page to take orders directly.
Price indication for sales and promotions.
Which One is the Best?
To sum up, WPCafe, Five Star Restaurant Menu, and WooCommerce Restaurant Ordering are the winners of the best WordPress restaurant plugins as for managing all online orders. From accepting reservations to controlling menus and delivery choices, these plugins provide restaurants with everything they need to manage online orders. Get them right away so you can begin developing your online ordering platform.
However, Five Star Restaurant Menu and Food Menu are both great choices if all you want to do is create and display online food and drink menus. They each have a variety of special features and customization options. Whichever plugin you select, including one of these tools on your website will position you for success.
You may also like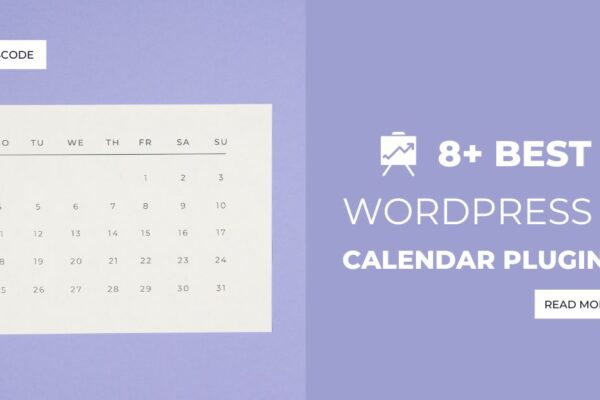 Posted on September 12, 2023
WordPress calendar plugins vary in their features and capabilities. Some plugins enable you to easily manage your events, while others allow you to do more complex tasks such as taking bookings, selling tickets, and scheduling.
In this topic today, we tested some of the top WordPress calendar plugins and compiled a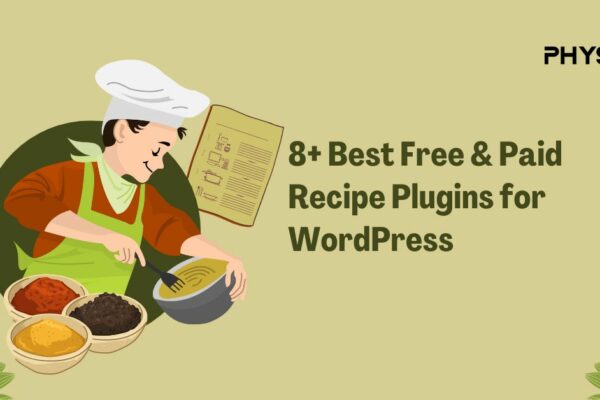 Posted on August 30, 2023
Whether you own a restaurant or blog about food, your website can benefit from a WordPress recipe plugin.
This tool assists you in creating and displaying recipes on your WordPress website in an attractive and professional way. By using a WordPress recipe plugin, you can improve the quality and performance of