Best WordPress Travel Agency Theme (2022)
Post on November 1, 2021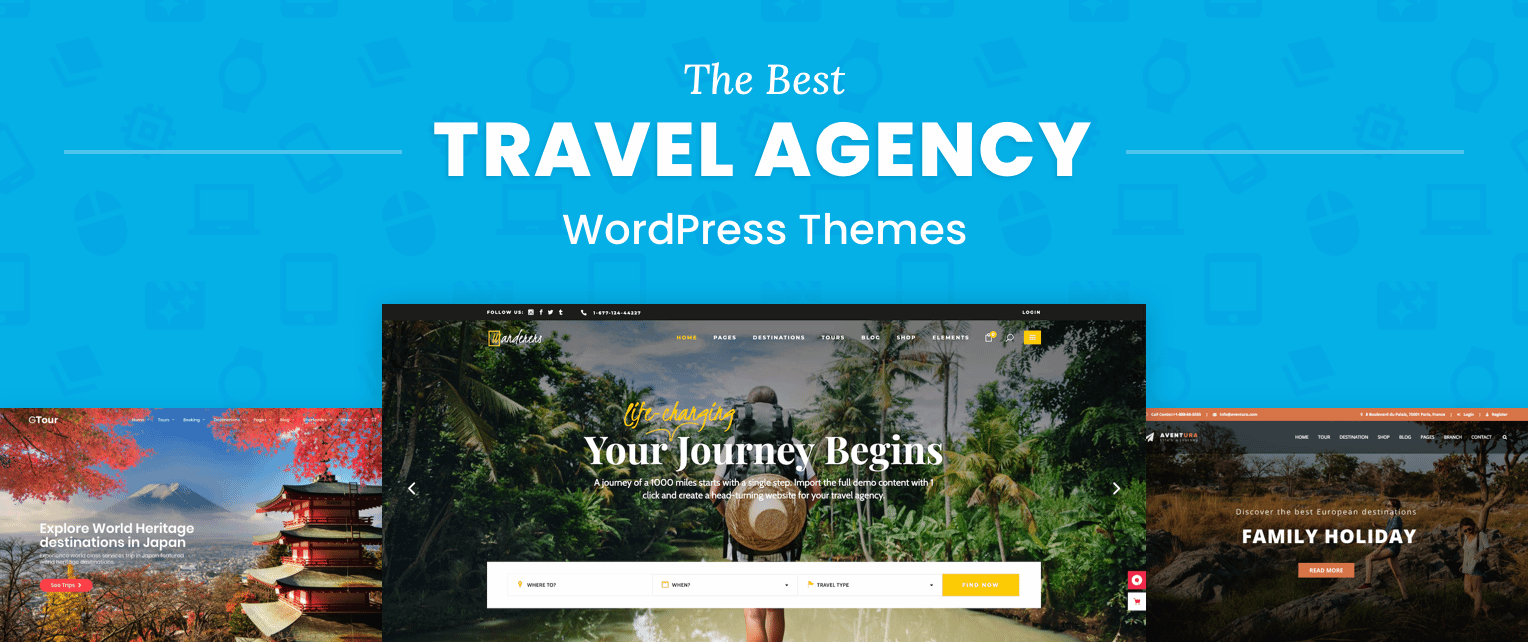 Accordingly, they have found out that the travel industry is one of the most developing fields in the world economy. People just want to look for tour information and destinations online to save time and effort. Therefore, having an online business website should be an essential part of your career. Otherwise, you will miss a lot of current and potential customers that will buy services from other brands. It's not so hard to make a travel website, and the best way is to use a WordPress Travel Agency Theme. It will make our building and editing process easier and more chilling. However, the marketplace has hundreds of those themes, and choosing the proper one seems difficult. Luckily, we have strived and brought out the list of the best WordPress travel agency themes in 2022.
Before the themes, let's check out some basic requirements for a travel WordPress theme.
Standard Requirements for a WordPress Travel Agency Theme
To meet the demands of a proper travel agency WordPress theme premium, we have listed some criteria:
Full Customizations
Considering the different demands of worldwide travel agencies, we have made the themes easily changeable. Thus, your business brand will stay out of the crowd.
SEO Optimization
If the theme is not SEO optimized, the site's online business will become very hard to succeed. Without a good SEO system, search engines will not list our site as trustful and yours won't have high rankings.
User-Friendliness
Nowadays, 80% of the business is on the Internet. Thus, these themes have to be fully responsive and retina-ready. If not, the clients will lose interest in our services no matter how your services are.
Sailing – Modern and Fancy WordPress Travel Agency Theme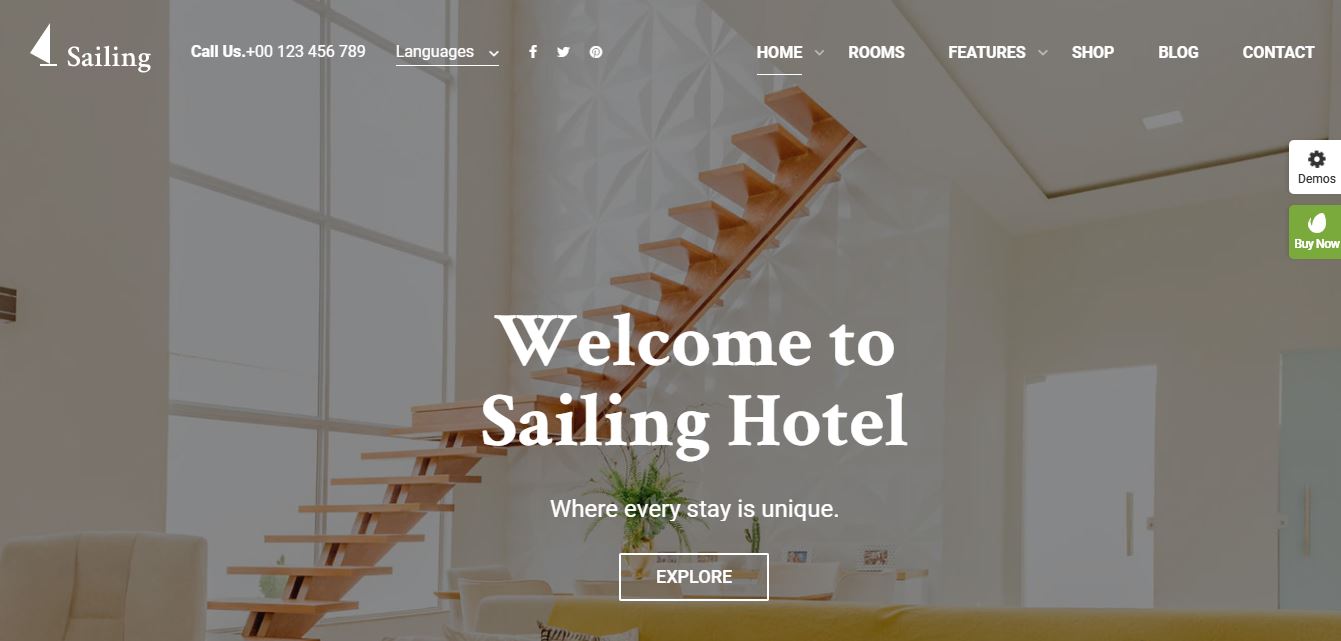 Download
Demo
For accommodation and travel agency websites, Sailing stands as the best travel agency theme for WordPress. If you are an owner of a hotel agency site, pick up Sailing!
In Sailing, users will be given 8 different home-page demos to create their sites. Each of them is well-coded and 100% responsive. Therefore, all browsers and devices can integrate smoothly with your travel site and look nice. Also, each homepage demo contains all same inner-pages demos and functionalities to create and manage your travel agency site. The Slider Revolution and parallax effect will finish their jobs to maximize the smooth of the site. Besides, the theme also offers you unlimited color schemes and Google fonts.
Understanding SEO's importance, our developers have optimized the theme's SEO system. Therefore, tags, keywords, and other elements will 100% fit Google Instructure Data. On the other hand, a significant factor directly affecting the SEO rankings is the page's loading speed. A fast-loading site will deliver your site to a better place.
LuxStay – Remarkable WordPress Solution for Tour Agencies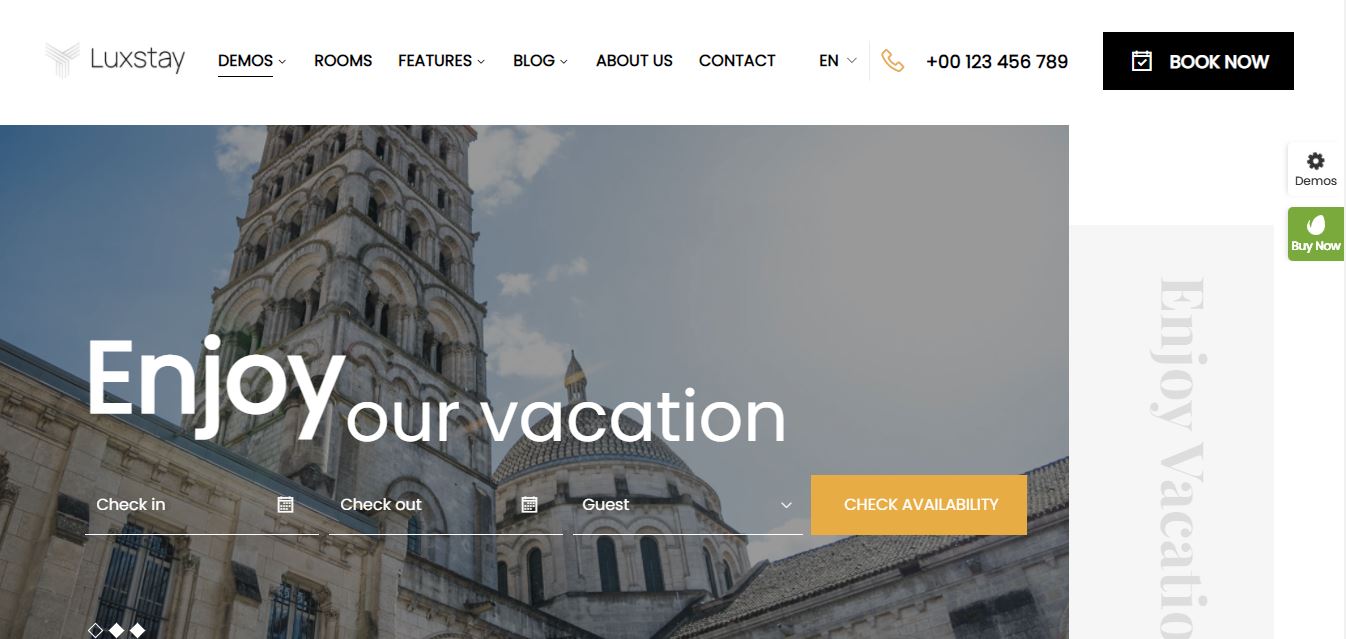 Download
Demo
Designed by ThimPress developers, LuxStay has reached over 1 million sales and thousands of 5-star rates. If you are looking for more chances to attract clients and potential partners, select LuxStay and you won't disappoint.
Inheriting all features of the famous WP Hotel Booking plugin, LuxStay becomes very powerful and flexible. This theme has all the essential functionalities of accommodation service and reservation. First, the modern hotel booking manager plays the most important part in a room reservation site. It's customized to serve users the best it got. With the new well-made Thim Core plugin, you can manage your site more efficiently. Also, the theme offers the drag and drop page editor from the Visual Composer plugin. No coding required will help ease the design process and conserve your time/effort. Besides, you may build your imagined travel site with this plugin. About the payment methods, 100+ gateways will take care of users' purchases.
In the theme, there are about 3 free premium page demos: 1 RTL one and 2 main ones. They are all responsive and highly customized. The interface is simple and attractive so that users will come back to your website to view more services. Providing lots of effects and transitions, you can stay confident about the site's smoothness.
To improve users' experience, we have improved our support team. Although the product is good, about 70% of 5-star rates come from the support process experience. Otherwise, you can always find the theme's documentation to acknowledge more.
Embark – Simple but Effective WordPress Travel Agency Theme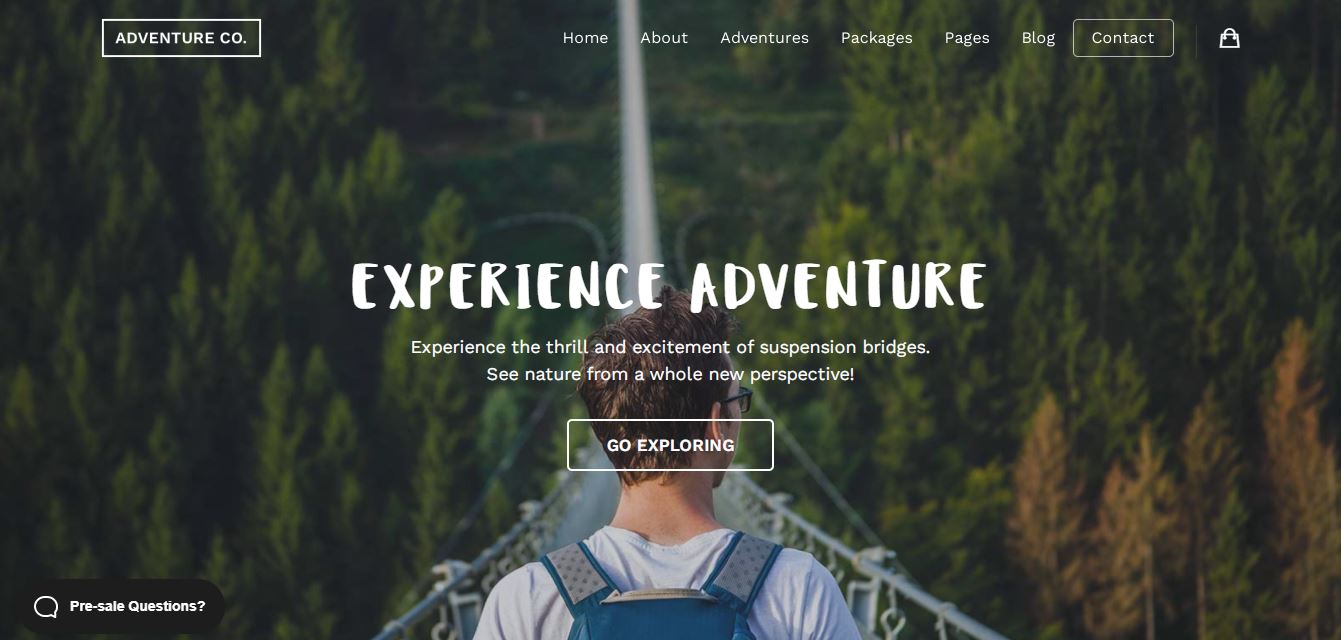 Download
Demo
Looking quite simple, however, Embark will impress any visitor coming to your site the first time. Embark stays as a stunning WordPress theme travel agency booking. Embark can be applied by travelers, bloggers, hotel agencies, etc.
In Embark, this theme provides various WordPress travel agency templates. These templates are wrapped in all 3 pre-made demos that are ready to go. Besides, developers can make their own layouts and templates and save them for later reuse. With 20+ page templates, 40+ tools, and the drag & drop page builder, you can always get a nice and responsive site. On the other side, Embark has 50+ safe payment gateways including PayPal, Stripe, or other credit cards
For picture management, Embark provides us the abilities from the plugin Master Slider Pro. It will display the images in various sections and places for further advertising. Also, users may make multi-tool submission tracks and forms. Those forms are always ready to be applied and edited as well as automatically stored. To prevent spammers, we have implied the reCaptcha tool. No more spam!
In addition, we have packed Embark with tons of functionalities. Some of them are various effects and animations, video background, multilingual compatibility, header/footer options, unlimited color -options, over 1000 nice Google fonts, 1-click demo/content importer, and many more.
Triply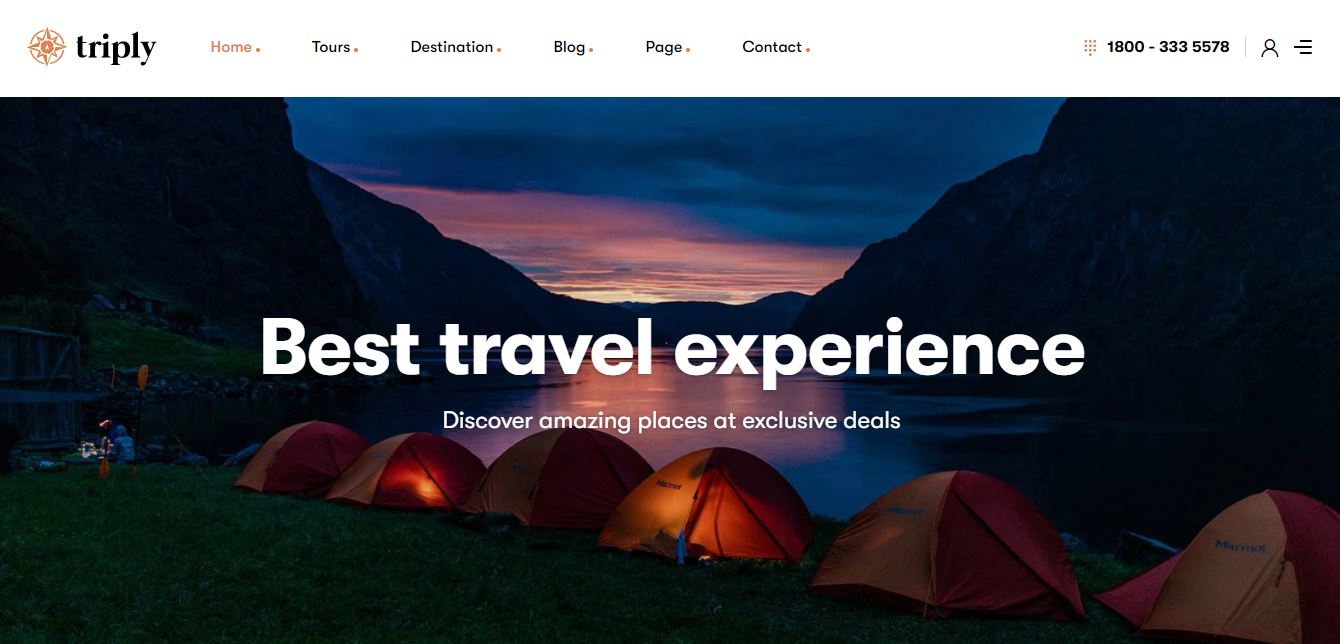 Download
Demo
Triply is a WordPress travel theme that will display your site in your style and not stay familiar with the other. You can use the theme Triply for your hotel website.
Triply consists of many popular plugins including the BA Booking plugin, WooCommerce, and Elementor. For instance, the BA Booking plugin gives Triply the accommodation booking system – the most important part of a booking site. Besides, WooCommerce has all the needed paying ways for your customers. Thus, you should go check for what these amazing plugins will bring to your site. Also, you can add premium plugins and add-ons to your site.
To understand more about the customers, we have added the plugin Widgets for Google Review. It will automatically update and showcase the Google reviews in 2 mins. Therefore, other visitors can see your good reviews and pour their money into your service. Otherwise, we are happy to receive reports about bugs/errors and suggestions from our viewers or users. They are the largest motivation and information sources needed for further improvements. Contact us when meeting obstacles! We will help you with all we got to give you the best experience using our theme.
Travel Tour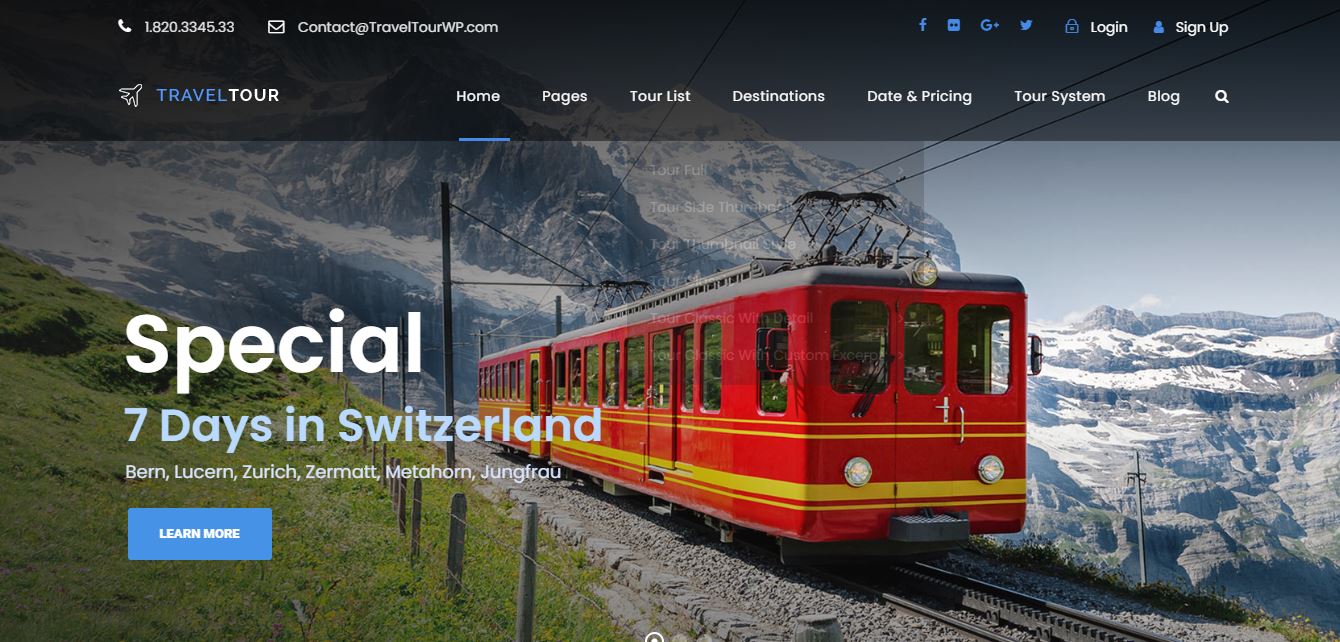 Download
Demo
With a highly optimized booking management system, Travel Tour deserves a position on this list. For travel agencies, blogs, reviews, and tour management, this WordPress travel agency theme is specially born for them.
Particularly, it has all features that a hotel agency website will ever need. First, the room managing system plays such an essential role. You can build tour categories and accommodations based on the figures and tools. You may set the tour/room availability and period for only a time or continuously. Next, users can select between Valuable Price and Fixed Price. Normally, the Valuable Price suits various types of people while the Fixed Price is for a single person. You can set the price tags per season or period. One more thing, the discount is what people love when booking a tour/room. You can always make discounts and sale-offs and choose the percentage of discounts.
About the payment methods, Travel Tour is not compatible with WooCommerce. However, it still provides you with many gateways to pay: PayPal, credit cards, and bank transfers. For more gateways, you have to buy paying plugins like 2CheckOut, PayUMoney, etc.
Besides the documentation, we stay ready to help you cope with all related problems. We provide 24/7 support service and you can contact us for help.
Tripster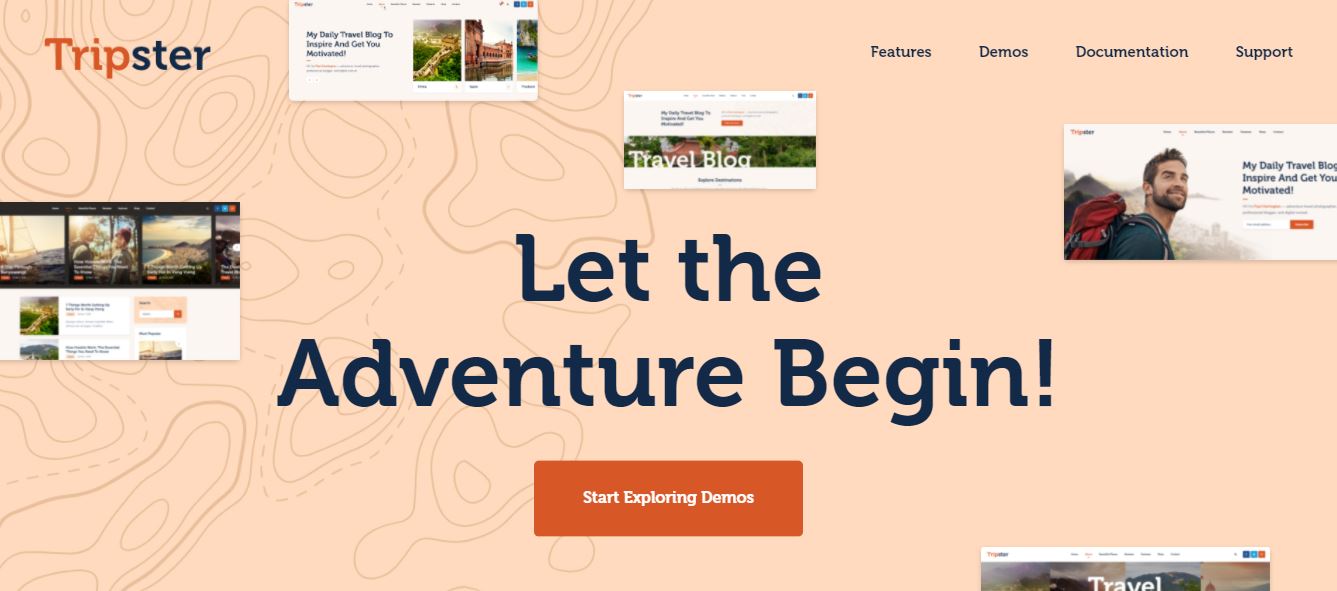 Download
Demo
Smartly presenting your products, you can believe Tripster will be your suitable WordPress travel agency theme for your site.
Tripster offers open and energetic travel layouts. They have a nice and clean design outlook, 7+ homepage demos, blog demos, various header/footer styles, and effects. Besides, the plugin Elementor has provided the effective drag and drop page builder for easier working.
On the other side, the theme has lots of color options, fonts, and content areas. Later, you will have the ability to make your site stand out from the other sites.
Travelo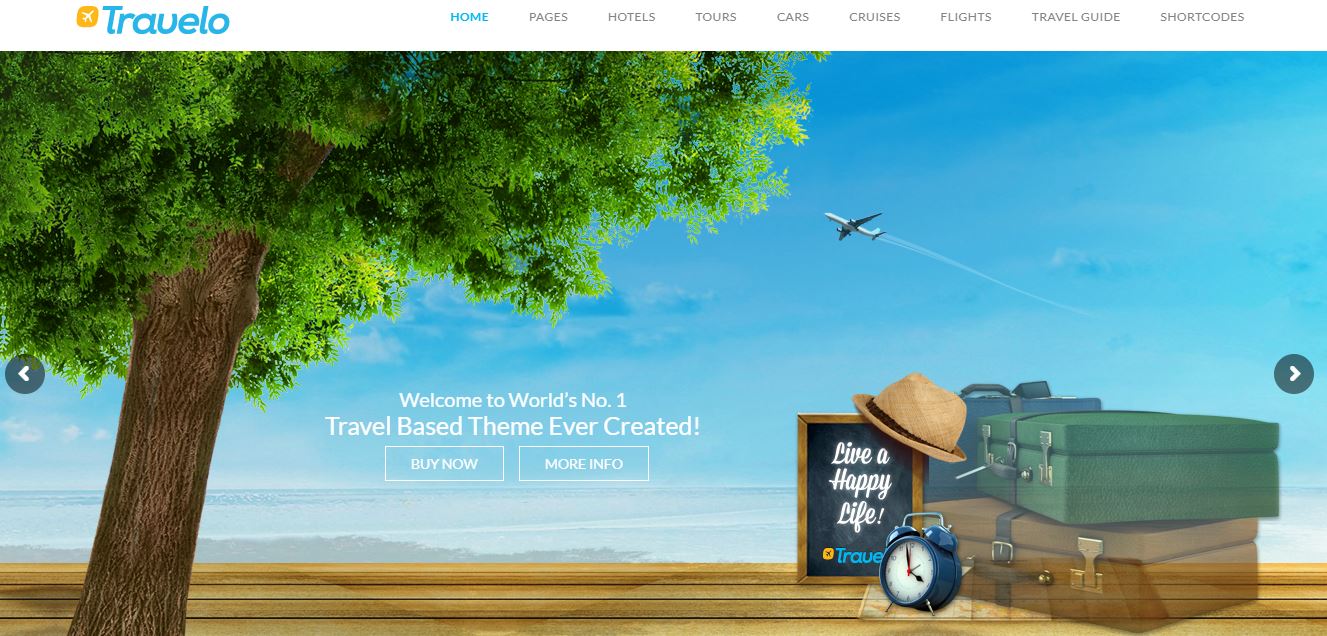 Download
Demo
If your site needs a strong and stable toolbox, you may look up Travelo. It has all features that a WordPress Travel Agency Theme requires.
Its powerful booking system and 100+ payment methods from WooCommerce will surely take care of your business. Besides, the theme's elements are various for you to manage and control. Therefore, it will get easier for you to create your own hotel/tour/travel site.
On the other side, the SEO system is optimized to boost your SEO rankings. Additionally, the theme's fast loading speed and 24/7 support team also contribute a lot to your SEO rankings.
Best WordPress Travel Agency Theme: Conclusion
If you make the right choice, your travel agency website will develop without a hitch. We hope you can pick the correct theme for your website through our article.
Read more: Top 10 WordPress Travel Themes
You may also like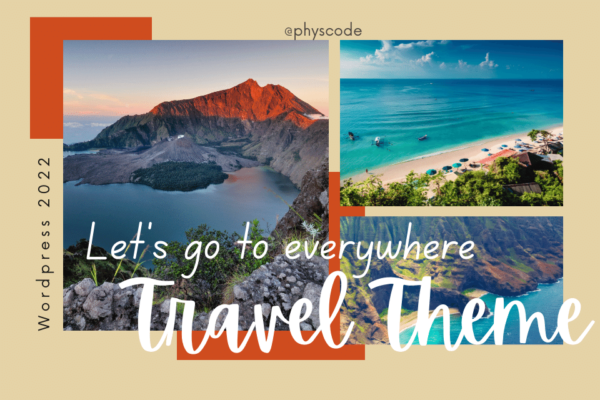 Posted on November 22, 2022
Our selection of the best Travel Theme Free will suffice rather than building a website from scratch. If you're entering the tourism industry, these gorgeous web designs have you covered.
Since the development of the wheel, WordPress is arguably the best thing to have ever happened to the travel industry. Free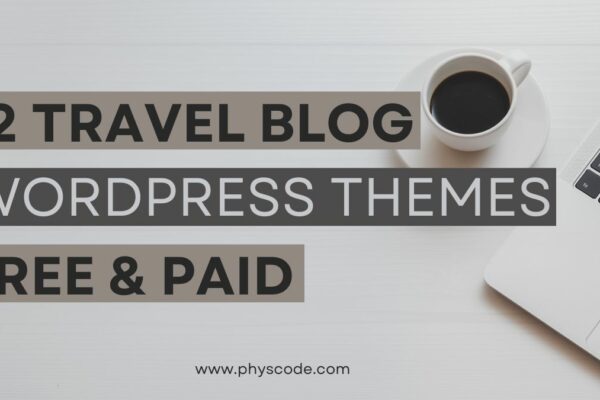 Posted on October 8, 2022
Do you want to make money from your travel blog? If so, you should create an appealing site to engage your viewers and followers. Hence, choosing a suitable and powerful Travel Blog WordPress Theme is the most crucial step you have to take.
However, what if you don't know the code