Which AI Email Generator is Right for You? Top 10 Picks
Post on November 1, 2023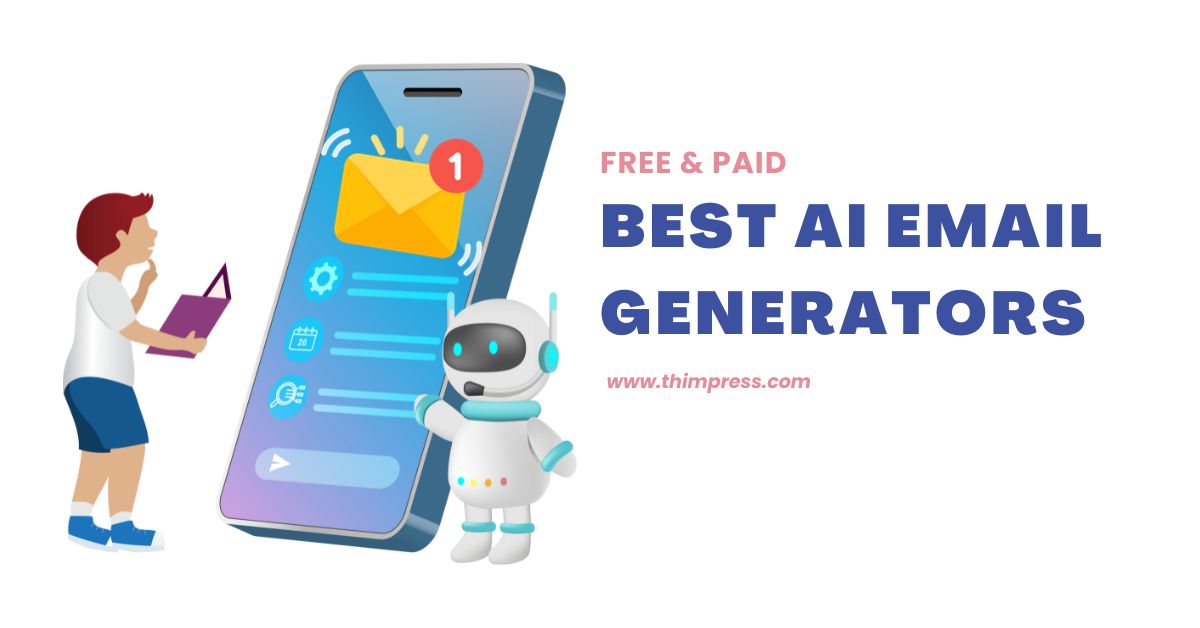 Are you tired of spending hours writing emails? Do you wish there was a way to write better emails faster? If so, then you need to try an AI email generator.
AI email generators are tools that use artificial intelligence to help you write emails.
They can help you with tasks such as generating email subject lines, writing personalized email content, and optimizing your emails for open rates and click-through rates.
In this blog post, we'll take a look at the top 10 free and paid AI email generators on the market to help you choose the best AI email writer generator for your needs.
Travel WP – Travel Tour Booking WordPress Theme
We provide an amazing WordPress travel theme with fast and responsive designs. Let's find out!
How Does An AI Email Generator Work?
AI email generators work by using machine learning to understand the patterns and trends in human language.
They are trained on a massive dataset of emails, including both successful and unsuccessful campaigns. This allows them to learn what makes an email effective, such as the right tone, style, and content.
When you use an AI email generator, you simply provide it with some information about your email, such as the purpose, target audience, and key points you want to make.
The AI writer will then generate a draft email for you. You can then edit and personalize the email before sending it out.
AI email writers can be used to generate emails for a variety of purposes, such as:
Sales and marketing emails
Customer support emails
Product updates emails
Event invitations
Newsletters
Now, let's check out some of the best AI email generators
1. HubSpot's Free AI Email Generator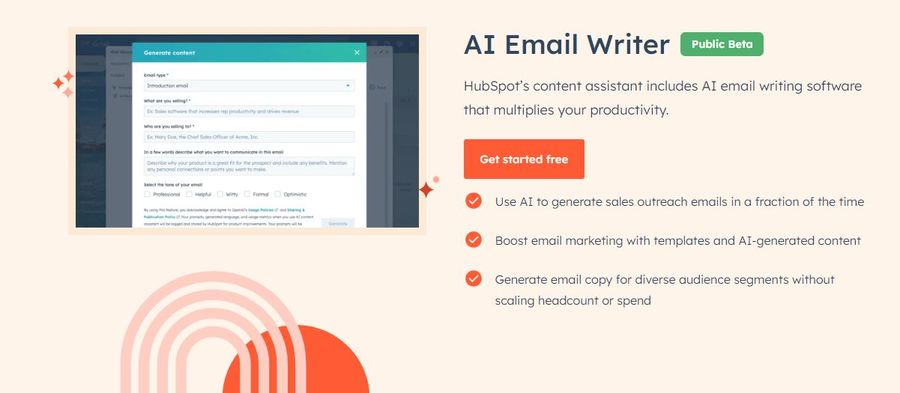 Learn More
HubSpot's Free AI Email Generator is a revolutionary tool that can help businesses of all sizes take their email marketing campaigns to the next level. With its powerful AI capabilities and user-friendly interface, HubSpot's AI Email Writer makes it easy to create engaging, personalized, and effective emails.
Key features:
Generate engaging email content that resonates with your audience
Personalize your emails to create a more connected experience
A/B test your campaigns to optimize performance
Pricing: Free forever
2. Simplified: AI Email Generator

Learn More
Simplified is an AI email generator that helps businesses and individuals write professional and effective emails. It uses artificial intelligence and natural language processing to suggest and generate email content, saving users time and effort.
Key Features:
Customizable templates
Personalized suggestions based on your writing style
Ability to save frequently used phrases and sentences
Offers grammar and spelling correction
Email tracking and scheduling
Pricing: A free trial with limited features and up to 2,000 free words; a paid subscription starting at $12 per month
3. GetResponse: Email Writer Generator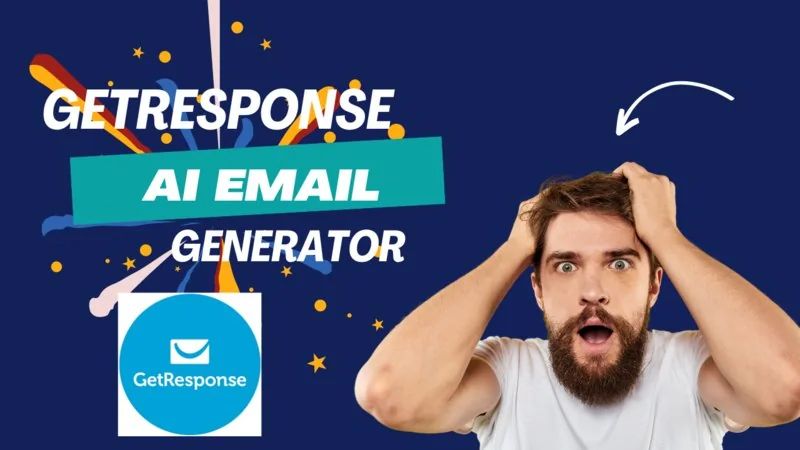 Learn More
GetResponse is a popular email marketing platform that also offers AI email generation capabilities. It uses advanced AI and machine learning technology to suggest and generate personalized email content for businesses and individuals.
Key Features:
Customizable email templates
Personalized suggestions based on user data and behavior
Ability to schedule and track email campaigns
Offer A/B testing and analytics to improve email performance
Pricing: A free trial and various pricing plans starting at $15.6 per month
4. Copy AI: AI Email Generator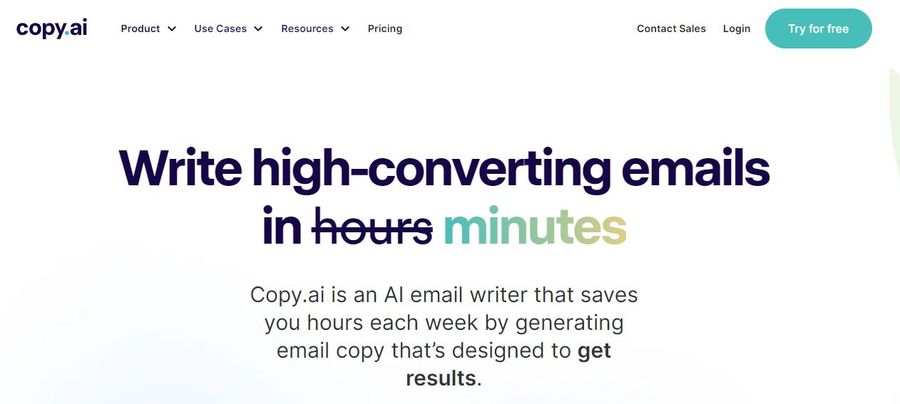 Learn More
Copy AI's AI email generator is designed to help you write emails that are more openable, engaging, and persuasive. It uses a variety of factors, including your target audience, purpose, and tone of voice, to generate email copy that is tailored to your specific needs.
Key features:
A library of pre-written email templates
A variety of email copy types, such as sales emails, product announcement emails, and abandoned cart emails
The ability to customize emails to your brand's voice and target audience
A built-in email editor to help you refine your email copy
Pricing: Free forever
5. Rytr: Free Email Writer Generator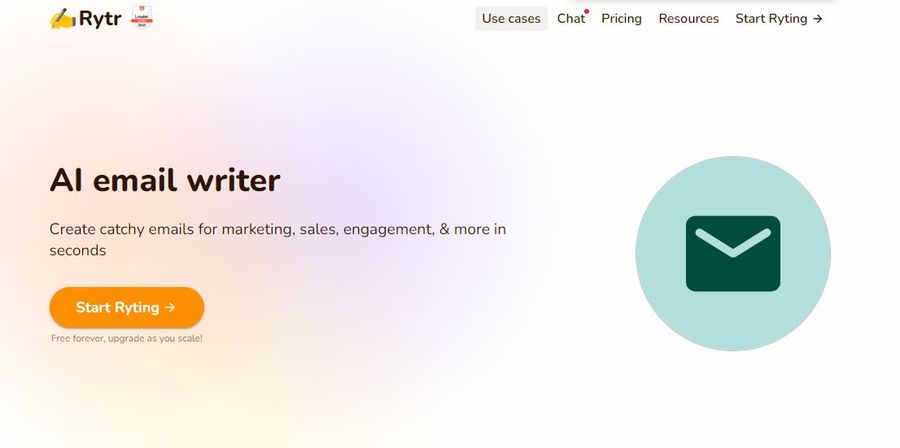 Learn More
Rytr is a free email writer generator that can help you write better emails in seconds. It is an AI writing assistant that uses state-of-the-art language models to generate high-quality and original content for various purposes and tones. 
Key features:
Generate emails from scratch
Rewrite existing emails
Translate emails
Optimize emails for SEO
Use plagiarism detection
Customize the tone of your emails
Pricing: Rytr offers a free plan that allows you to generate up to 10,000 characters per month.
6. Jasper AI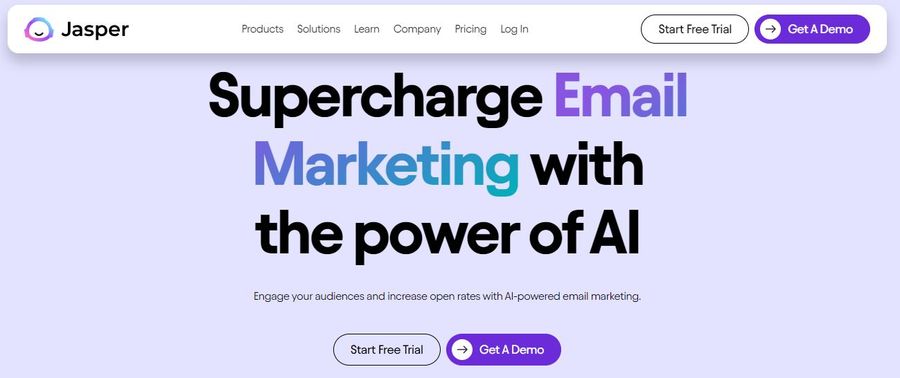 Learn More
Jasper AI is more than just an email marketing tool. It can also be used to create a wide range of other content, such as blog posts, social media posts, landing pages, and sales copy. Jasper AI is a valuable asset for any business that needs to create high-quality content quickly and efficiently. So you can use it as an AI email generator.
Key features:
Fast content generation
Offer pre-written templates for different content needs
Create realistic AI emails for a variety of purposes
Automation in email marketing
Pricing: Free for 7 days
7. Grammarly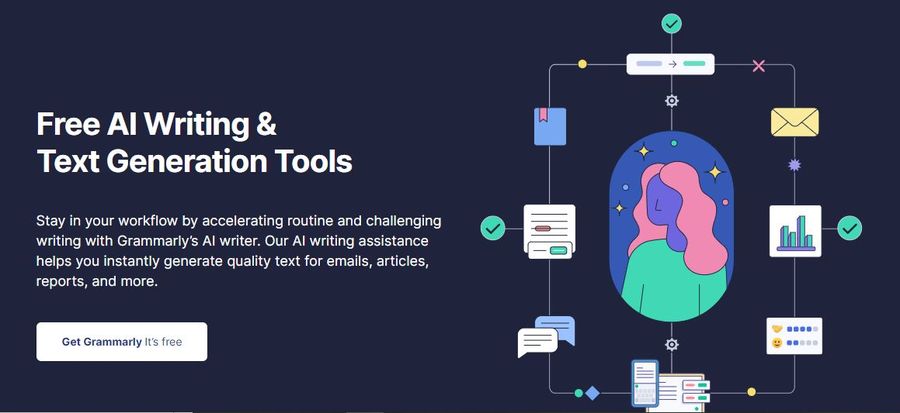 Learn More
Grammarly is a popular grammar and spelling checker, but it also has some features that can be helpful as a free AI email writer. Grammarly is famous for its ability to identify and correct grammar and spelling errors, as well as other writing issues such as clarity, conciseness, and engagement.
Key features:
Grammar and spelling checking
Clarity and conciseness
Engagement
Tone detection
Plagiarism checker
Pricing: A free plan that includes access to all of its features but with a limited number of monthly checks. Paid plans start at $12 per month.
8. Writesonic

Learn More
If you are looking for a comprehensive AI email generator, Writesonic is a great option to consider. It is especially well-suited for marketing and sales professionals, with specialized generators for sales emails, cold emails, and email subject lines. Writesonic also supports 25 global languages, making it a great option for businesses with a global audience.
Key Features:
AI content generation for marketing, sales, and more
Specialized email generators
Multilingual support
Free trial
Flexible pricing
Pricing: Free and Paid
Which AI Is Best for Writing Emails?
There are a variety of AI email generators available, each with its unique features and benefits. When choosing an AI email generator, it is important to consider your specific needs and preferences, such as the features you need, your budget, and your ease of use requirements.
If you are looking for a powerful AI email generator with a wide range of features, I recommend Jasper AI or Copy AI. If you are on a tight budget, HubSpot's Free AI Email Writer is a great option. And if you are looking for an easy-to-use AI email generator, I recommend Rytr
I hope this blog post has helped you learn more about AI email generators and how to choose the right one for you. If you have any questions, please leave a comment below. And be sure to check out the AI email generators listed in this post to see which one is right for you.
Read More: Spotting AI-Generated Content: 8+ Best AI Content Detector Tools
You may also like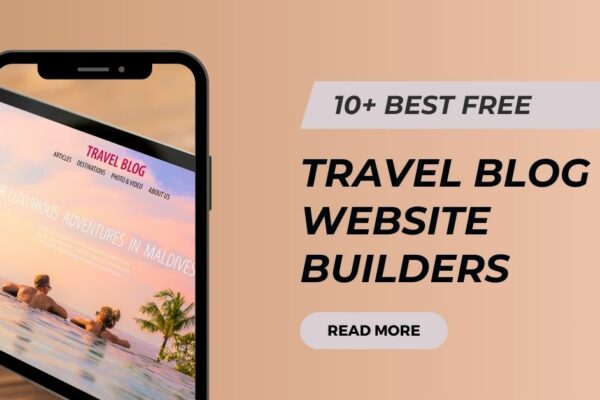 Posted on December 4, 2023
Are you ready to share your wanderlust with the world? Check out the best free travel blog website builders below!
Traveling opens your mind to new cultures, breathtaking landscapes, and unforgettable experiences. But even after you've touched down in your dream destination, the adventure isn't over. There's a whole new world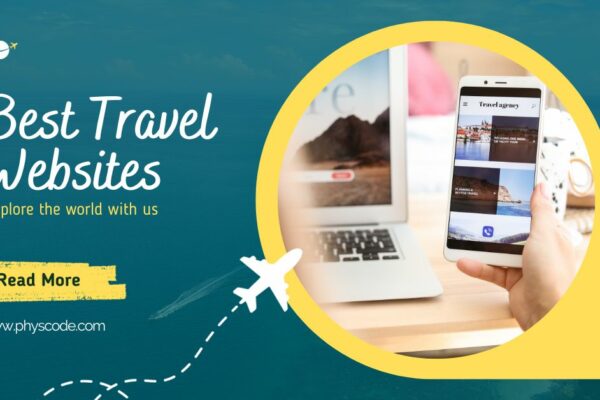 Posted on November 27, 2023
In today's interconnected world, travel has become an integral part of our lives, offering a chance to explore new cultures, broaden horizons, and create lasting memories.
With the plethora of travel destinations and options available, planning a trip can be both exciting and overwhelming. This is where travel websites step in,