10+ Best Travel Blog Examples Using WordPress for Your Inspiration
Post on September 5, 2023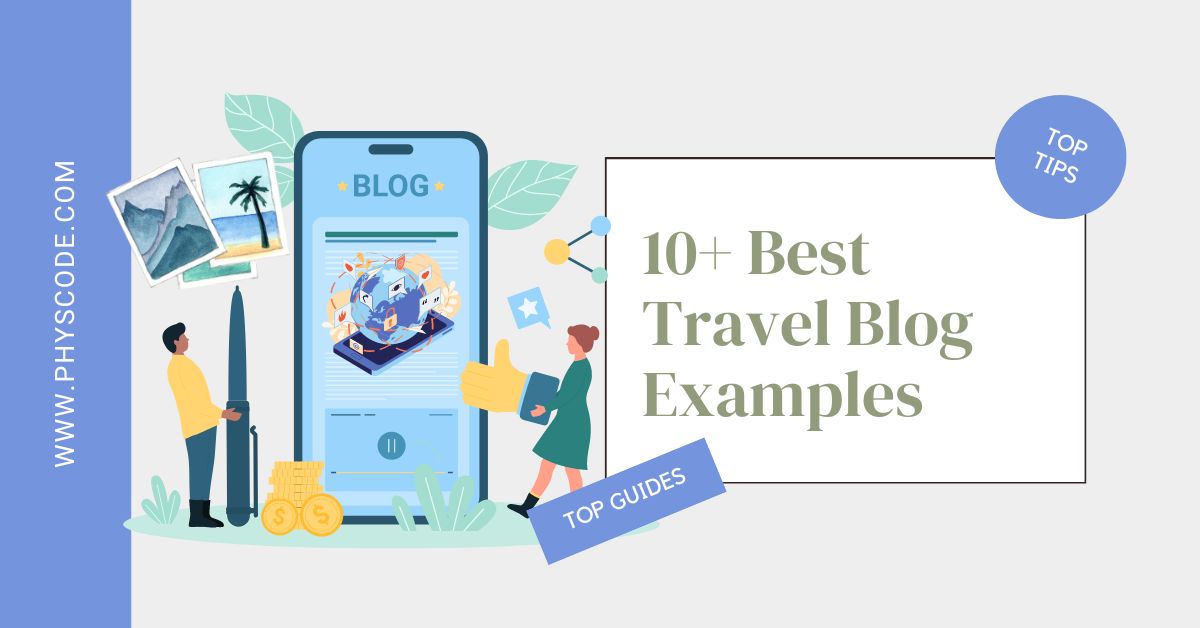 Traveling is one of the most exciting and rewarding ways to spend our vacations these days. It helps to explore the culture and have new experiences in our lives.
However, traveling can also be challenging and stressful if we don't have the right information and guidance. That's why we need travel bloggers who can share their useful tips and insights on how to travel around the world without any worries.
But which travel blogs are the best ones to follow? To help you find out, we have compiled a list of some of the best travel blog examples you should read. 
Keep reading to discover it!
Wait! You can explore more articles that are relevant to travel by following these links:
Travels of Adam – The Best Travel Blog Examples

Travels of Adam is among the best travel blog examples. It's a very user-friendly website, with well-organized categories that are prominently displayed on the homepage. Browse featured posts, recent posts, city guides, popular destinations, and much more in a flash.
The author of the blog places his About Me information on the homepage so that visitors can quickly learn who he is, where he is traveling, and what they will find on his blog.
This travel blog's color scheme is a real eye-catcher. Bright colors and bold text draw visitors' attention and contribute to the site's fun and refreshing feel.
TravelFreak – Examples of Travel Blogs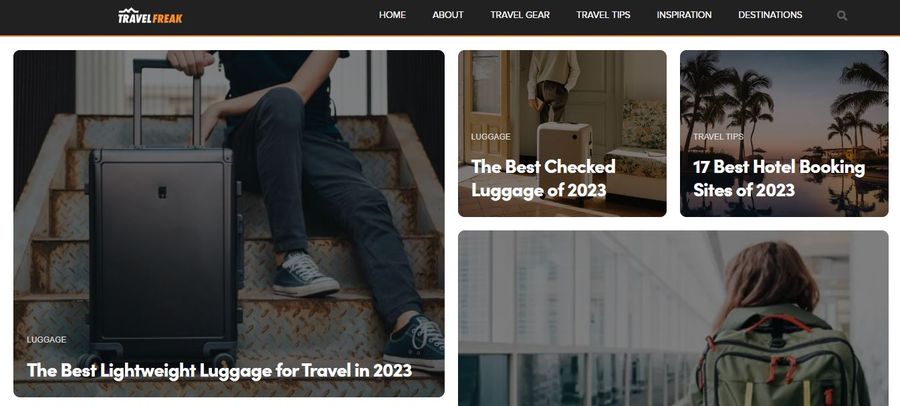 Jeremy is a travel blogger with amazing skills in photography. He has been traveling for more than a decade, and his blog is like an exhibition where you will find stunning pieces featuring different kinds of scenery from the most diverse places.
Go to his website and see for yourself why Forbes, The New York Times, and Vanity Fair mention Jeremy as remarkable. No wonder TravelFreak is considered one of the best examples of travel blogs.
The Poor Traveler – Best Travel Blog Examples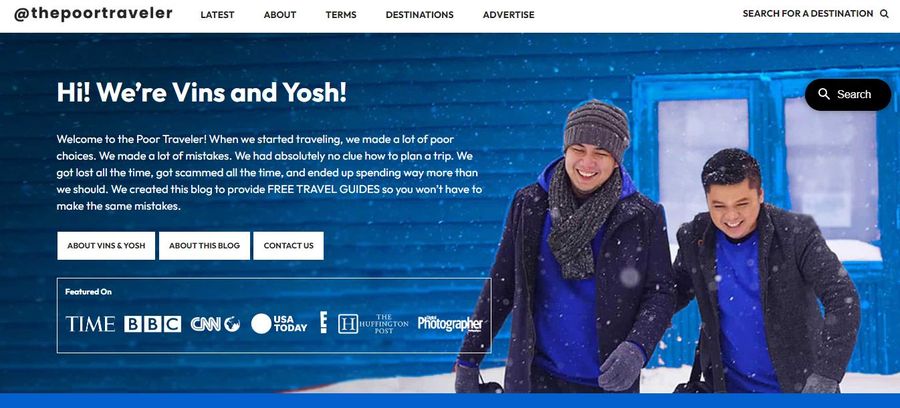 The Poor Traveler has a full-screen slider that shows amazing images that will instantly attract potential travelers.
At the bottom of this slider is an Agoda search bar. This assists visitors in finding lodging in their desired city, which helps the blog's monetization.
This travel blog is heavily reliant on social media. Social media buttons, as well as the number of current followers, are displayed. On each page, as well as beneath each blog post, an impressive Instagram feed is displayed.
The Travel Book – Travel Blog Writing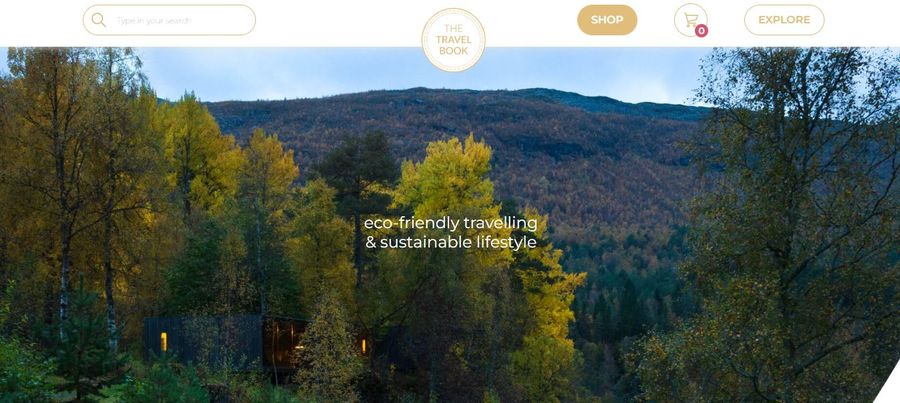 The Travel Book may appear like a simple blog by a travel couple at first, but it's actually much more than that. This travel blog writing website will help you travel and stay eco-friendly at the same time. 
You can get a lot of eco-friendly advice and travel tips from this travel blog while also exploring some of the most beautiful places on the planet.
The Blonde Abroad – Best Travel Blog Examples

This is the kind of situation where you open a website and immediately want to swap lives with someone. A stunning full-width video on The Blonde Abroad creates awe and immediate interest in this travel blog.
The home page includes an interactive map, an email signup form, stylish icons and buttons, links to recent articles, and other features. Its quirky text lends the blog a relaxed, modern, and youthful vibe, which helps it appeal to its readership.
The Blonde Abroad also has a beautiful Instagram feed to encourage social media followers.
Nomadic Matt – Simple Travel Blog Example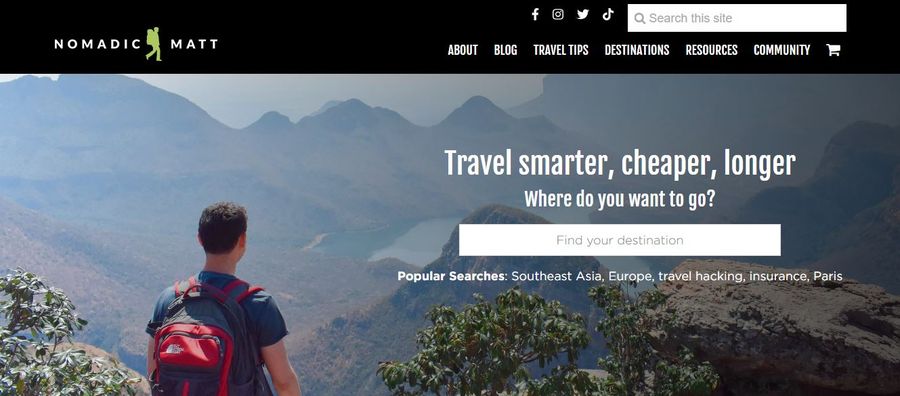 At first sight, Nomadic Matt appears to be a simple travel blog example. After that, you will find the blog so useful and detailed since he is serious about his business.
On the homepage of this purpose-built travel blog, the destination search is prominently displayed. Social networking is in the header section for additional lead generation and followers.
The travel blog can generate income by selling travel books. Visitors can purchase travel books and ebooks from his book page. You can refer to the WordPress eCommerce plugin to set up a powerful store.
Be My Travel Muse – The Best Travel Blog Examples

Be My Travel Muse is a simple but attractive website that is one of the best travel blog examples. The blog's logo makes it easy to know what the purpose of the site is. It comes with a full-screen slider with a text overlay to impress visitors.
An interactive map encourages readers to interact with it. There is an email opt-in form to receive the latest news and updates from its blog. You'll find social media buttons displayed to stay connected, too.
The author of Be My Travel Muse, Kristin, has also written her own book. So she has a page for marketing and sales. On-site purchases are also possible thanks to a Stripe-powered checkout page.
Expert Vagabond – WordPress Travel Blog Examples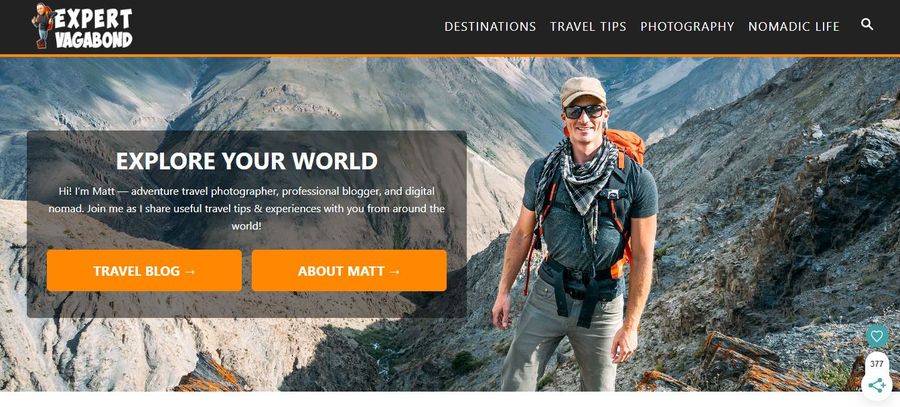 No list of WordPress travel blog examples can be completed without the Expert Vagabond of Matthew Karsten. He has recorded his travels in a journal for more than ten years. If you don't know, he has received accolades from National Geographic, the Travel Channel, Lonely Planet, and other well-known names in the travel industry.
He runs a blog that covers everything a traveler needs to know, from family-friendly destinations to solo adventures. Expert Vagabond is a great resource for anyone who loves traveling, as it provides useful information for different types of travelers.
Migrationology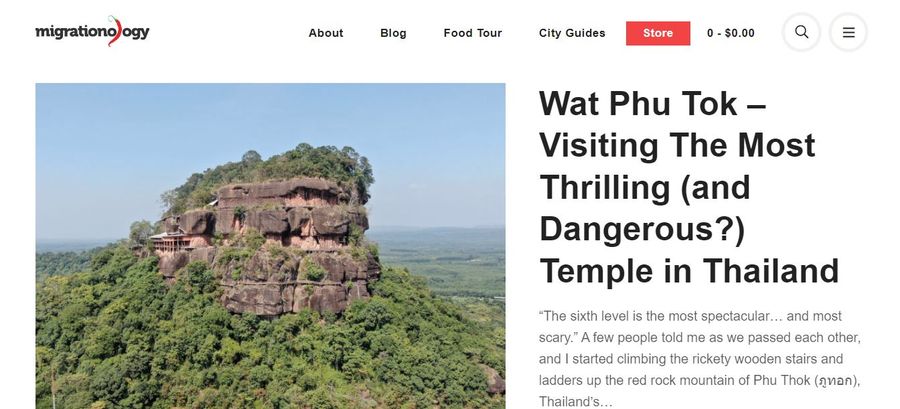 Migrationoloy is a well-designed, well-organized, and user-friendly travel food blog. You can watch a full-screen video of beautiful travel spots on the Migrationology homepage, enticing you to discover new places or inspire others with your own stories.
Moreover, you can quickly find the latest posts, the travel guide, the online store, and the email section to receive the best food and travel updates
Its blog's articles are displayed clearly using a grid style. Each post contains a lot of photos that relate to the topic.
You can find guides for different countries that present information in a clear and simple way, with large pictures and links to places to stay, eat, and explore more.
Mrs O Around the World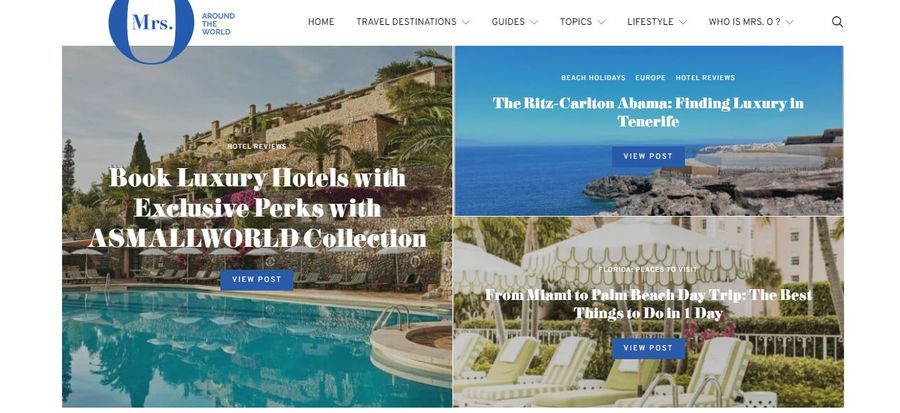 Mrs O Around the World has a very professional appearance and feel to it. Traveling has more to explore than just backpacking, wild escapades, and hostels. Nowadays, many companies cater to upscale, luxurious travel needs. This travel blog has done it perfectly.
In addition, its homepage showcases a collection of fascinating and attractive images arranged in a grid layout for every blog article. A scrolling sidebar enables site visitors to easily access a variety of widgets.
Of course, social media and Instagram feeds are included in this blog too.
You may also like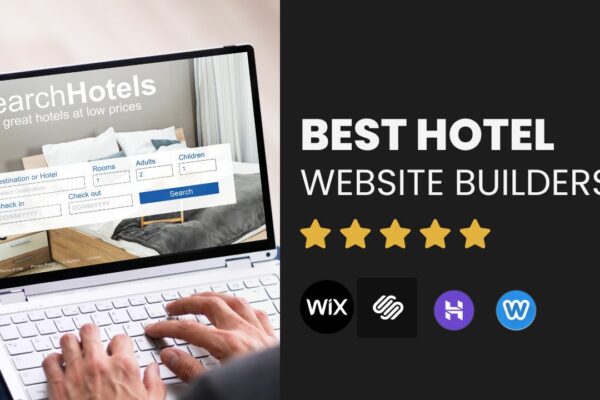 Posted on September 29, 2023
Whether you run a motel, a hostel, a bed & breakfast, or a luxury resort, you can make an amazing website for your accommodation business with a hotel website builder.
A website is more than just a way to display your place and eye-pleasing rooms. It is also a way to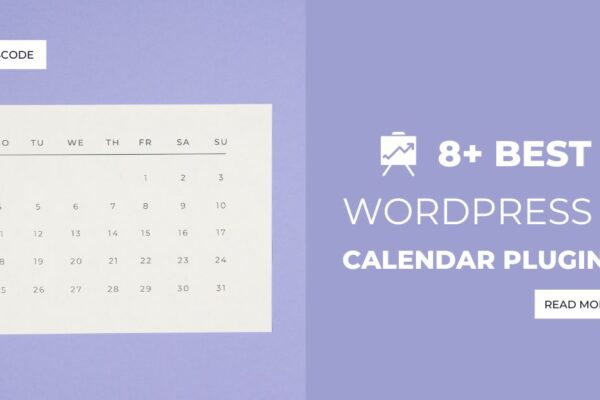 Posted on September 12, 2023
WordPress calendar plugins vary in their features and capabilities. Some plugins enable you to easily manage your events, while others allow you to do more complex tasks such as taking bookings, selling tickets, and scheduling.
In this topic today, we tested some of the top WordPress calendar plugins and compiled a