WordPress Booking Plugin Collection (2022)
Post on March 24, 2022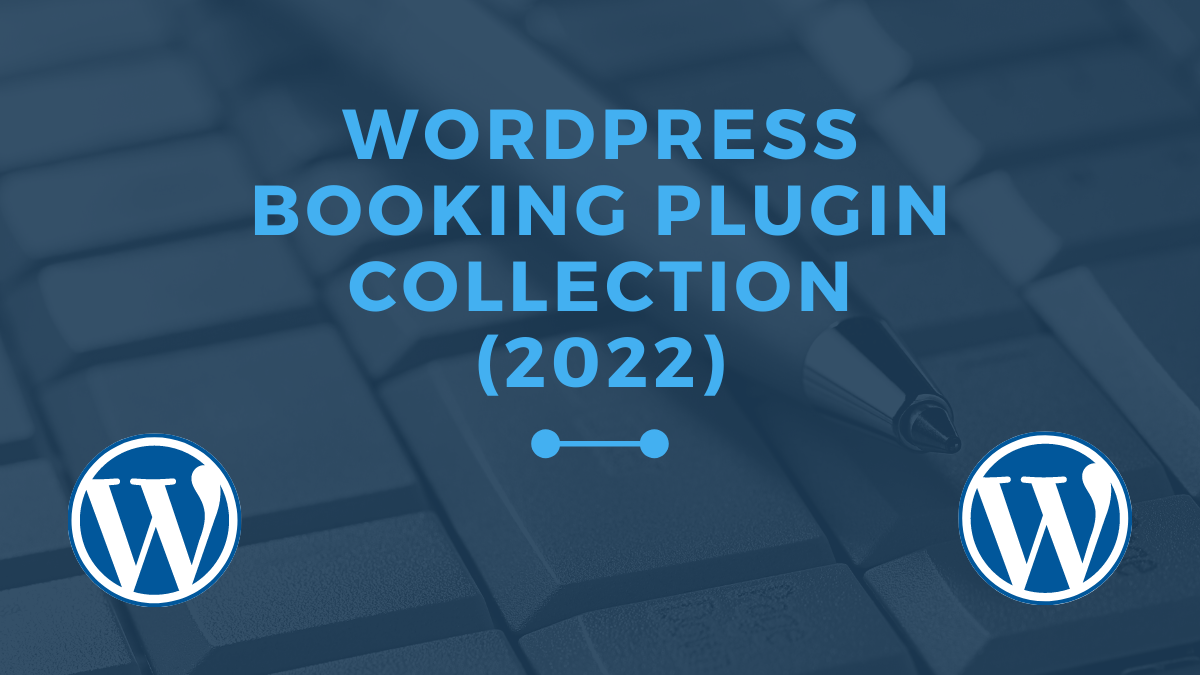 WordPress Booking Plugin has become an essential part of a reservation page or website. For example, making an appointment with a doctor will need a reservation. Visiting a favorite restaurant or registering to a fitness service is also on the same page. Previously, customers had to look up a phone number, talk to the people on the phone, or take up a piece of paper to fill in the date and time. Luckily, we have said goodbye to that period for a long time and welcomed the era of online widgets with the best WordPress Booking Plugin with Payment collection.
If you intend to carry on a career that needs booking and reservations, you should choose the most suitable plugin for your site. Therefore, we will deliver to you a list of the best booking plugins for WordPress users.
What Standards Should You Concern About in a WordPress Booking Plugin?
In fact, the Best Booking Plugin WordPress will consist of a date/time calendar and a form to fill up the information. However, things don't go easy like that. It's based on your field as well. Below, you can find some essential features of a suitable booking plugin:
A well-customizable calendar.
User-friendly page interfaces for clients on all devices.
Various payment gateways for appointments and related stuff.
Clear service for workers and employees. Then, working efficiency will increase a lot.
Spaces and tools for users to preview and manage the bookings.
Tools to set up/delete holidays or events in-between appointments.
Confirmations and following-up emails.
Easy-looking menus for services and offerings.
Those are some of the most identifiable features we gather from the community. However, you can choose the features needed for your business.
Best WordPress Booking Plugins in 2022
After research, we have come up with an outline of the best Booking Plugin WordPress collection. Let's go!
WooCommerce Bookings – Best Booking Plugin for WooCommerce Users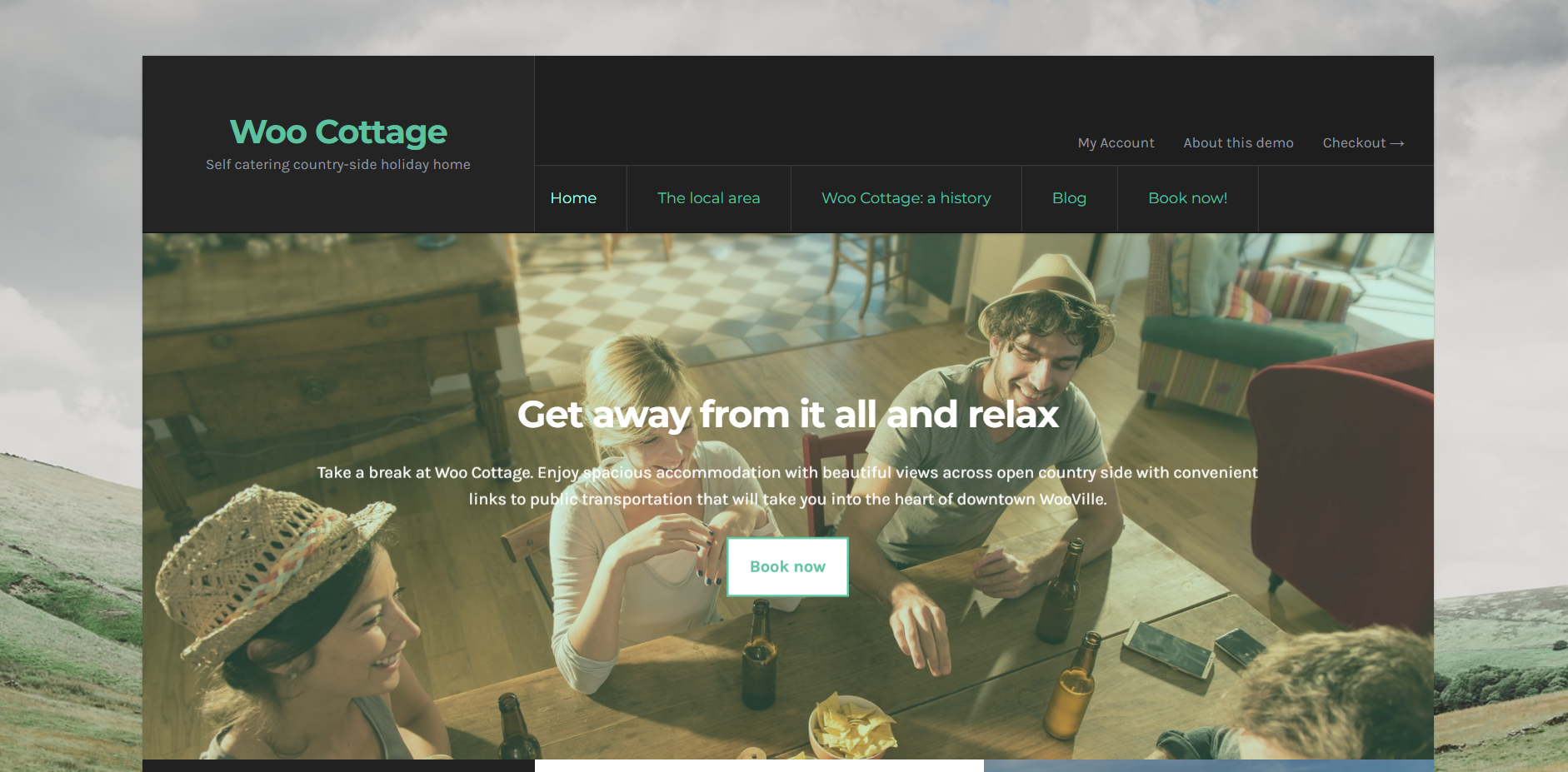 Learn More
in the e-commerce field, WooCommerce Bookings stays on top of the ranking chart. There, you can download and apply the theme at no cost. Furthermore, the free version contains all the basic needs and also some premium features. For websites using WordPress, we will recommend this plugin. However, beginners can also use this extension to create a built-in layout or build their layout with CSS.
First of all, you need to download and activate the plugin. Then, the plugin will give your site fields for all necessary aspects: price, discounts, descriptions, date & time, etc. You can also provide a review feature to attract potential clients.
About the price, you can get this extension at $249/1 site or $449/to 25 websites. Although this price is one of the g=highest in the market, the core items of this plugin are 100% no-cost. Well, no more worry about the price!
Besides, WooCommerce Bookings gives users 1-year full support and a 30-day money-back guarantee. Indeed, you can rely on it.
Some Significant Features:
A dashboard to control and manage the reservations.
Limit the number of people booking or creating deals for bookings.
Control the availability of the bookings.
Widgets to make fixed time slots or adjust the time & date.
Get linked up with WooCommerce, opening more chances for further developments.
30-day trial.
Integration with other WooCommerce extensions.
WooCommerce Appointments – Excellent Free & Paid Reservation Toolbox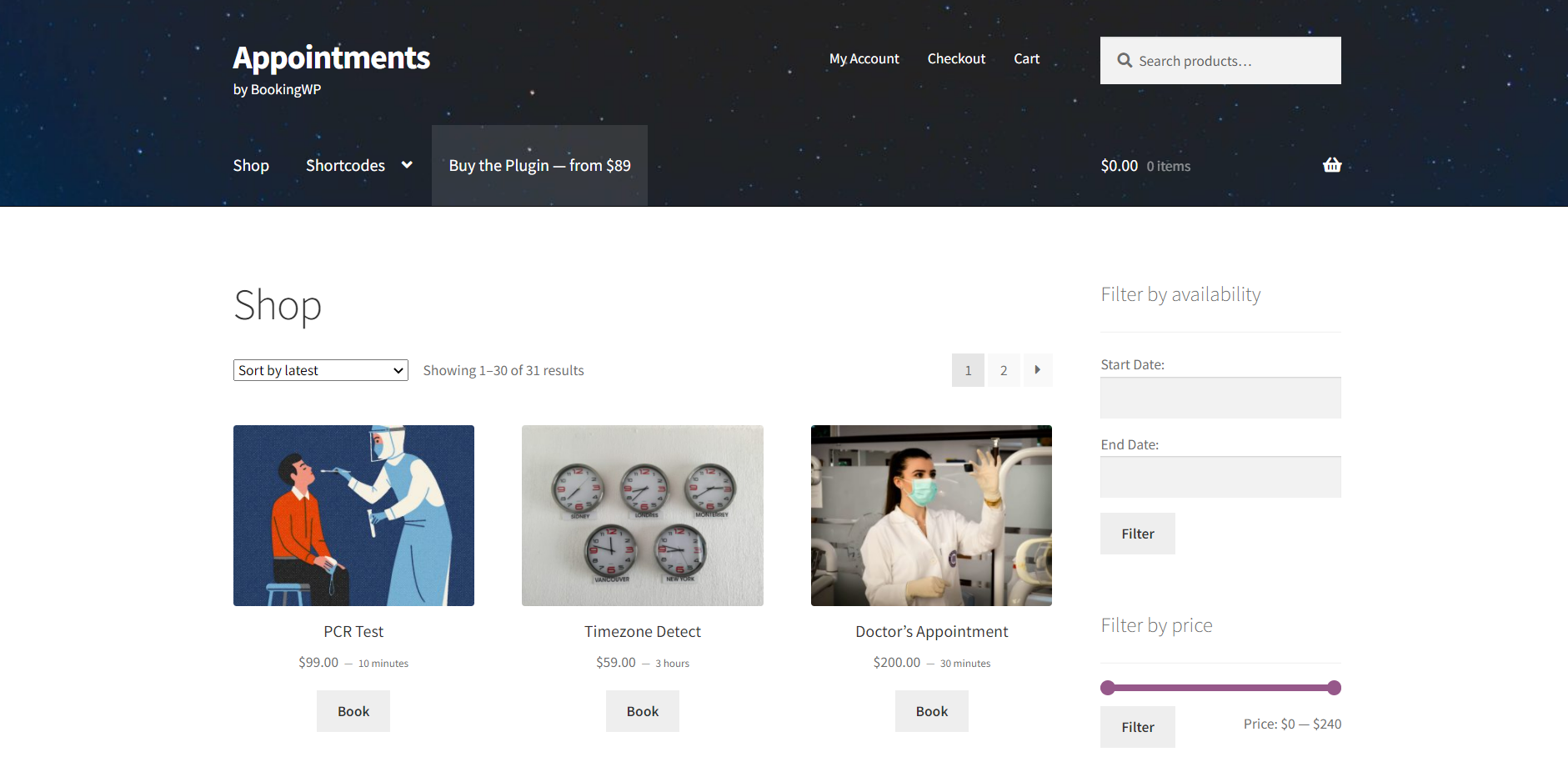 Learn More
From WooCommerce, WooCommerce Appointments stays as one of the other options for reservations. On the other hand, you can say this plugin is a cheaper version of the WooCommerce Bookings plugin. The price comes up at $89/website and $200/of 25 sites.
In this plugin, there are many features that you will dip in. first, the plugin can integrate with Google Calendar and WooCommerce. Therefore, you can get your web synced with the pre-built Google Calendar and access payments from the customers. Also, you can set your bookings free, depositing, or paying in advance. On the other hand, we make the interface easy to reach by both newbies and pros. Thus, the interface will be both basic and complex. You can sync Google Calendar from your site and make it a 2-way syncing process. Besides, developers prefer this plugin since you can connect your site to other extensions. For the most part, this will be a great selection.
Some Significant Features:
2-way syncing system.
Integration with 95% of all current plugins.
Ability to accept/reject reservations.
Emails of confirmations and reminders.
You can make any customization you want.
Unlimited widget/pages.
Full management of date, time, schedule, and more.
You can set some rules for pricing and availability.
Bookly – Great for All Types of Businesses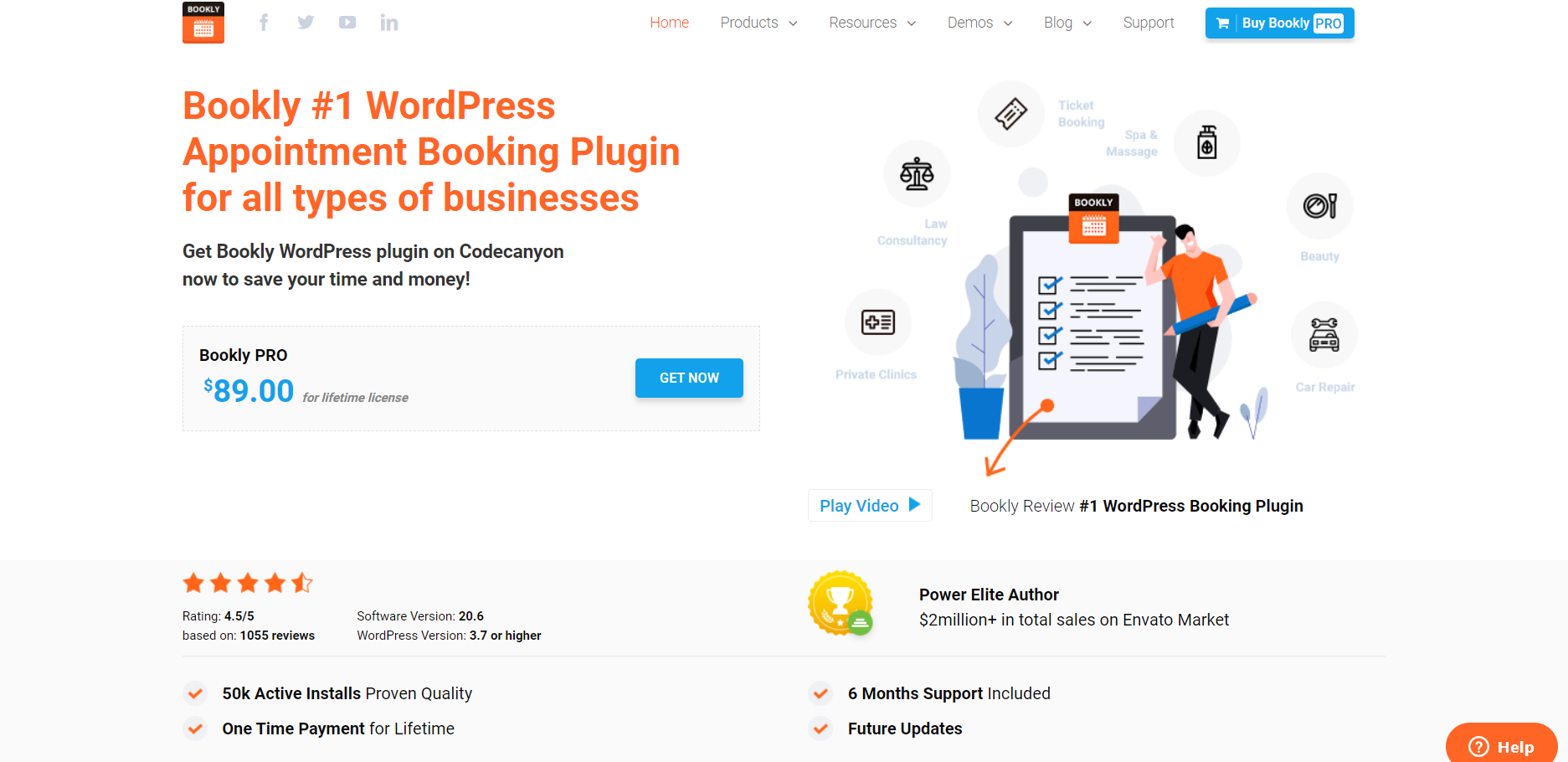 Learn More
Like the 2 above plugins, you can access Bookly with the free version or the paid version. The free version is a normal booking widget with a limited number of employees and no online payment support. Otherwise, you can get a 1-time license for $89 and pay yearly if you need customer support in the premium version. Therefore, you should choose the premium if you intend to make business there.
Despite the not-so-bright free version, Bookly has a very modern and convenient user interface. The smooth and clean layout lets you design booking form sections without any coding skills. Of course, coding is still available. The reservation form is responsive and easy to customize. In Bookly, you can make an endless number of staff users and each of them can make different prices and other options.
Indeed, small businesses can make use of Bookly very well. You will be given the needed widgets to run it yourself.
Some Significant Features:
No coding is required.
Unlimited employee users.
Automated SMS and email services.
Google Calendar unification.
Available payment gateways and booking rules.
Booked – Simple & Nice Appointment Bookings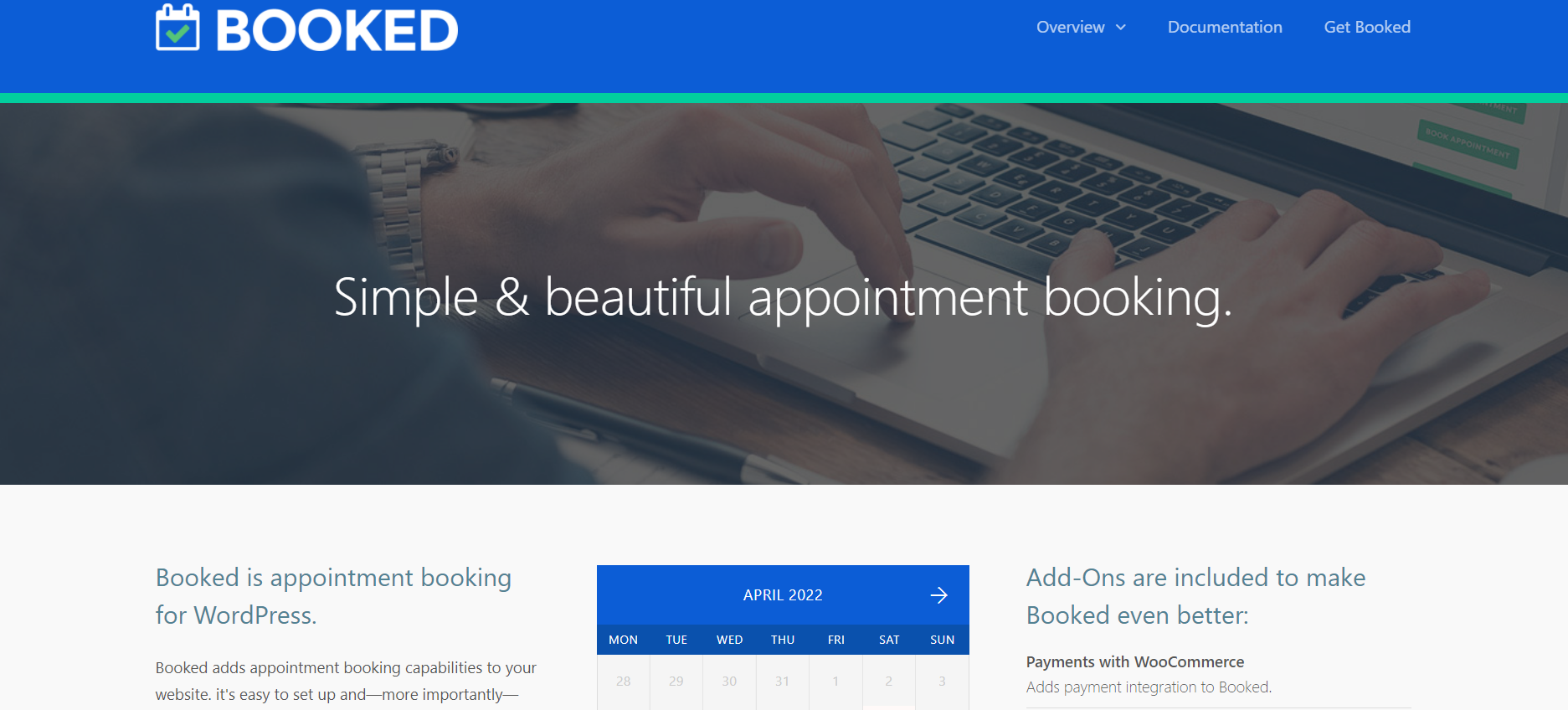 Learn More
Booked is an affordable Booking Plugin WordPress that can be purchased via CodeCanyon. To buy it, you will only have to spend about $49 for a lifetime license. If you want to use customer support, the price will be $16.50 for 1 year additionally.
The interface of the plugin will surely ease you with the modern and elegant design as well as attractive color sets. Surely, your customers will get excited about your site's design and decide to stay longer, giving more chances to make bookings. Also, you can use other add-ons along with Booked without the fear of incompatibility.
Some Significant Features:
Nice and convenient interface.
Competitive price compared to other booking plugins.
Free add-ons and integration with other plugins.
Various color set options.
Event-set tool to make discounts and deals on holidays.
Booking for WooCommerce – Top Booking Plugin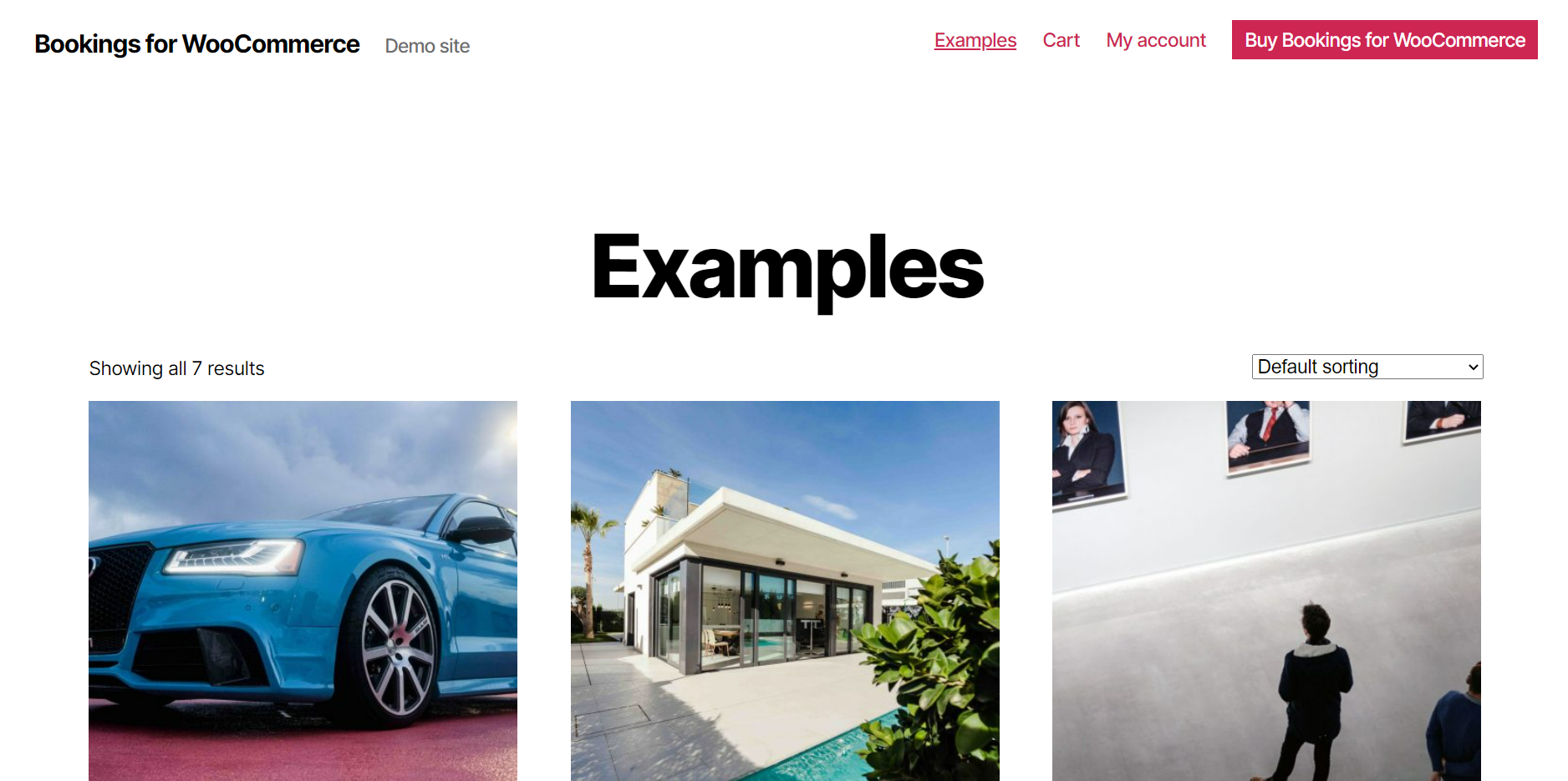 Learn More
Booking for WooCommerce allows you to make bookings on your site with the WooCommerce plugin. Particularly, you can make use of this popular platform including payment gateways and other items.
With this plugin, you can start selling your products or services. On the other hand, users can choose the starting and ending dates with separate calendars and periods. They can make reservations on specific days if needed and get some buffer periods to have time for any change. Also, you can set different prices for different services at different times of a period or a year. Therefore, you can raise the price in the hot times and decrease when there are not crowded. Making discounts and disabling dates are available as well. This theme is also very user-friendly and able to integrate with other themes and plugins.
Some Significant Features:
Integrations with mostly all plugins.
Large extension items.
14-day money-back guarantee.
No coding is required.
Time & date setting options.
Booking Calendar –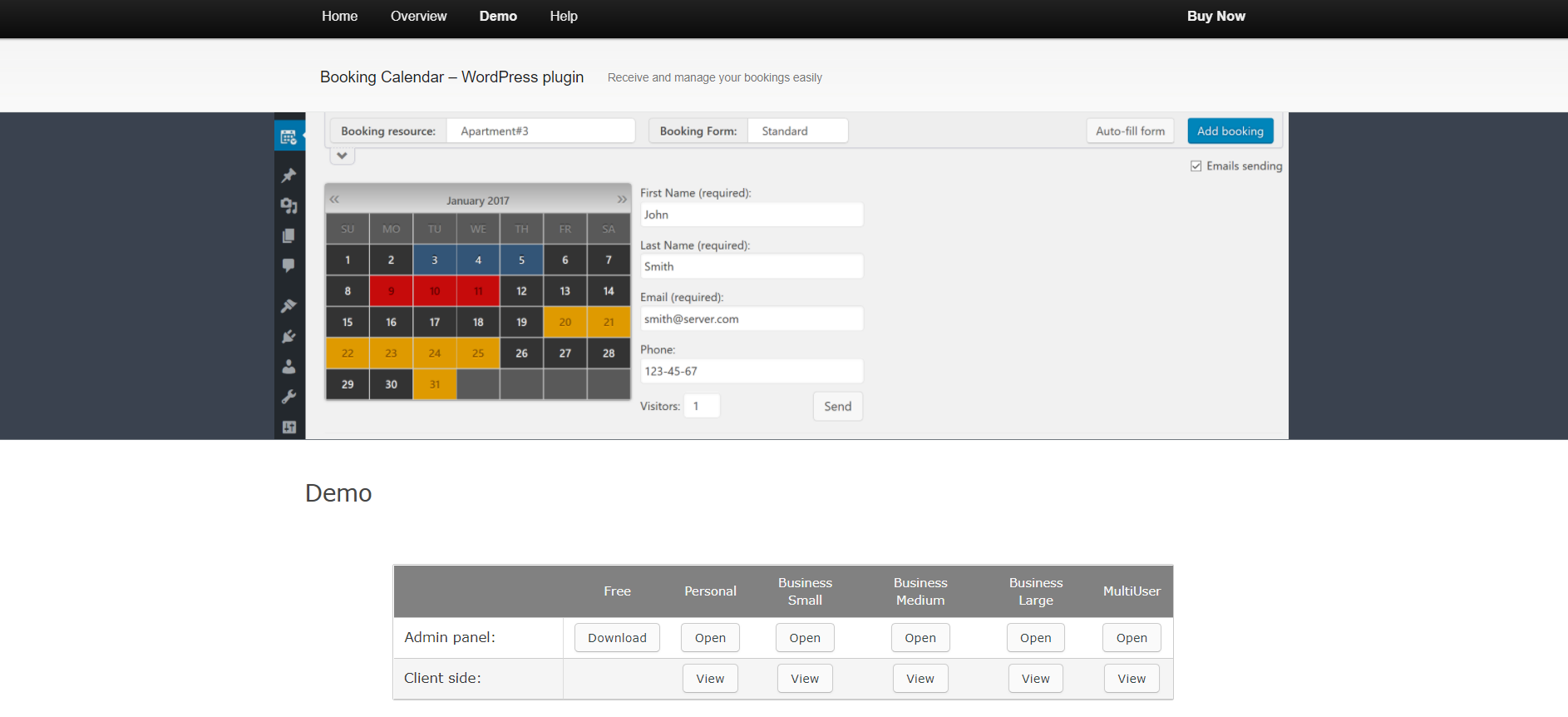 Learn More
We all know that "with age comes wisdom" is not very correct in technology but the plugin Booking Calendar will define a different face to you. Although it stays as one of the oldest plugins, the plugin's developing quality does not reduce or even slow down through the years. For small shops and businesses, it will become a good choice. The main plugin is no-cost and it comes up with a bunch of widgets for business. Otherwise, you can check for larger ones, starting at $60/website. Only if you held a big career should you make a more expensive purchase.
Besides, it's not simple for new developers. You should download the main plugin and check whether it fits your needs or not. Despite being a strong plugin, it will harden you with its complexity.
You can set timeframes for a certain period of days. Also, it will automatically send confirmation and following-up emails to users. It also integrates well with other themes and plugins.
Some Significant Features:
Google Calendar and third-party integration.
Multilingual availability.
Various date & time settings.
CSS options.
Amelia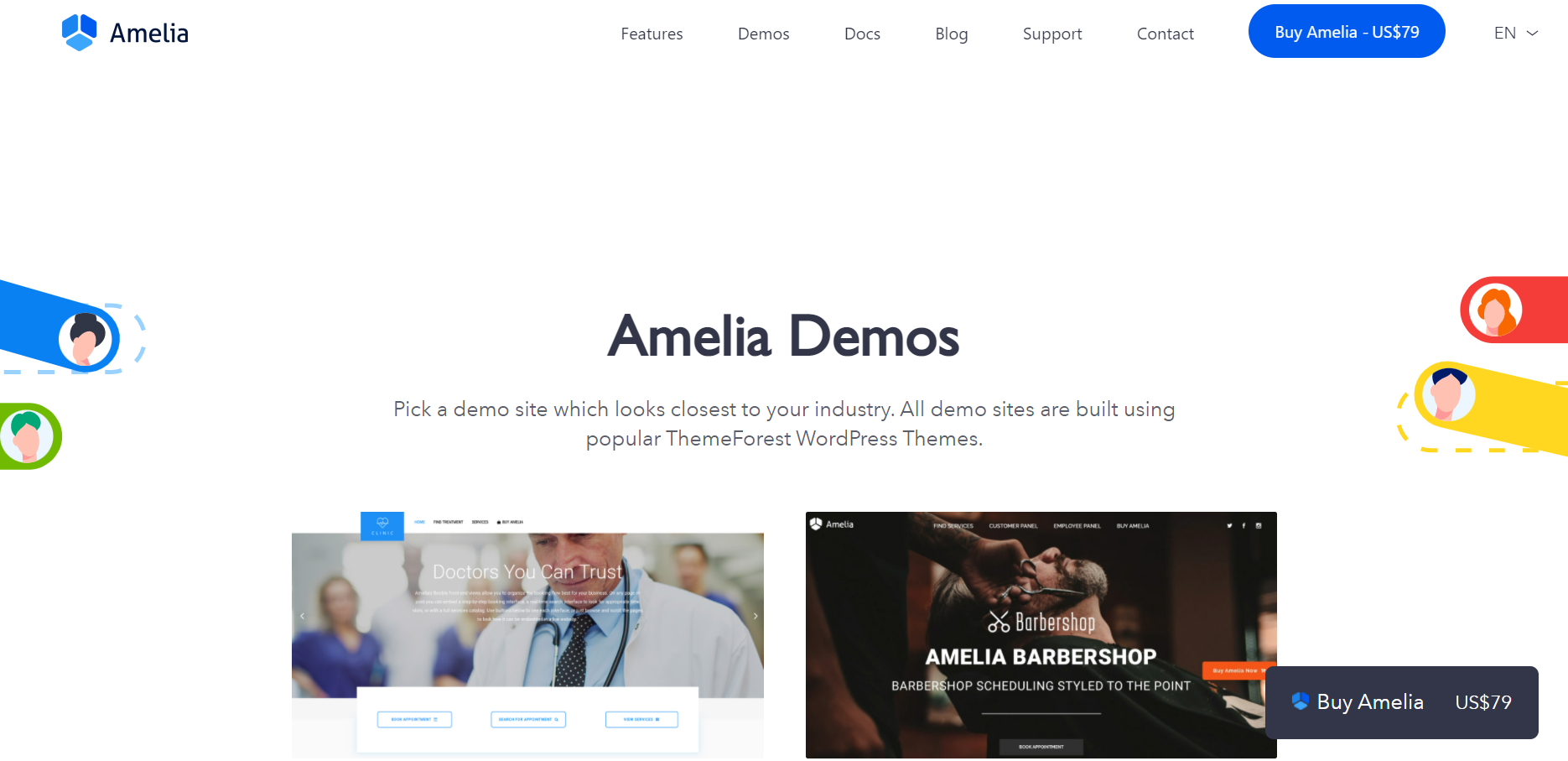 Learn More
Looking for a simple yet powerful booking plugin? Take Amelia! Amelia is a WordPress Booking Plugin with Payment that will work 24/7 for the clients' best use.
Amelia comes up with the no-cost core plugin and a bunch of features that are suitable for newcomers and small businesses. If you want a bigger pack, you can look up the premium version which stands at $79 for the paid pack and $189 for the lifetime pack. When buying the paid version, you will get free 6-month customer support and extend it with a small fee. Particularly, if you intend to make a big business, Amelia Pro will be your first choice.
In here, you can receive many built-in widgets for the fixed lifetime price. Also, you can make SMS and email notifications that help you keep in touch with the clients and staff. You can keep track of all bookings and reservations with Google Calendar Synchronization. On the other hand, the design is nice and customizable.
Some Significant Features:
SMS and email notifications.
Add endless staff.
WooCommerce integration.
Services tools and extras.
Multiple business locations.
Clear performance for business KPIs.
Providing deals and coupons.
All extras are included in a single lifetime license.
Appointment Booking Calendar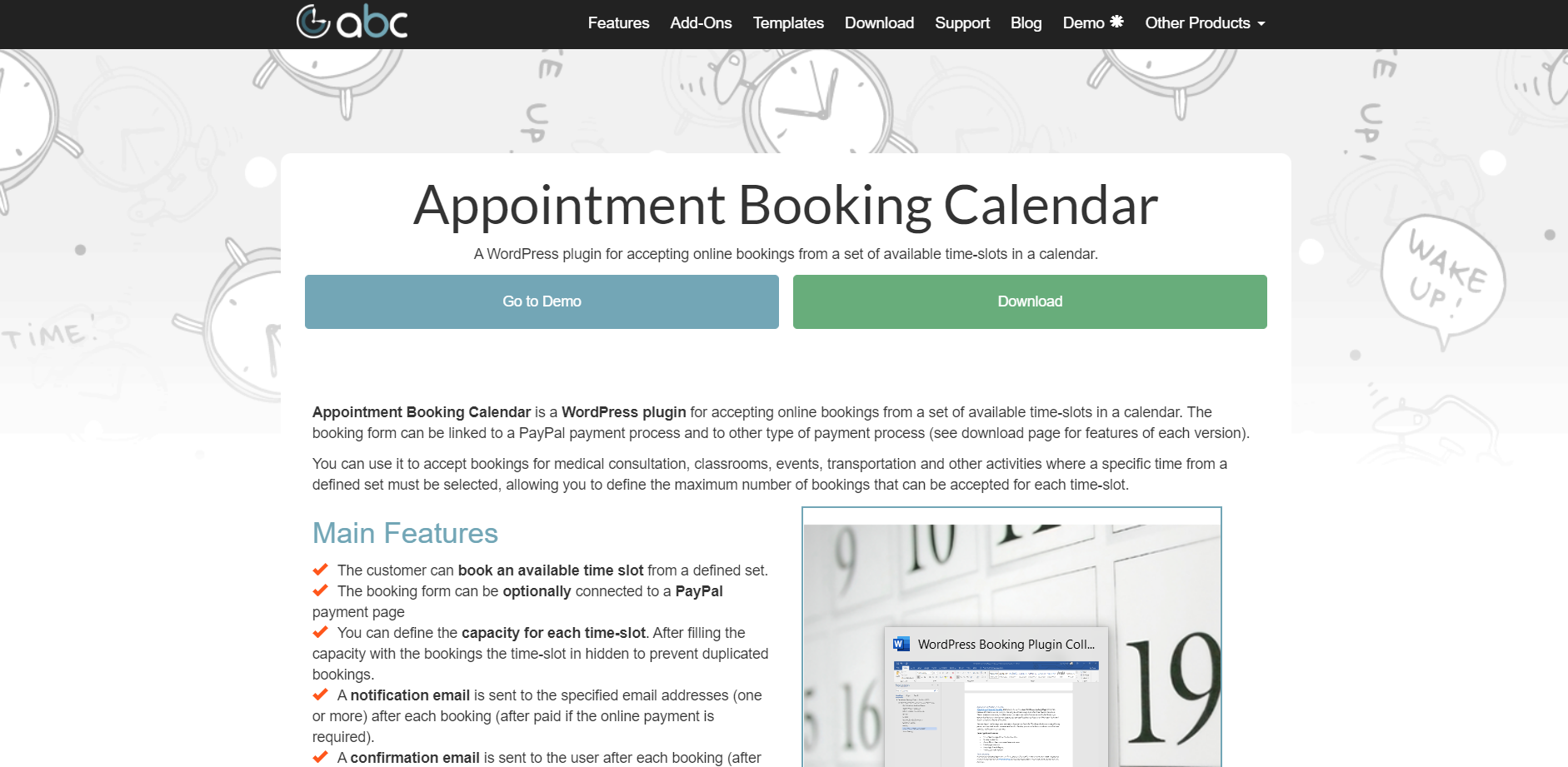 Learn More
Apparently, Appointment Booking Calendar deserves a place in the Best WordPress Booking Plugin collection because of 2 main reasons. First, it is the only WordPress plugin that offers free PayPal integration. There's a premium version, but that's only if you want the option to remove the PayPal link and get some other features like coupons. Second, you can use this plugin to show an available set of times and dates to an entire calendar of choices.
You can import and manage your calendar using a CSV or Excel file. The design is clean and nice, allowing people to easily look for the wanted item/service. Besides, you should edit your custom CSS so that the calendar will be shown as you want.
Some Significant Features:
Free PayPal integration in the free version.
Receive a Captcha.
The ability to clear unwanted dates and times.
Multi-page calendar.
The plugin is multilingual.
Various calendar imports.
Team Booking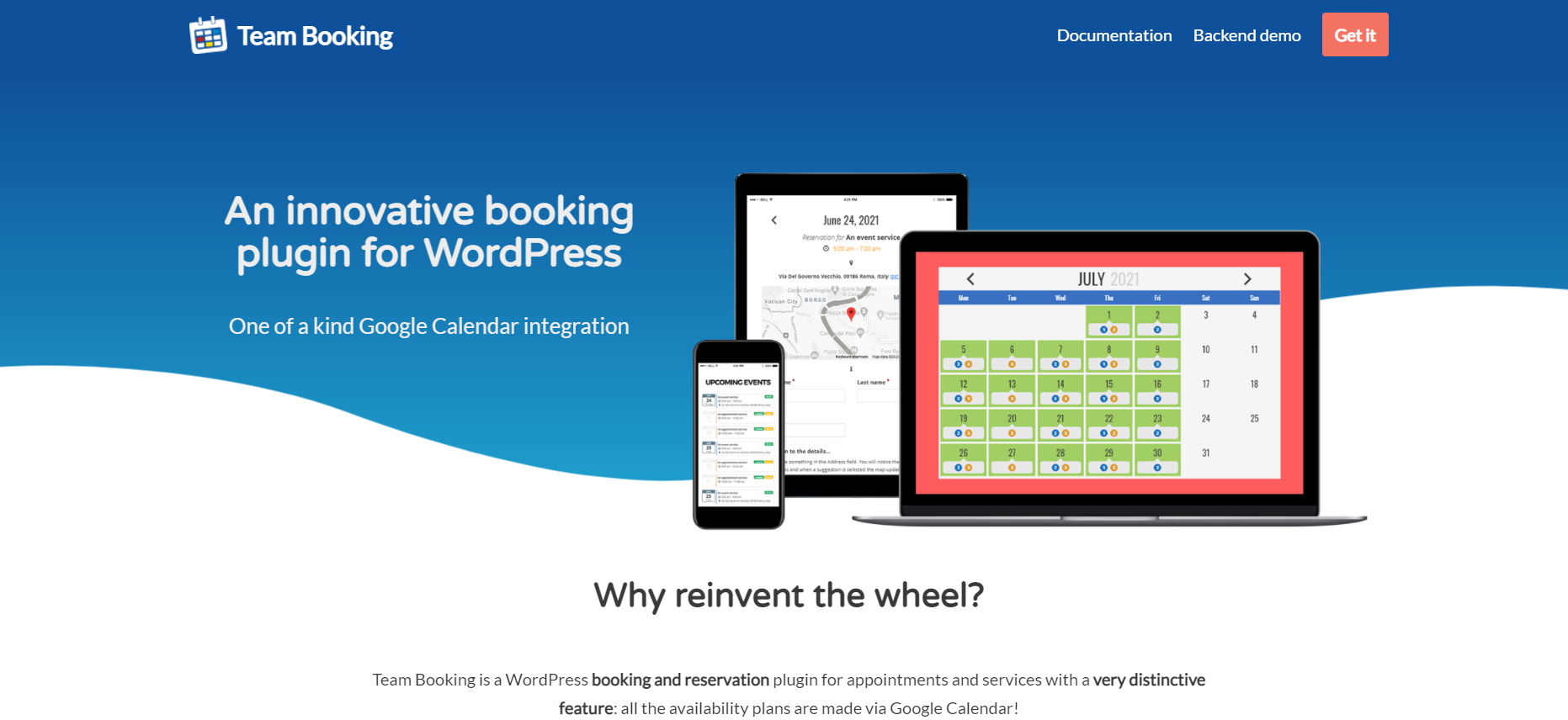 Learn More
In most free booking plugins, the core items are provided but many features only appear in the premium version. In Team Booking, you can connect to PayPal and Stripe in the pro version for only $28. The plugin itself has many features that will surely serve your work well. For example, this plugin offers users 3 built-in formats for different usage. The calendar is very modern and well-designed to showcase. Besides, you can easily manage your fields and collect customers' data without any obstacles.
Even more, you may incorporate maps that pop up whenever a customer wants to reserve a time slot. Overall, the feature pack in this plugin is well-prepared for any type of booking website. However, the feature list may be a bit difficult to cover 100% but you can be confident in this plugin even you are a non-coder.
Some Significant Features:
Maps are integrated into the forms for when you need to send people to a location.
The forms are nice and convenient, and you can also edit as you want.
3 forms to choose event, appointment, and unscheduled.
The price is super reasonable for anyone.
Integration with Google Calendar.
Separate schedules for each employee or staff.
PayPal and Stripe payments integration.
MotoPress Hotel Booking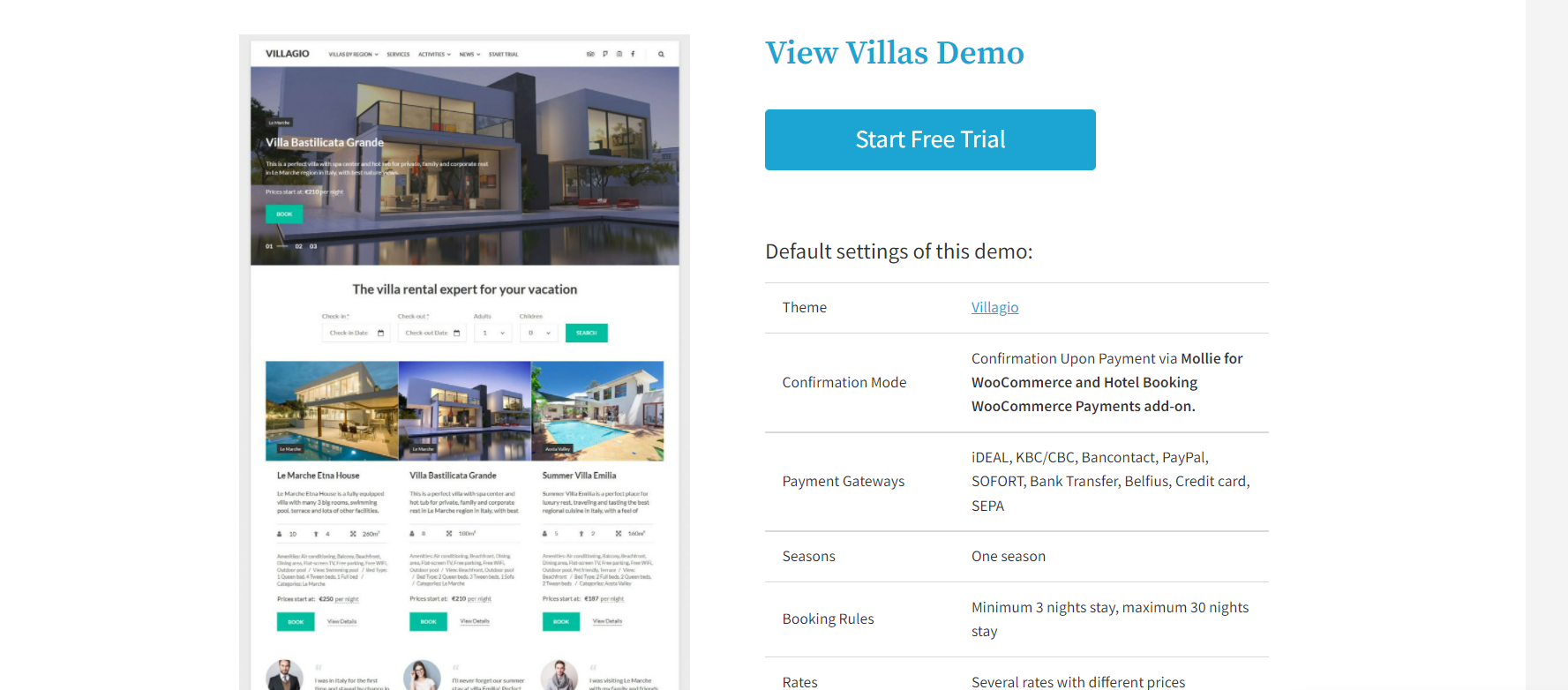 Learn More
If you are looking for a strong and corporative booking system for your hotel or accommodation website, MotoPress Hotel Booking will be there for you. With this plugin, you can accept online reservations, make real-time calendars/time counts for each accommodation at any time, provide online paying gateways, offer automatic synchronization of booking calendars with common OTAs, and more.
Also, you may list out and give descriptions of rooms or accommodations, add extra services, or even facilities. Of course, pricing on seasons is also available. It will help you attract more customers. Well, all you need to do is to increase the price in the "hot" season and decrease in the quiet. Furthermore, the admin can manage incoming reservations on the back end and set a preferable confirmation mode for them. To be more specific, you can either confirm the bookings hand-by-hand or force the clients to confirm their bookings via payment or email. Here, this plugin integrates with Stripe, Paypal, Pay on Arrival, Beanstream, 2Checkout, and Braintree.
Some Significant Features:
2-way iCal auto-synchronization.
Confirmation/following-up emails and other reminding emails for both guests and admins.
WooCommerce Payments add-on integration.
Setting the limit of accommodations during a session.
A searching tool for filtering the needs of the customers for faster searches.
Making discounts and deals.
Available demos to test the backend admin area and front-end performance.
Detailed guidelines and video instructions.
Salon Booking System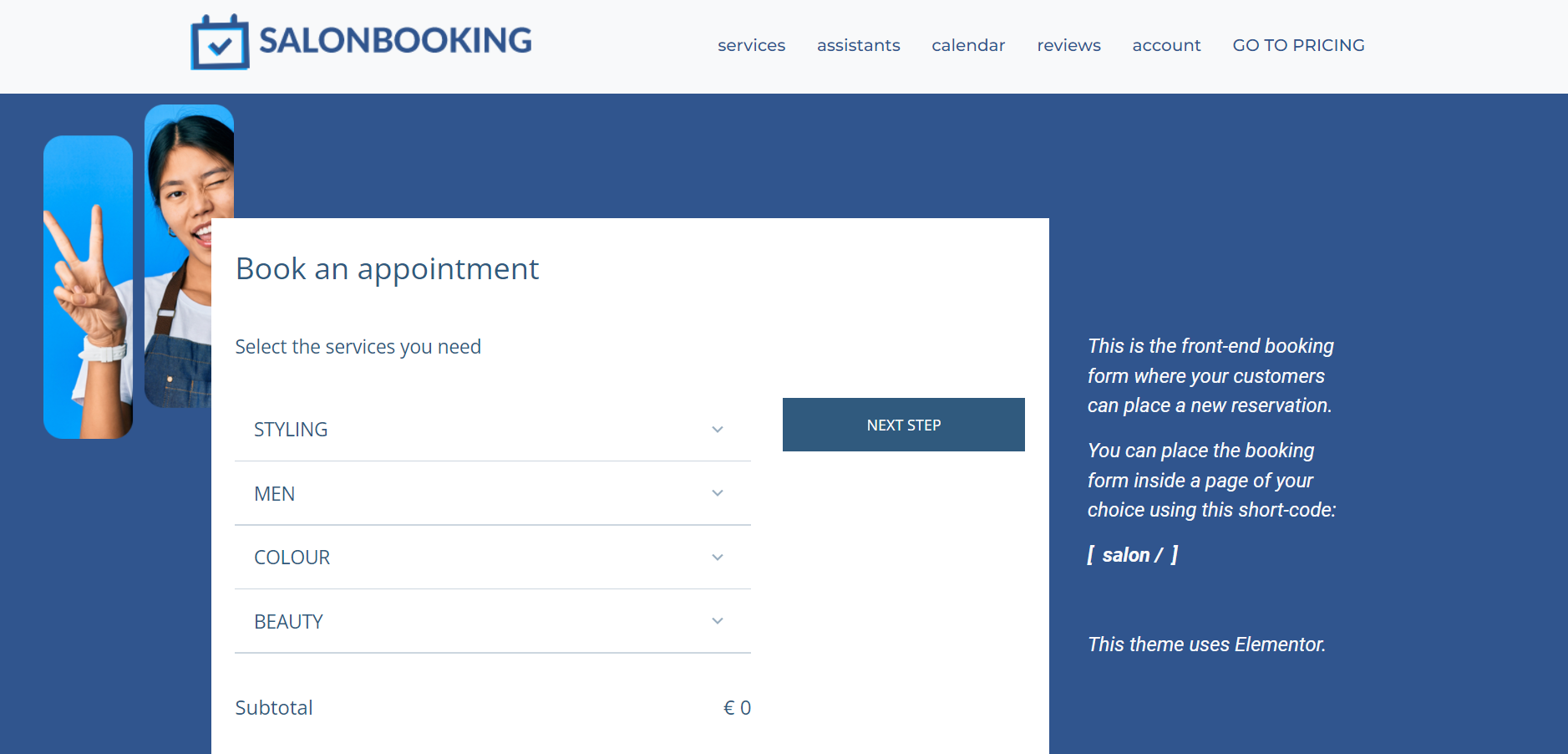 Learn More
In the online dressing-up field, you can rely on the Salon Booking System plugin. It can solve your daily work of barber stores, beauty centers, nail-styling workers, and similar stuff. Therefore, professionals highly recommend this plugin for both pros and newbies.
First of all, this plugin provides users with a system of email/SMS reminders and notifications. Besides, Salon Booking System is collaborating with WhatsApp, providing better reservations. However, it is still in development. Like most plugins, it can integrate well with Google Calendar. Further, the reservations will show up on both owner and guests' calendars. Therefore, the owners can keep aware of upcoming bookings and the customers can check for their bookings as well.
Also, salon retailers can create/delete deals and discounts. Further, the coupons can be set manually or automatically based on the specific sceneries during the reservation progress.
Some Significant Features:
Simple to set up.
2-way synchronization with Google Calendar.
Online payment integrations: Stripe and PayPal.
Full management of the booking form.
20 languages included.
Full set of APIs.
Feedback forum for customers.
Clients' account pages.
A report section to keep the trends.
CreativeMinds Booking Calendar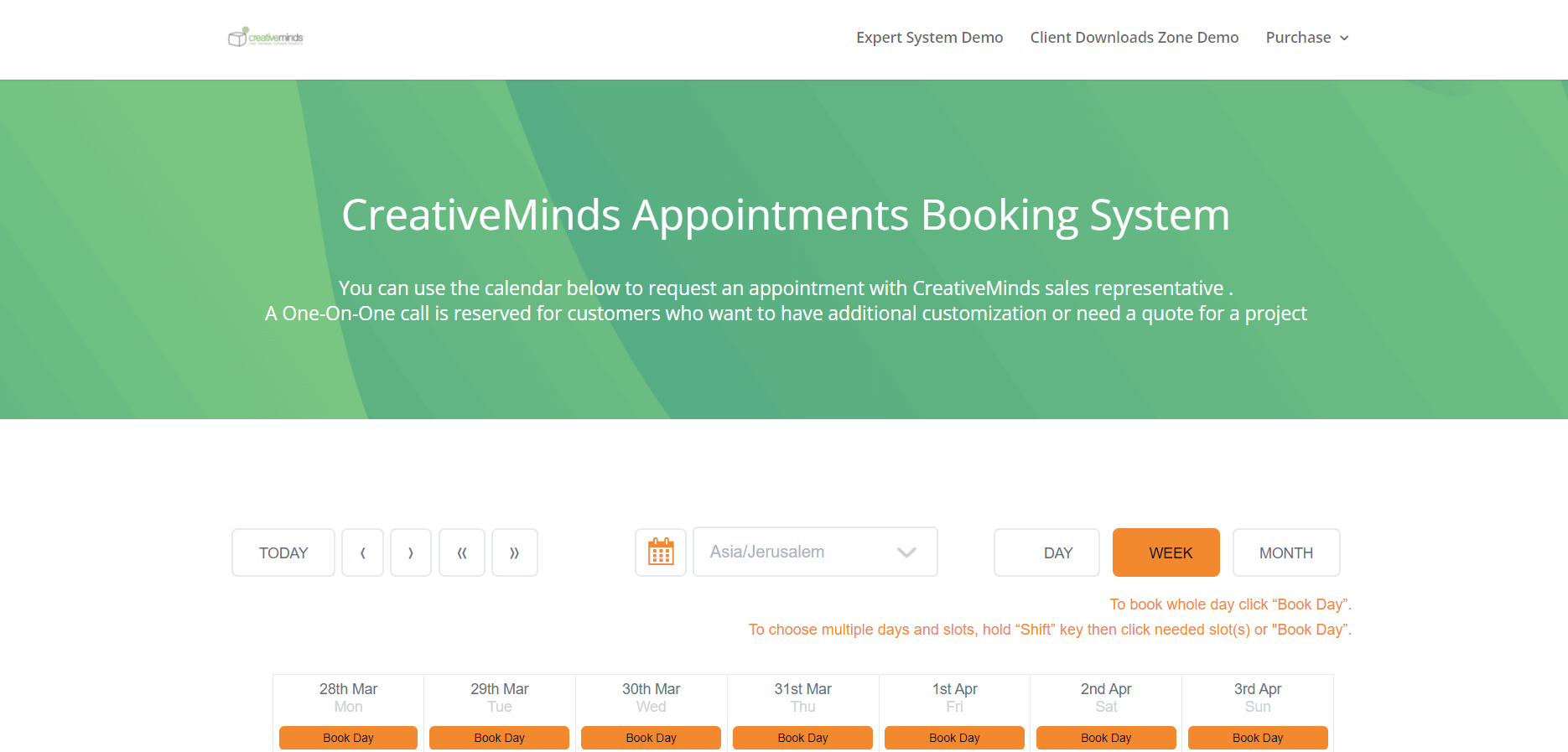 Learn More
To ease your process, take advantage of CreativeMinds Booking Calendar! It allows users to arrange the appointment schedule directly from their site. Besides, the admin can make lots of calendars with separate time slots, customize booking forms, and handle all requests.
Especially, you can make responsive front-end calendars to add to posts, pages, or any section you want. All you need is just a shortcode. Hence, you can get a lifetime license and 1 year of support for only $39.
Some Significant Features:
Make unlimited calendars with a separate booking form, length, moderator, and active period.
Responsive design and calendar.
Editable labels and descriptions for any need.
Extendable plugin.
Booking & Appointment Plugin for WooCommerce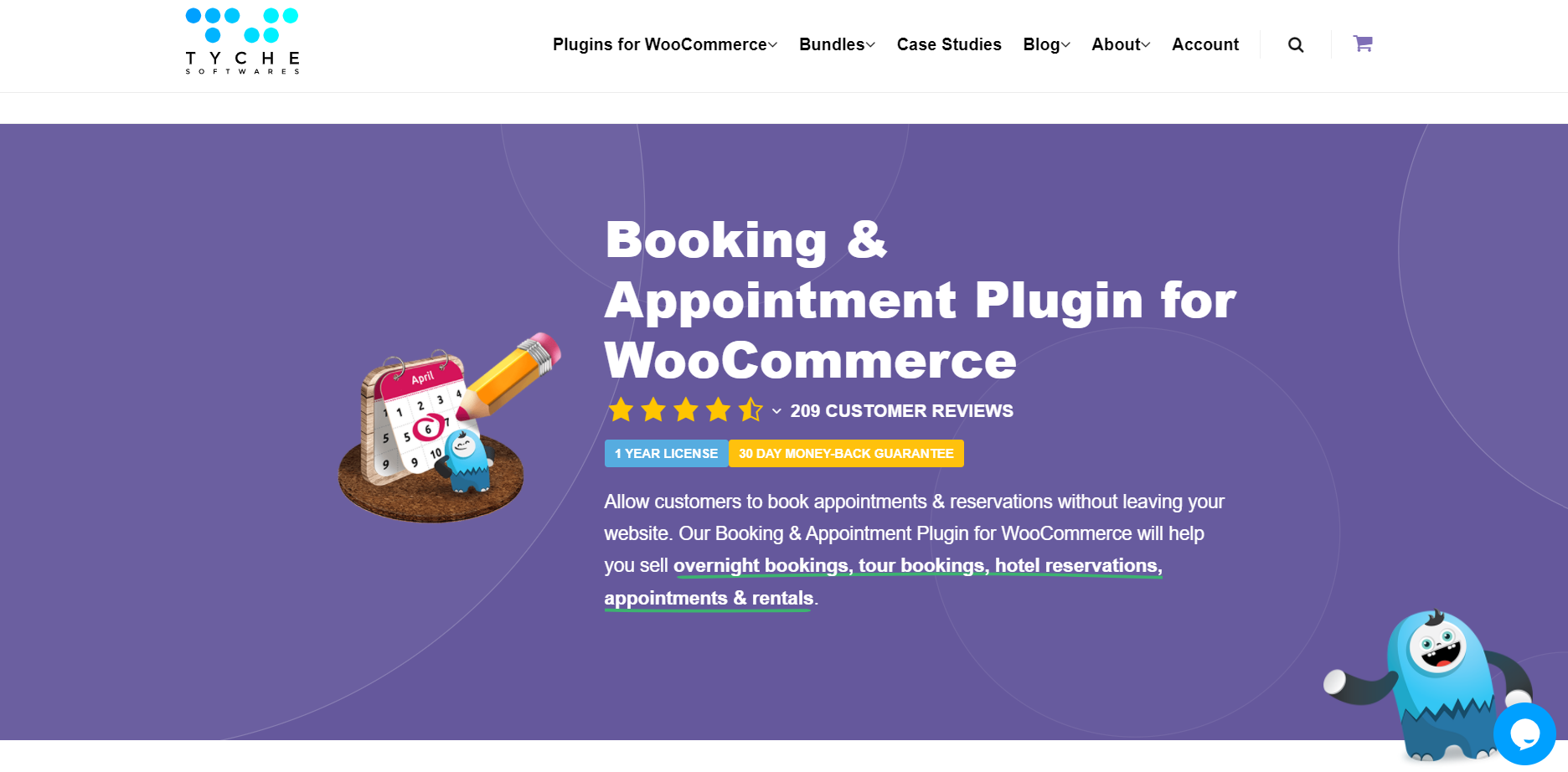 Learn More
Booking & Appointment Plugin for WooCommerce can be taken for mass use. From a regular online store, it will change into a fully-prepared booking platform for every type of service and product.
Of course, you will gain 100% control of your website. To be more specific, you will manage the days' availability, the price for each day/season, and the number of reservations allowed. You will pay $119 for a single store and $249 for unlimited stores.
Some Significant Features:
2-way synchronization with Google Calendar.
Ability to choose the price for specific moments.
Allow all WooCommerce paying gateways.
30-day money-back guarantee if you are not satisfied.
Booknetic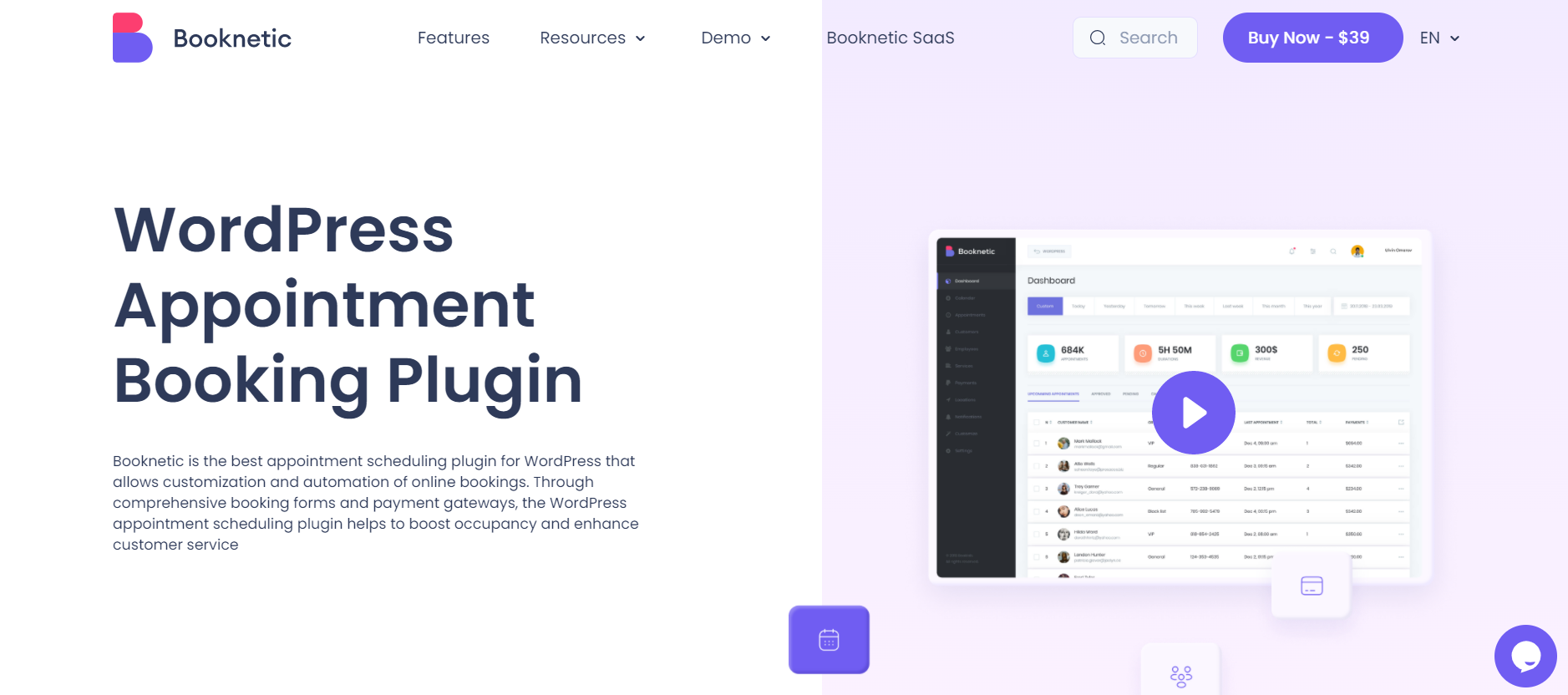 Learn More
similarly, Booknetic is a multi-purpose reservation plugin for dressing-up, medical, educational, etc. You can set up and configure it very fast and easily. Besides, you can take advantage of the front-end layout to make the bookings easier. Various integration channels allow you to fully automate your appointment bookings and settle a smooth workflow. With 100% control of your features, you can easily manage your bookings. Multi-device compatibility makes sure that appointments can be made, or changes on the go. Using drag and drop builder, you can customize the booking panel, reorder the original steps, add or remove the extra steps to create your ideal booking panel.
Furthermore, you can take the back-end panel to control your workflow. It separates different sections for staff and employees. Besides, you will get insights into your site's business statistics. On the other hand, the plugin has very great customer support. You can look for their help whenever you meet any obstacle. On the Envato market, the plugin costs you $79 for a lifetime license. Further, you get 6-month customer support.
Some Significant Features:
Calendar synchronization.
100% control of appointment schedules.
Facebook/Google sign-in feature.
Unlimited staff accounts.
Booking flow customizations.
Popular paying methods: Stripe, PayPal, etc.
Automated SMS/email notifications and reminders.
Access to Zoom's virtual events.
Deals and coupons for the customers.
Simply Schedule Appointments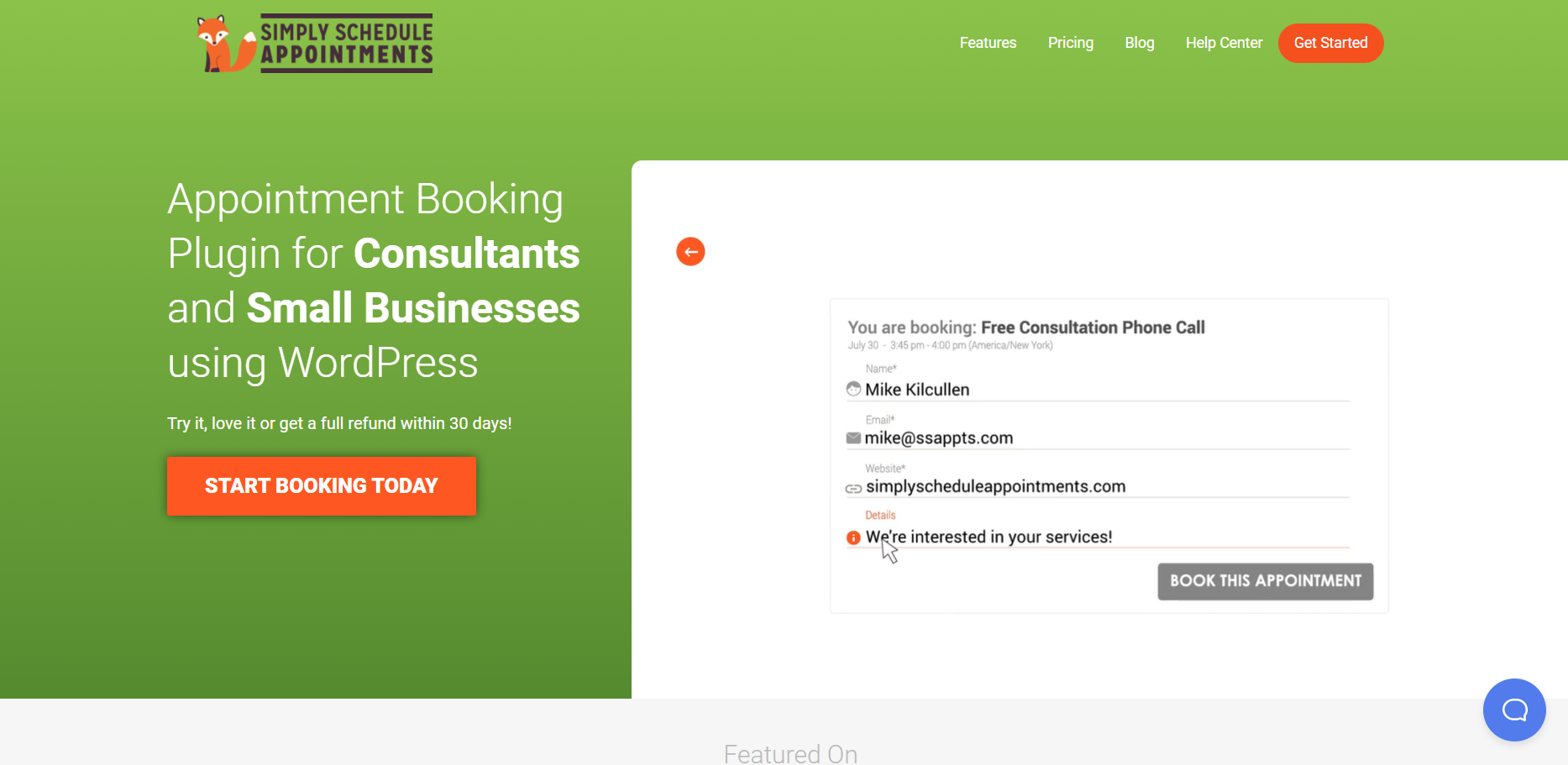 Learn More
In the marketplace, Simply Schedule Appointments stays as one of the most common booking plugins for WordPress websites. Based on your need, they have a free version and 3 premium ones. To be more specific, the premium version starts at $99 and has the features you need: Google Calendar synchronization, custom sections, etc.
In its interactive setup wizard, you will walk through setting up your booking form and putting it on the website for around 5 minutes. Additionally, all of their versions (including their free edition) integrate with popular page builders like Elementor, Divi, and Beaver builder—allowing WordPress users to simply drag-and-drop as well as style and customize their booking form to match their site.
Nevertheless, this plugin's developers usually update it to avoid bugs and errors. Besides, the support team will contact you on the same day that you send negative feedback. Just for helping you solve the problems!
Some Significant Features:
100% free version.
Premium versions allow paying gateways via PayPal and Stripe.
Integration with many plugins.
New features and bug fixes update.
Conclusion
Nowadays, WordPress Booking Plugins are very various and hard to choose from, especially for WordPress users. Above all, we hope you can know more and select the most suitable plugin for your booking website.
You may also like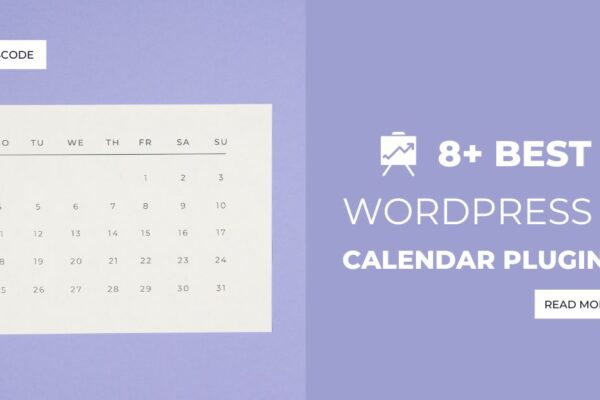 Posted on September 12, 2023
WordPress calendar plugins vary in their features and capabilities. Some plugins enable you to easily manage your events, while others allow you to do more complex tasks such as taking bookings, selling tickets, and scheduling.
In this topic today, we tested some of the top WordPress calendar plugins and compiled a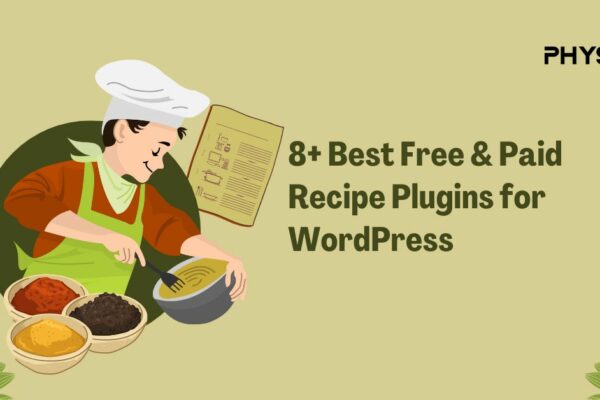 Posted on August 30, 2023
Whether you own a restaurant or blog about food, your website can benefit from a WordPress recipe plugin.
This tool assists you in creating and displaying recipes on your WordPress website in an attractive and professional way. By using a WordPress recipe plugin, you can improve the quality and performance of